Memorial Minute
Sylvia Hill Williams '57, '90 hon.
Trustee
By William R. Perlik '48
---
Neither the enduring joys of a happy life nor the conditioning impact of occasional jostling can prepare one for the tragic, devastating, and untimely loss of a beloved friend. Sylvia Williams, at age 60, died suddenly February 28 in Washington, D.C., following an aneurism of the brain. She was a beloved friend--beloved by me, by our president, and by so many others in extraordinary measure in this institution that Sylvia, in turn, loved so dearly.
Perhaps I am admitting to a human frailty when I say that for a very few, very special persons whose lives have closely touched mine, I hold the wish that they will be here when I no longer am. That wish springs not so much from an altruistic hope for the longevity of others. It flows instead from a dread sense of life with an enormous unfillable void. In my life, Sylvia has been one of those very few, very special persons. And although Sylvia will always be with us, the inspiration of her example, the warm remembrance of many conversations, the wisdom and good sense of her extraordinary insights, and the lingering preciousness of her friendship and colleagueship--even with all this as a legacy--her passing woefully diminishes me.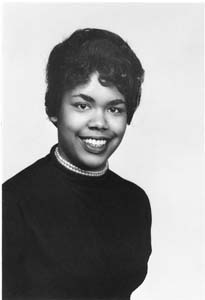 The distinction that Sylvia had brought to her profession at the time of her death was already legendary. She was a pioneer in making the study and appreciation of African art a significant aesthetic and intellectual pursuit in this country, rather than a casual by-product of safari trekking. As a curator at the Brooklyn Museum and then as director of the Smithsonian Institution's National Museum of African Art, she set the standards for her field. If you are one of the fortunate who has experienced an exhibition inspired or led by Sylvia--or who has read one of her exhibition presentations--you have felt the excitement, growth, and vision flowing from this remarkable person.
Sylvia' s peers know this well, and they called upon her for leadership in the American Association of Museums, the Association of Art Museum Directors, the Arts Council of the African Studies Association, the National Endowment for the Arts, and the Institute of Museum Services. She was a popular speaker, teacher, and lecturer.
But most of us here knew Sylvia for her service to Oberlin. Helping to recruit her in 1989 for service as an Oberlin trustee fascinated and taught me. Among the understandings we reached--this one at her insistence--was that she and I hold periodic sessions to evaluate her effectiveness as a trustee. We did. Those sessions were invariably, for me, at least, uplifting and motivating. The board, of course, needed and welcomed the professional talents that Sylvia brought, and we called upon those talents fully as Sylvia joined the Visiting Committee of the Allen Memorial Art Museum, and chaired the board's Collections Committee. Her unfailing good advice as vice chair to me during a difficult transition period, her splendid, positive response to each of the numerous problems or opportunities that trusteeship brought to her, the way Sylvia enlivened and lit up every room she entered--these are only a part of Sylvia's legacy that we will always cherish.
William R. Perlik is chair of the Oberlin College Board of Trustees. This remembrance is taken from the Memorial Minute adopted by the board March 9, 1996.
---
Return to the Alumni News and Notes
Return to the OAM Summer 1996 Table of Contents