The Month of a Lifetime
By Betty Gabrielli
---
Every summer for the past 10 years Conservatory professor Daune Mahy has been leading Oberlin students to Italy. All of them find the trip unforgettable, and, for most, the experience has proved invaluable.
---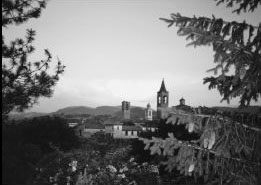 "They were just like fans waiting to get into a rock concert or a baseball stadium, but this was opera!" recalls junior voice major Erica Salinas of La Scala's lottery, in which hundreds of people write their names on slips of paper, then mill about the opera house's plaza for hours, hoping their slip will be drawn. "Some were anxious, almost hysterical. Some cried when their names weren't called. The ones who did get tickets, they screamed and laughed and danced."
Salinas was in Milan last summer with others enrolled in the Oberlin-in-Italy program, which celebrated its 10th anniversary this summer. The program was the brainchild of Oberlin voice professors Daune Mahy and Gerald Crawford, who spent several months studying in Urbania at the Centro Studi Italiani (CSI), a language school affiliated with the Societa Dante Alighieri.
Most intensive language-study programs do not offer vocal coaching, and the professors thought such a combination would be invaluable for young singers. And CSI's proximity to Italy's important singing schools and opera theaters, coupled with Urbania's rich history and beautiful countryside, made it a perfect partner for academic collaboration with Oberlin. CSI director Carlo Pasotto agreed, and the new program was launched. Oberlin-in-Italy singers are coached by Mahy and Italian Maestro Carlo Morganti in the Italian lyrical style. Nineteen hours a week of grammar, syntax, and vocabulary classes are bolstered by daily contact with Urbania residents, who open their homes and hearts to visitors.
"It's a total blitz," remembers Jennifer Wamsley '93, who went to Urbania in 1991 and is now the conservatory's assistant director of opera theater. "As a singer, I really needed to work on my Italian. Living with a family there, I picked up more of the language in a month than I could have in a semester-long class."
Vocalists and instrumentalists in the program have traditionally given a Gala Concert at the conclusion of the course. This summer, in celebration of the anniversary, Mahy expanded the performance component, adding Puccini's one-act chamber opera Suor Angelica and two in-house concerts.
---
Above: Surrounded by the mountains and gentle foothills of central Italy, Urbania was, from the 15th to the 18th centuries, the country residence of the Dukes of Urbino.
Photos courtesy of Daune Mahy.

---