"THIRTY MINUTES TO PLAY--
A LIFETIME TO REMEMBER"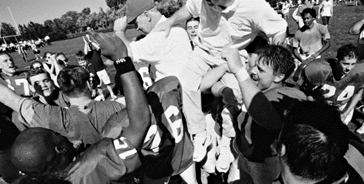 Not since late 1992 had Oberlin's football team won a game. Forty straight games of the same old thing--theirs was one of the longest losing streaks in NCAA Division III history. Game 41 would be different.
BY SCOTT PATSKO
---
With less than 10 minutes until Oberlin's season opener against Thiel College, three-years worth of frustration and disappointment were quickly beginning to boil inside Brian Salter. "Talk is cheap," the junior running back yelled. "And we've been talking way too long. We have to go out there and do it!" All 27 of Salter's teammates sat around him on metal folding chairs in the small locker room below the bleachers at Oberlin's Dill Field. The room, lined with red lockers, was silent except for Salter and an occasional "ditto" from a teammate. Head coach Pete Peterson paced around the room. His assistants stood watch.
On the far wall was a large board on which somebody had scribbled notes from the game plan. The only thing that really seemed to matter at the moment was at the top of the board in big blue letters. "Kill Thiel!"
On the field, barely five minutes into the game, Oberlin was on the verge of doing something it had not done for a long while. Scoring first.
The Yeomen faced a third-and-goal from the Thiel eight-yard line. Senior quarterback James Parker rolled out to the left. Receivers and defensive backs filled the end zone. Parker was getting closer to the sideline and defenders were getting closer to Parker. Finally, freshman Jesse Cretaro came open. Touchdown.
Salter bumped chests with teammates. Players pumped their fists into the air. Oberlin fans traded high fives. A group of women near the bottom of the stands sang and danced. Two guys, their chests and faces painted in Oberlin crimson, tried to coordinate the celebration.
Seven minutes later, Oberlin added a field goal. None of the players on the roster had ever experienced a 10-0 lead before, but they didn't act surprised. Their faces looked determined, as if to tell everyone, "this is how it is supposed to be." They finally had a chance to strut.
But it didn't last. A long touchdown pass by Thiel quickly made it 10-7.
In the bleachers, a man returned to his seat after buying a hot dog. "10--0, can you believe it?" he asked a couple sitting in the first row.
"Not anymore," someone shot back. "It's 10-7. They just scored."
"What? All I did was get a hot dog!" the man said.
"Well, don't go down there anymore."
It wasn't long before Oberlin's shrinking lead became no lead at all. A late field goal by Thiel tied the game. By the close of the first half, Oberlin wasn't any closer to ending the streak.
In the locker room, players quickly rinsed off and found dry t-shirts to wear under their jerseys. Outside, the skies were clear and calm, but the sun was hot.
"Don't be satisfied," someone yelled as the players found their lockers. "There are 30 more minutes in this game. It is not going to end like this!"
"Keep patient," offensive coordinator Todd Mooney coached. "Keep grinding it out. We need to put points on the board and we aren't going to score each possession."
Receiver Felix Brooks-Church limped out of the trainer's room. If the Yeomen were going to win, they were going to do it without one of their best players. The sophomore's hamstring was wrapped. His uniform was off.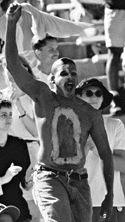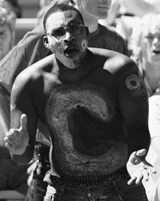 Halftime was running out. The players gathered near the locker room door, their cleats hitting the concrete like 28 tap dancers out of sync. "This is it, men," Peterson said, just before opening the door. "Thirty minutes to play. A lifetime to remember."
The third quarter went scoreless. The fourth was just 38 seconds old when Thiel's Tori Nelson dodged his way through Oberlin's defense for a 23-yard touchdown run. Oberlin was losing.
Up in the coaches' booth, defensive coordinator Thomas Smith ripped off his headphones and half ran, half hopped, down the bleachers toward the field. He sprinted over to the defensive players.
"Let's go!" he yelled, jumping up and down and pointing at each one. "You've got to start pushing up field! Let's go!"
With 11:28 to play, Oberlin defensive tackle Sean Nagle fell on a fumbled snap at the Thiel 42-yard line. And just like that, everything changed. Oberlin's offense took the field as their fans resumed chanting, cheering, and dancing. On the players' faces, looks of frustration turned to deter-mination. Wide receiver Anthony Johnson raced down the sideline as Parker faded back to pass. Johnson leaped over his defender to snatch the ball from the air, landing on Thiel's five-yard line. On the next play, Parker hit John Singleton--in the middle of the end zone--for a second touchdown. Now Oberlin trailed by just one point, 16-17.
Five years. Forty games. No victories. The Yeomen wanted to win. And they wanted to win now. Instead of kicking for the extra point, Oberlin was going for a two-point conversion. As Parker walked up to the line, Johnson, Singleton, and Cretaro lined up wide to the right. Salter broke to the left. Snap. Parker took a short drop. With so many players on the right side, Singleton got lost in the shuffle. Parker found him. 18-17. Oberlin was winning.
A Thiel player pushed Singleton in frustration. Oberlin players raced from the bench to congratulate Singleton, Parker, and anybody else they could find. Fans in the first row of the bleachers jumped out of the stands and onto the track surrounding the field. If the P.A. announcer said anything, nobody heard him.
The clock read 9:22. In the stands, the chants started even before the defense took the field. "Let's go D!" After three-and-a-half quarters of handoffs, Thiel quarterback Mike Winslow tried to pass his team down the field. It didn't work. Oberlin took over on downs.
"All we have to do is suck it up!" tight end Jason Ross assured his teammates. "Once you win, nothing hurts," defensive lineman Alex Levine responded. Brooks-Church limped along the sideline. Last season, he helped his teammates with a school-record 76 receptions. The only way he could help them now was with support.
"Come on offense!" he shouted. "Let's go!"
With 2:41 to play, Oberlin was at the Thiel 20. Third-and-seven. Parker just missed Singleton in the end zone. A woman in the stands screamed. Salter gained only one yard on fourth down. Thiel ball. 2:35 to play.
Thiel's Winslow quickly found his team facing fourth-and-four at their own 26-yard line. But he found a receiver near the sideline. Thiel had a first down at the 31.
Only 1:01 left in the game.
On first down, a pass fell incomplete. Then another. And another. It was fourth down again. The fans were growing louder. "Come on clock, run!" Peterson yelled.
Forty-one seconds. Fourth-and-10. Thiel's 31-yard line. Winslow took the snap and rolled right. Receivers raced down the field. This had to be a big play. Suddenly, the Oberlin fans began to cheer. They knew what Winslow didn't. Defensive tackle Sean Nagle was closing in. First Nagle got one hand on Winslow's shoulder pads. Then the other. Then Nagle drove Thiel's hopes to the ground.
Sack. Oberlin's ball.
Seconds later, Parker knelt down with the ball, running out the clock, and the celebration began.
Players threw their helmets in the air. Salter fell to the ground. Fans rushed the field. Oberlin security guards kept an uneasy eye on the goal posts. Parker's parents found him and gave their son a bear hug. Tears ran down Singleton's face. Spruill was hugging him. On the field, the women who had been singing and dancing the entire game were still at it. "Peterson led us to victory!" Clap! Clap!
And slowly, without anybody really noticing, Peterson made his way up into the stands, down a tunnel and into the locker room. A minute later he came out, let out a big breath and headed back to the field. "I had to get some composure," he said later.
Finally, all the noise died down and Peterson motioned for his players to gather around him. For just a moment, there was silence. Everybody wanted to hear. And then, with one little three-word phrase, Peterson officially ended the streak. "We did it!" he yelled, raising his fists into the air. He barely got the last word out before the players yelled back, surrounding their coach.
The scoreboard was still on. Home: 18. Visitor: 17.
Ten minutes later, players began heading to the locker room. Others stayed on the field, talking to friends and parents. Peterson and Brooks-Church crossed paths on the track. The coach put a hand on the shoulder of his star receiver. He pointed at Brooks-Church and nodded. While it was hard to hear what Peterson said, it wasn't hard to imagine. And as Brooks-Church walked away, that limp wasn't so bad any more.
---
Scott Patsko is a senior journalism major at Kent State University. Before enrolling at KSU, Patsko was a sports reporter for Lorain County's Morning Journal. Photos by Ramon Owens.
---
Return to the OAM Fall 1997 table of contents