Odd Man In, In Cincinnati
By David Milstead '94
---
Tne political observer in conservative Cincinnati calls city council member Todd Portune '80 "Odd Todd." No surprise, perhaps, that it's the Obie who gets tagged with such a moniker. But while Oberlin exposed him to a variety of viewpoints, Todd says his principles were shaped by events that took place before he ever set foot on campus.

"I don't know that I went to Oberlin being political," says the self-described liberal Democrat. "I went with a good background, instilled by my parents, of being active in things."
Todd, a partner in the law firm Cohen, Todd, Kite & Stanford and a recent president of the College's Heisman Club, chose Oberlin for its mix of academics and athletics. Actively recruited by former track coach Tommie Smith, he ran track for four years, played football for three, and threw in a year of cross country. He exhibited an interest in politics during his Oberlin days, but not the wherewithal to withstand electoral ups and downs; he ran for Student Senate as a freshman, lost, and never ran again.
Besides his parents' influence, Todd cites three events as important to his developing political conscience: his father's death, his mother's attempt to reenter the workforce, and his cousin's murder.
Todd was just 14 when his father died. "We weren't prepared for that as a family," he recalls. " . . . I've always understood that each of us is just a tomorrow away from dire circumstances and there should be safety nets." Seeing his mother's subsequent struggle to get a job led Todd to vow that whenever he saw discrimination he would try to eradicate it.
Several years later, while Todd was enrolled at Oberlin, his cousin, a Cincinnati firefighter, was murdered. Considering what led the murderer to commit the crime, Todd says he came to realize that "it didn't matter how many prisons or police on the street there were. There was something happening with that person; none of that stuff made any difference."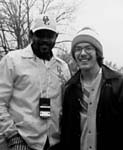 Todd may not have entered Oberlin as a political animal, but he left with a heightened confidence that afforded him the courage of his convictions. "The main thing I came away with was a firm commitment to be involved--without specificity--but to be involved, not to be afraid to voice an opinion, to take a stand on an issue, to make a difference."
He's applied those principles to the issues of Cincinnati. Todd has been outspoken in opposition to Issue 1, the ballot initiative that passed several years ago, prohibiting gay-rights ordinances. He's sponsored local campaign-spending limits that will likely be challenged all the way to the U.S. Supreme Court. And, after last fall's racial uproar at Texaco, he pushed for Cincinnati to sell its stock in the company, a move approved by city council a few months ago.
Not all of Todd's battles are fought over public issues. Early last year, he was diagnosed with a rare spinal cord disease that spread tumors throughout his body. He is undergoing a regimen of radiation treatments and physical therapy, and will be checked every six months to ensure the tumors have been kept at bay.
He is open about his illness, but as a public figure, he has no choice. Upon his return from the Mayo Clinic, photographers and camera crews crowded into council chambers for his first session back. "City Manager John Shirey asked me, 'Why are all these people here? The agenda is light.' And I said, 'John, they are here to see how long it is until I die.'"
Todd nonetheless fights on, distinguishing himself on a council often hidebound by conservatism. "It's hard here, but it's necessary here," he says. "The temptation is to throw in the towel, but if I throw in the towel, who's going to raise the issues? Who's going to carry it forward and make the difference?"
And what about "Odd Todd," the nickname given him by Jim Schifrin, a retired right-wing PR executive who publishes a daily fax newsletter called "The Whistleblower"?
"I think he just uses it because it rhymes," says Todd.
David Milstead is editor of the Dayton edition of Small Business News. He lives in Cincinnati.
---