Basketball Teams Make Conference Tournament
---
For the first time in five years, Oberlin's basketball teams advanced to the North Coast Athletic Conference's (NCAC) post-season tournament, an achievement that says more about the teams' future than their season records of 4-21 and 3-21, respectively. Going to the tournament "gave us a great sense of accomplishment," says women's head coach Ann Gilbert '91, a sentiment her counterpart on the men's team, Miguel Curl '86, shares. ". . . we should now expect to get into the tournament and not have to come down to the last game needing a win," he says.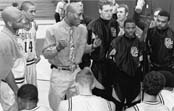 Knowing the importance of positive attitude, Curl and Gilbert have concentrated as much on boosting enthusiasm and discipline as on improving technical skills. "Our athletes are leaving this program with the ability to be self-disciplined and team members," says Curl.
Gilbert and Curl have realized the benefits of those principles in their own lives. Both cite the College's academic standards as the reason they transferred to Oberlin--Gilbert from Ohio University and Curl from Triton College--and both were stand-out athletes during their student days. Twice named NCAC Player of the Year, Gilbert set 24 school and 10 conference records and twice received NCAA Division III first-team All-American honors. During his senior year Curl led the team in assists and steals and was the team's third-leading scorer.
The coaches' optimism seems to have rubbed off. The Yeomen beat conference rival Earlham to gain a spot in the tournament, where they were knocked out of competition by conference powerhouse Wittenberg. Sophomore John Norris earned second-team All-NCAC honors.

The Yeowomen were defeated in tournament play by the top-seeded Ken-yon team, but honorable-mention selections Ikea Hillman and Monica Bush were two of only three first-years who made the women's teams in conference voting.
They've sampled success; now they want victory. "We've seen what's out there, now we want to take over," first-year Yeowoman Chamia Peter-son told the Oberlin Review.
--Adam Shoemaker '96 Office of Communications Intern
---