Around Tappan Square
Culture on Campus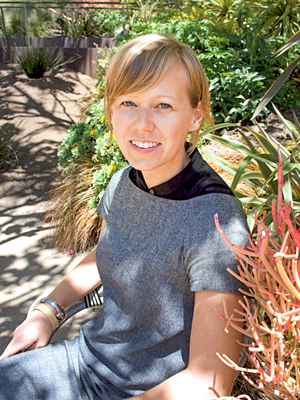 Assistant Professor of Art History Sarah Hamill was awarded a 2013 Collaborative Research Fellowship from the American Council of Learned Societies.
Working with Megan Luke, assistant professor of art history at the University of Southern California, Hamill hopes to shed new light on the role of photography in shaping modern perceptions of art and history.
"Sculpture and Photography: The Art Object in Reproduction" is a coauthored study of theories of imaging technologies and the limits of perception. The fellowship, made possible by a grant from the Andrew W. Mellon Foundation, aims to demonstrate the creative potential of collaborative research in the humanities and related social sciences.
Julia Christensen, assistant professor of integrated media in the art department, landed a $90,000 Creative Capital grant to build DIY video projectors out of discarded electronic waste scavenged from around the world.
A multidisciplinary artist and professional musician, Christensen, who also serves on the faculties of environmental studies and TIMARA (Technology in Music and Related Arts), is the second artist from Ohio to win the support of Creative Capital, a nonprofit that works like a venture capital fund for the avant-garde.
Sustaining Interest
Oberlin College won a 2013 Sustainability Award from the APPA: Leadership in Educational Facilities, which recognizes colleges for their sustainable policies and for embedding green practices throughout their campuses. The APPA is the largest international association of educational institutions and their physical plants, and Oberlin will be featured in its Facilities Manager Magazine. Oberlin also received a 2013 Climate Leadership Award from Second Nature, a national nonprofit that works to create a healthy, just, and sustainable society by transforming higher education.
Restorative Effect
The Apollo Theatre received the Award for Theater Restoration from the Cleveland Restoration Society and the American Institute of Architects-Cleveland. The awards program recognizes exemplary investments in the revitalization of northeast Ohio.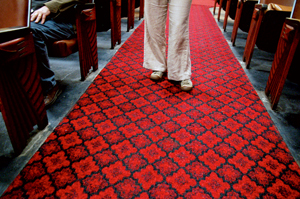 Fulbrights and Other Bright Lights
Sixteen Obies—11 graduating seniors, two undergraduates, and three alumnae—received Fulbright grants to study abroad this year. The May 2013 grads are Sophia Bamert, Laura Rose Brylowski, Lyz Glickman, Leah Goldman, Amanda Gracia, Britt Higgins, Kara Kralik, Sophia LeBlanc, Rachel McMonagle, Darrin Schultz, and Sophie Yapalater. Other recipients are Gabriel Brown '16, Megan Michel '15, Spike Enzweiler '12, Miriam Rothenberg '12, and Larissa Min '98. The Fulbright is the U.S. government's flagship international educational exchange program.
Margaret Nichols, who graduated in May, won a National Science Foundation Graduate Research Fellowship; she will pursue a PhD in mathematics at the University of Chicago. Double-degree grad Adam Birdsall received honorable mention.
Another May grad, Billy Broderick, was named a Luce Scholar. Yihui Chen was awarded the Ernest B. Yeager Award for research in spectroscopy. The Darmasiswa Scholarship, a fellowship for study in Indonesia, was awarded to Jamie Yelland '13, Zoe McLaughlin '11, and Violet Peña '12.
Rachel Manning '14 received a 2013 Udall Scholarship, one of 50 awarded to students on the basis of commitment to careers in the environment, health care, or tribal public policy; leadership potential; and academic achievement. Margaret Heraty received honorable mention.
Taylor Richard and Daniel Starer-Stor received honorable mention in the Barry M. Goldwater Scholarship and Excellence in Education Program.
Gail Schwieterman, who will graduate in December 2013, won a Thomas J. Watson Fellowship, one of 40 grants nationwide given to college seniors to pursue their unique passion for a year of independent exploration and travel outside the U.S. Schwieterman will study shark conservation in regions across the globe.
Studio art major Matthew Gallagher '13 was the Grand Award winner in the Award for Excellence in the Visual Arts competition sponsored by the Association of Independent Colleges and Universities of Ohio.
Oberlin violists Aaron Mossburg '13 and Daniel Orsen '16 won their divisions in the 2013 American String Teachers Association National Solo Competition, sweeping the viola category. The final round was held in April at the Kaufman Center's Merkin Hall in New York. Mossburg (in the senior division) won $1,000, and Orsen (in the junior division) won $500. Oberlin was the only music conservatory to place finalists in two divisions.
Learn more about Oberlin's Fulbright winners at our News Center.


King-Size Calendar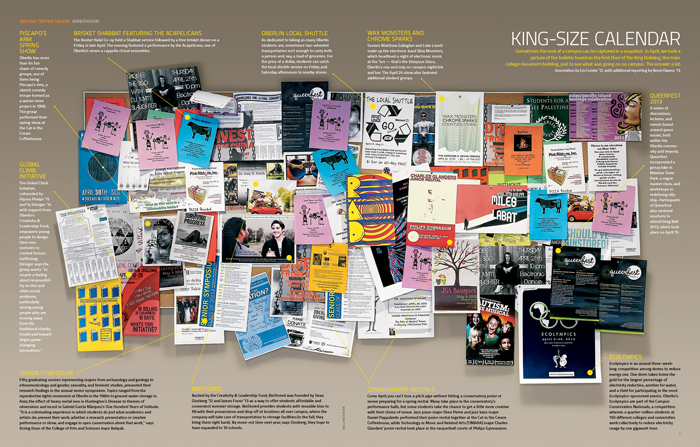 Retiring Types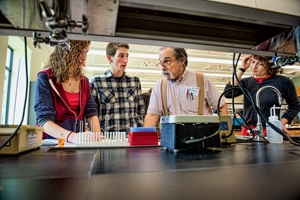 Six professors—Mark Braford (biology and neuroscience), Kathleen Chastain (French and flute), John Donaldson (computer science), William H. Fuchsman (chemistry, pictured above), Jack Glazier (anthropology), and Catherine McCormick (biology and neuroscience)—retired at the end of the academic year.
Did you know?
Smithsonian included Oberlin among "The 20 Best Small Towns to Visit in 2013," in its April issue.