Issue Contents :: Alumni Notes
Legal Aid for Activists
by Joellen Craft '05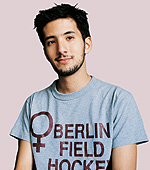 Dan Spalding '99
It sounds a little like a coalition of superheroes. The Midnight Special Law Collective, a nonprofit legal aid organization formed by Dan Spalding '99 and five other social activists in Oakland, Calif., teaches legal, yet effective means of protesting to activist groups locally and nationwide.
The group's main goal is to "demystify the law" by holding such training sessions as "Know Your Rights" and "Non-Violent Direct Action." Members of the collective are not lawyers, but instead rely on their network of lawyers and resources to both prepare citizens for upcoming protests and then defend those who are arrested.
The group had its start in the wake of the World Trade Organization demonstrations in Seattle in March 2000, helping public defenders prepare 600 cases for trial; all in all, only one protester was convicted. Later that year, prior to demonstrations against the World Bank and International Monetary Fund in Washington, DC, the Collective trained 1,500 activists and staffed around-the-clock phone lines for those who were arrested. Spalding himself, who had just become involved with the Collective, led three training sessions and became hooked. "At the end of my two weeks, I realized that I loved Midnight Special and hated my 'real' job," he says. "Two months later I quit and moved to Los Angeles to join them. I think my unofficial role is 'the guy who keeps in touch with contacts around the U.S.'"
That's quite a task, considering that the group is recognized by some of the best-known mass-mobilization units in the United States and Canada. Its web site—midnightspecial.net—is "open source," meaning free for anyone to copy, alter, and redistribute.
These days, the group is staying busy locally, reaching out to high-school students and minority groups who may be unaware of their legal rights. The collective published a Know Your Rights comic book that teaches youth of color how to act if arrested and jailed by police. A video is in the making, as is a second comic geared for Hispanic students that involves Barbara "Bobbie" Lopez '00 of La Raza Centro Legal.
---
Oberlin Alumni Magazine welcomes class notes submissions.

Fill out our electronic form

Send a note via mail (enclosing a recent passport-style photo) to:
Class Notes
Oberlin Alumni Magazine
145 W. Lorain St.
Oberlin, OH 44074-1089

E-mail: alum.mag@oberlin.edu

Fax: 440.775.6575

The editor reserves the right to edit for clarity and space.