Alumni in Service to Oberlin College
by Laura Gobbi '91
Executive Director, Alumni Association
The ASOC program flourished again last fall semester, as alumni spanning all fields visited campus to hold lectures, address classes, and offer career advice to students. Here are but a few:

Leah Wing '84, a trainer and consultant in conflict resolution issues, worked with Oberlin's student-staffed mediation team in August. With a special interest in multiculturalism, Leah helped develop the Oberlin College Dialogue Center in 2001 and has since offered extensive training to student mediators. A lecturer with the Department of Legal Studies at UMass-Amherst, she sits on the boards of the Association of Conflict Resolution and Conflict Resolution Quarterly.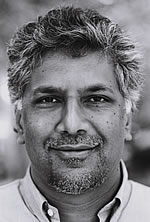 The Creative Writing Program sponsored a poetry reading by Viji Seshadri '74, author of The Long Meadow (2004) and winner of the James Laughlin Award from the Academy of American Poets. Born in India and raised in Columbus, Ohio, Viji directs the graduate program in nonfiction at Sarah Lawrence College; his work has appeared in The Threepenny Review, The New Yorker, Shenandoah, Antaeus, AGNI, and The Paris Review. Viji made the most of his time on campus, delighting in the Robert Venturi and Cass Gilbert architecture, visiting the art museum, and roaming about the Arb. Having studied math, philosophy, and English at Oberlin, Viji hitchhiked his way out West after graduation, working on a salmon fishing boat off the coast of Portland and in the logging industry—experiences embodying "a bit of Melville and Steinbeck."
The Department of Economics sponsored a lecture by George Hall '89, professor of economics at Yale University, who spoke on "Prices, Production, and Inventories over Automotive Model," in which he outlined the within-model year pricing and production of new automobiles. A specialist in macroeconomics, George is widely published and serves as a Faculty Research Fellow for the Economic Fluctuations and Growth Program at the National Bureau of Economic Research.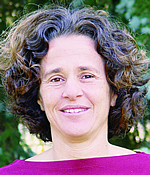 Documentary filmmaker Sue Dorfman '77 screened her premier film Dying to Vote, an account of the historical human cost of obtaining the right to vote and modern efforts to re-engage voters in the political process. Sue was inspired to create her first film (having worked as a photojournalist and radio reporter) by watching South Africans stand in line for days to vote for the first time. Founder and director of WorldViewsMedia in Newton Centre, Mass., she serves on the board of the Fletcher Club of Boston and Women in Film and Video/New England.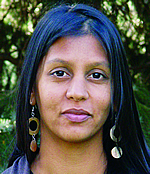 Freelance journalist Sonia Shah '90 delivered a lecture titled "Oil in the Age of Depletion: A Renewed Assault on Human Rights and the Environment?" which coincided with the publication of her new book, Crude: The Story of Oil (see Bookshelf). Sonia lives in Queensland, Australia, with her husband, an evolutionary biologist, and their two boys, Zakir, 7, and Kush, 4, where she's working on a new book about the role of Big Pharma in the developing world
James Zemaitis '90, senior vice president and director of Sotheby's 20th-century design department, presented a gallery talk at the Allen Memorial Art Museum on 20th-century American design. James has held positions at Christie's and Phillips, specializing in the pioneers of Modernism while developing the emerging markets of mid-century modern, pop, and contemporary design. He is coauthor of The Coffee Table Coffee Table Book, the first-ever survey of one of the 20th century's most original furniture forms. He studied art history at Oberlin and pursued graduate study in American art history at Rutgers.
Next Page >>