Oberlin-in-London to Return Next Fall
by Anne C. Paine
The Danenberg Oberlin-in-London program is a go for the 2006-07 academic year, albeit in a somewhat revised format.
Provost Al MacKay says that Oberlin will collaborate with Grinnell College in what the two institutions hope will become a permanent, joint program in London. Oberlin's program will undergo a two-year transition while details of the collaboration take shape.
The Danenberg Oberlin-in-London program was suspended for the 2005-06 academic year due to budgetary concerns and to the inability to renew the lease on the current building or find a suitable, reasonably priced alternative site.
The joint arrangement allows Oberlin both to save money and to meet its goals—recently reaffirmed in the Strategic Plan—of internationalizing Oberlin and providing high-quality study-abroad programs and opportunities for faculty development and interdisciplinary teaching.
"We've still got to work out how to get the maximum benefit from the collaboration, and we will over the next two years," MacKay says. "The more we can spread out fixed costs, such as administrative and facility expenses, the better it will be for everyone, as long as the quality is there. And I'm confident it will be."
Oberlin will also save money by changing the way student room and board charges are handled and by altering its fall semester program somewhat. A major difference between the two programs is that Oberlin's operates during both semesters, while the Grinnell-in-London program operates only in the fall.

Oberlin will send a smaller contingent next fall—one faculty member and between 15 and 20 students—than it has in the past, but then resume its usual program of two faculty members and between 25 and 35 students in the spring of 2007.
The new program will allow Oberlin students to enroll in Grinnell courses, and vice versa. Grinnell offers courses in the history of London, Shakespeare, Irish literature, theater in performance, and Flemish art. "Internships are also an integral part of the Grinnell program, and Oberlin students will be able to take advantage of internship opportunities in London for the first time," says Marc Blecher, chair of Oberlin's London Program Committee and professor of politics and East Asian studies.
The program's facilities will be based in a site operated by Florida State University, from which Grinnell rents space. Oberlin will now rent space there as well. The site offers a number of advantages over Oberlin's old site in London, says Blecher.
"The location in central Bloomsbury is just a block from the British Museum," he says. "It's a secure building, accessible to people with disabilities, and students can use the Internet around the clock, something I'm sure they'll enjoy." ATS

---
Alumni Gift Spurs New Track and Field Project
by Betty Gabrielli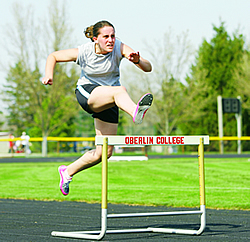 Photo by Brian Thomas
Oberlin College could be the host of national-level track and field meets next year thanks to a $2.2 million gift from former Oberlin athletes Robert Kahn '55 and Richard Bailey '51.
As a result of the gift, a state-of-the-art outdoor track and soccer/lacrosse field will be constructed on the site of the current soccer field on north campus.
"The facility will give us the capability of serving six varsity sports: men's and women's soccer, lacrosse, and track," says Joe Karlgaard, acting Delta Lodge Director of Athletics and Physical Education. "The new complex will not only continue to make Oberlin a destination point for high schools and colleges, but it will create a game-day atmosphere for more of our sports teams."

Three years ago, then Director of Athletics Vin Lananna began campaigning for a new facility, describing the current track as seriously outdated, badly worn, and lacking the size needed to host conferences and national-level events.
"Like many of our alumni, the donors are particularly desirous of seeing Oberlin build an excellent Division III athletic program," says President Nancy Dye. "The new complex will send a strong message to students and alumni of all ages about Oberlin's commitment to athletics."
Kahn, an investment manager in New York, is providing more than half the funds for the project; Bailey will fund the remainder. A retired consultant in Houston, Bailey also donated the initial funds for Oberlin's climbing wall, built in 2003. Both donors were considered top athletes at Oberlin in the 1950s, says Dye; Kahn was a star cross-country runner and tennis player, while Bailey ran track.
"The eight-lane track will be named the Robert Kahn Track, while the soccer and lacrosse field will be named Shults Field, after longtime Oberlin coach Fred Shults, Class of 1954," says Ernie Iseminger, vice president for development and alumni affairs. "A spring groundbreaking is planned, and we should have the facility ready for the fall 2006 sports season."
"This new venue is coming at the perfect time," says Men's Soccer Coach Blake New. "Not only will it provide a better playing atmosphere, but it will also allow us to get the Oberlin community more involved with athletics." ATS
Next Page >>