Home :: Alumni Notes
Alumni Notes
:: Notes
:: Sharing Lessons of a Lifetime
:: Benjamin Bagby Blazes a Path to the Past
Four ways to share your news

- E-mail: con.news@oberlin.edu
- Fax: Oberlin Conservatory: 440-775-5457
- Announce your concerts and recitals online: www.oberlin.edu/offcampus
- Mail clippings and high resolution (300 dpi) photos to:
Oberlin Conservatory of Music, 39 West College Street, Oberlin, OH 44074

Send us your news! We know the Oberlin community spans the globe. Please take
a few moments to send news of professional accomplishments from wherever
you call home.
---
1920s
A web site, www.haroldandgrace.com, has been created to honor Grace Krick Sanford '27 (1904-2003), her husband, and the history of their life in music and Grace's time at Oberlin. Grace earned both a bachelor's and a master's degree in 1928 and studied voice and piano with Rubin Goldmark and Anne Shoen-Rene.
1940s
Two books concerning the work of Helen Lindquist Bonny '43, a pioneering music therapist for 35 years, were released by Barcelona Publishers in September 2002: Music and Consciousness: The Evolution of Guided Imagery and Guided Imagery and Music: The Bonny Method and Beyond. Helen was named Outstanding Music Therapy Pioneer at the 1999 World Federation of Music Therapy meeting in Washington, D.C.
Edwin E. Heilakka '48 and Mary Jean Mapes Heilakka '46 were among those who attended the 183rd annual collation of the Musical Fund Society of Philadelphia in May 2003. Frederick P. Williams '47, Nancy Wise Hess '52, and Kim Lance Beamon '60 also attended the meeting, held in the city's historic Union League. Soloists were Elizabeth Hainen, principal harp of the Philadelphia Orchestra, and David Kim, the orchestra's concertmaster.
1950s
Gerald M. Ginsburg '54 has set hundreds of poems to music and calls his songs "theater lieder," because, he says, "they combine the melodic contour of musical theater and the structure of classical art song." His work was the subject of a 2002 doctoral dissertation by a DMA candidate at the Graduate College of the University of Illinois at Urbana-Champaign; the dissertation included an April 2002 concert of his songs. In a March 2003 concert in Carnegie Hall's Weill Recital Hall, Gerald, also a pianist, and tenor David Blackburn performed Ginsberg's songs of the poetry of German poet Heinrich Heine (1797-1856).
H. Leslie Adams '55 is featured in the book Musical Landscapes in Color: Conversations with Black American Composers by William C. Banfield (Scarecrow Press, 2003). Leslie's new CD for Albany Records, Love Rejoices: Songs of H. Leslie Adams, is now in its second pressing and was named one of the 10 best recordings of the year by the American Record Guide. His Quartet for Strings in D-Flat was performed by the Black River String Quartet at two Northeast Ohio venues in March 2004: Lorain County Community College's Stocker Center for the Performing Arts and the East Cleveland Community Theater.
Frederick "Fred" Carlson '56 won this magazine's 2003 "What's the Score?" contest. (The score shown was from George Crumb's Black Angels.) Carlson studied violin with Nathan Gottschalk but graduated with a major in physics. Retired from his scientific career, he says he continues working on and playing string quartets with friends in the Washington, D.C., area.
Anne Phillips '56 (formerly Anne "Dinny" Dinsmore) recently released her second album, Gonna Lay My Heart on the Line (Conawago, 2000). Her first album, the 1959 Born to Be Blue, was simultaneously reissued on the same label; Steve Dougherty of People.com called it "exquisite" and "sublime." Through their Kindred Spirits Foundation, Anne and her husband, tenor saxophonist Bob Kindred, produce her Christmas show Bending towards the Light: A Jazz Nativity, in which such jazz greats as Tito Puente, Dave Brubeck, and Lionel Hampton have performed. The foundation also supports their Children's Jazz Choirs, which teach inner-city children about jazz and the great American songs. Learn more at www.annephillips.com or www.jazznativity.com.
Judy Girton Phillips '56 hobbled on a broken leg to Washington, D.C., to perform Histoire du Tango, a flute-guitar duo by Astor Piazzolla, at the National Flute Association convention in August 2002. In June 2003, pianist Heather Spencer-Green Creighton '66 accompanied her in an Oberlin Alumni Concert in San Francisco; Joanna Garske Sacks '85 organized the concert.
Mary Kyungsook Lee MM '57 was elected to membership in the Korean Academy of Arts last July. An emeritus professor of voice at Seoul National University's College of Music, where she still teaches, Mary recently published two books in Korean: Gustav Mahler and His Art Songs (Life and Dream Co., Seoul, 2002) and Understanding of Art Songs (Sonu Media Co., Seoul, 2003).
Edward Tarr '57 was awarded the Honorary Doctor of Music degree at Oberlin's 2003 Commencement. Professor of Musicology Steven Plank presented him for the award, which honored his virtuoso career as a trumpet soloist, his pioneering work in the reintroduction of historical brass instruments, his prolific scholarship, and his devotion to teaching. He founded the Edward Tarr Brass Ensemble in 1969, and he has been a member of Das Duo (along with organist-pianist Irmtraud Krueger) since 1980 and of the quintet Concert Brass since 1992. He has made more than 100 recordings, and his book, Die Trompete (available in the third German edition: Mainz, Schott, 1994), is the standard work in its field. From 1972 to 2001, he taught at the Basel Music Academy (Musikhochschule and Schola Cantorum Basiliensis), and he now teaches at the Karlsruhe Conservatory.
1960s
Margaret Lee Brouwer '62 celebrated the New York premiere of her chamber music in a January 2003 concert at Steinway Hall. The selections performed included Winter Dream, with Sandra Simon, soprano, and Max Lifchitz, piano; Quartet (for Sept. 11), with Amitai Vardi, clarinet, Diana Cohen, violin, Julie Albers, cello, and Alex Cohen, percussion; Under the summer tree..., with Max Lifchitz, piano; and Demeter Prelude, performed by the Cassatt String Quartet. More information about Brower's music is available at www.brouwermusic.com.
Camilla Haugen Cai '62 was named the James D. and Cornelia W. Ireland Professor of Music at Kenyon College (Gambier, Ohio) in March 2003. She is the second person to hold the chair. She joined the Kenyon faculty in 1986 and specializes in the musicology of Germany and Scandinavia. Camilla is the author of Ole Bull: Norway's Romantic Musician and Cosmopolitan Patriot, as well as several other books and book chapters on such musicians as Johannes Brahms, Fanny Mendelssohn Hensel, Felix Mendelssohn, and Clara Schumann. Camilla has a special interest in women's music, and she teaches a course on the subject and conducts research on the relationship between gender and music.
Stephen Gunzenhauser '63, music director of the Lancaster Symphony, received a Grammy nomination for "Best Classical Contemporary Composition" for the recording of Benjamin Lees' Symphony No. 5, "Kalmar Nyckel." Released by Albany Records in 2003, the recording featured a performance by the Staatsphilarmonie Rheinland-Pfalz under Gunzenhauser's baton.
Composer, conductor, author, and music educator Mary Goetze '65, chair of general studies and director of the International Vocal Ensemble at Indiana University (Bloomington), was awarded the Conservatory's Division of Music Education Distinguished Alumna Award for 2003.
Sharon Davis Gratto '66, associate professor of music and coordinator of music education at Gettysburg College (Pa.), received a 2003 Callie Award from the United Way of Adams County and Adams County National Bank. The award honored her as an "exceptional woman in the arts" for her community work with the Gettysburg College Children's Choir, which she founded and directs. Gratto also received the Pennsylvania Music Educators Association District 7 Citation of Excellence Award in Higher Education at the association's annual conference, held in Hershey last April.
Scott Schillin '68 became executive director of Pro Arte Chamber Orchestra of Boston in September 2003. Pro Arte is one of several cooperatively governed orchestras in the country; unlike traditional orchestras, Pro Arte's players and conductor jointly choose music and guest artists. Formerly, Scott was coproducer of the radio program From the Top. He also was operations manager for the Boston Pops for 11 years.
1970s
Randall Vemer '76 retired from his position as principal violist of the Oregon Symphony, a position he had held for 20 years, due to focal dystonia in his left hand. He says he has found life after music as manager of French Home Rentals, and he encourages those wishing to rent an apartment in Paris or a house in Provence to contact him at fhr@earthlink.net or 503-219-9190, or visit www.FrenchHomeRentals.com.
Pianist Terry Eder '79 was chosen by Artists International Presentations, Inc., for a New York debut at Carnegie Hall's Weill Recial Hall; the concert will take place May 15, 2004. She lives in New York, where for the past four years she has "practiced law, as well as the piano." She can be contacted at teder-kaufman@cm-p.com.
1980s
Timothy Cheek '80 has completed the first book in the series The Janácek Opera Libretti: Translations and Pronunciation. Volume 1, Prihody Lisky Bystrousky, The Cunning Little Vixen, was published by Scarecrow Press. His first book, Singing in Czech (Scarecrow Press, 2001), was praised by Catherine Malfitano and Sir Charles Mackerras, among others. Timothy's CD with Czech soprano Dana Buresova, Forever Kaprálová: Songs for Voice and Piano, was released by Supraphon records in October 2003. In the past year, Timothy performed world premieres of several of Kapralova's compositions, and he is editing a publication of her songs.
Pianist Margo Hennebach '80 has joined forces with Adrienne Jones and Mark Saunders to form the trio Mad Agnes, which recently released its first CD, Magic Hour. Pete Fornatale of New York's public radio station WFUV says the trio knows "exactly what they're doing: crafting clever and beautiful songs and singing them flawlessly." The band has been featured at well-known festivals and venues around the country, including Bethlehem Musikfest and the Bitter End.
Composer Jonathan Dawe '87 has received a commission from the Wharton Center for the Arts (East Lansing, Mich.), to write a piece for the Miró Quartet. The work, Secret Knowledge of the Stars, is based on astronomical star charts from the early Renaissance and will be premiered in 2005. His Mannerisms Book I, commissioned by the Manhattan School of Music and scored for two countertenors, tenor, and percussion ensemble, had its premiere March 25, 2004, in New York by the Manhattan Percussion Ensemble. The Cygnus Ensemble premiered The Siren, a work he wrote for countertenor, viola, and guitar, at Sarah Lawrence College in December 2003. Jonathan is a member of the doctoral faculty at the Juilliard School.
Carol Ann Aicher '88 has been appointed to the graduate faculty at the Manhattan School of Music, where, for two years, she taught pedagogy courses for all instruments. These courses were based upon pedagogical principles of brain-based research applied to performance and teaching. She formerly served on the piano and pedagogy faculty at West Chester University (Pa.) and she performs regularly, with Brad Hull '88, as the Oberlin Piano Duo, a one-piano, four-hand team.
Benedict Weisser '89 was music director and arranger of Cantors: A Faith in Song, broadcast on PBS in September 2003. The program of cantorial music was taped September 10 and 11, 2003, in the Portuguese Synagogue in Amsterdam and is available on CD, DVD, and videotape. A European tour of Cantors is planned for May 2004, and a U.S. tour is slated for the latter part of the year. For information, visit www.thecantors.com. Benedict was a visiting assistant professor of composition at Oberlin in 1997-98.
1990s
The Passion of Saint Thomas More, a chamber opera by Garrett Fisher '91, was released internationally by Sweden's BIS Records in January 2002 and has received high praise. Gramophone calls it "a complete, unquestioned success. Hypnotic, magical, enchanting, and moving." American Record Guide says Garrett "has an acute ear for timing and dramatic structure ... the carefully inserted dissonances, the disarmingly simple modulations, and the elegant text setting contribute to an overall impression of authentic inspiration ... [It] is a startling release." ClassicsToday.com calls Garrett's work "a remarkable achievement." More information is available at bis.se. The second half of Garrett's theater piece Dream of Zeus had its premiere in January 2004 at Consolidated Works in Seattle, Garrett's base of operations for more than 10 years. (The first part of Zeus premiered in 1998 at Seattle's Nippon Kan Theater.) He is currently at work on Sally Hemings, a short film with original score and script by Garrett derived from his full-length opera, which was staged at the Northwest New Works Festival in 2000.
Inspired by Frank Gehry's undulating architecture in the Peter B. Lewis Building at Case Western Reserve University, Paul Cox '92 composed Gehry Variations for Percussion and Tape, which he describes as "a monumental solo percussion work." The piece's electronic score is by Greg D'Alessio, winner of the 2002 Cleveland Arts Prize and a Guggenheim Fellow. Gehry Variations was performed by Jason Treuting of the So Percussion Group April 30, 2003, at Cleveland State University. The piece was used again in a dance work, Moments of Repose, choreographed by Doug Lodge and Joan Meggitt and performed by the Antaeus Dance Company in March at the Cleveland Public Theater. Another performance will take place at Allegheny College in June. Paul is assistant curator of musical arts at the Cleveland Museum of Art and codirector of the Aki Festival of New Music.
Darcy Hamlin '92 began her full-time position as third horn in the Milwaukee Symphony Orchestra in fall 2003. "Milwaukee is a great city, and it is such a relief to focus on just one job instead of juggling several," she says. "I had to switch from the big, silver, Cleveland-style horn I played in Oberlin to a smaller, brass, more Chicago-style horn so I could fit into the section. It's actually easier to play, and I can appreciate both sounds equally now." To contact her, send her e-mail at darcyhamlin@earthlink.net, or visit her web site, www.geocities.com/dbhmusic/.
Jeannette Sorrell '92 was awarded the Cleveland Arts Prize's Special Citation for Distinguished Service to the Arts in October 2003. Co-founder and music director of Apollo's Fire, she was honored for making a significant contribution to the arts in Greater Cleveland by winning national acclaim for the ensemble. [See Shaping the Sound]
Danwen Jiang '93 AD was appointed assistant professor of violin at the Arizona State University School of Music last fall. Prior to this appointment, she was visiting assistant professor at the University of Illinois at Urbana-Champaign (2000-2003) and a member of the visiting faculty at Oberlin (1999-2000). In the past two years, she has presented master classes and recitals at the Vancouver Academy of Music (Canada), Florida State University, and the universities of Wisconsin-Milwaukee, Maryland, and Michigan, among others.
Musicologist Beth E. Levy '94 joined the music faculty of the University of California, Davis, in fall 2003. She was the subject of "Lyrical Writing about Music," an article in the September 5, 2003, issue of The Chronicle of Higher Education under the rubric "Rising Stars." The article quotes Richard Crawford, a founding figure in the study of American music, who became acquainted with Beth during her year as a Mellon Postdoctoral Teaching Fellow at the University of Michigan. "She has a particular gift for interweaving Herculean research and acute musical insights," he is quoted as saying. "She's writing at a level of sophistication that any European scholar would be grateful to command." Beth's expertise and scholarly focus are trained on such American composers as Aaron Copland and Roy Harris, and she is writing a book based upon her dissertation: Frontier Figures: American Music and the Mythology of the American West, 1895-1945.
Cellist Christopher Stenstrom '95 is in his fifth season with the Nashville Symphony and was recently appointed instructor of viola da gamba at Vanderbilt University. He is a founding member of ALIAS, a chamber ensemble whose performances benefit local nonprofit organizations. Dedi-cated to the performance of new and unusual works as well as standard repertoire, ALIAS' eclectic programming has won critical acclaim in the press. For more information, visit www.aliasmusic.org.
Trumpeter Matt Shulman '96 was named "Jazz Artist of the Year" by the 2003 Independent Music Awards. He received the honor for his performance of his composition "Coexistence," which appears on his recording While We Sleep. For more information, visit www.musiciansatlas.com/program.asp or www.shulmansystem.com.
Baritone David Adam Moore '97 made his New York City Opera debut as Papageno in Lofti Mansouri's production of The Magic Flute in November 2003. He was Don Giovanni in Calixto Bieito's production with Staatsoper Hannover in November 2003 and February 2004. "It's a hyper-realistic rendering of the story that has developed a cult following in Europe," he writes. "Imagine Reservoir Dogs meets Don Giovanni." In 2001, he sang the title role in Francesca Zambello's production of Billy Budd with the New Israeli Opera. He will sing the artist recital at Oberlin's 2004 Institute of Voice Performance Pedagogy, led by Professor of Singing Richard Miller, in July.
Soprano Martha Guth '98 received a $25,000 grant from the Canada Council for the Arts that funded study in Germany with Edith Moser-Wiens '75. Martha remains in Germany, performing in concerts there and elsewhere in Europe. She took second place in the Canadian Broadcasting Corporation Competition for Young Musicians in May 2003 and fourth place in the Wigmore Hall International Song Competition, held in London in September 2003. She reports that her appearance at Wigmore made possible work with internationally renowned pianist Graham Johnson, founder of the competition. Last December she won second place and an audition tour in Europe at the Montreal International Czech and Slovak Competition. She gave the opening recital at Oberlin's Vocal Academy for High School Students in July 2003; this summer she will be an apprentice at the Santa Fe Opera, understudying the role of Agrippina in Handel's Agrippina.
Joshua MacCluer '98 has been appointed second trumpet of the St. Louis Symphony. Prior to this appointment, he was principal trumpet of the Colorado Symphony for two seasons. He also held the position of acting principal trumpet of the Baltimore Symphony for one season and has been a member of the Kennedy Center Opera House Orchestra (Washington, D.C.), as well as the Florida West Coast, Grand Rapids, and Ann Arbor symphonies. He was a faculty member at the Eastern Music Festival in Greensboro, N.C., for three years.
Joseph Friedman '99 is performing on stage, singing, and playing guitar in
the off-Broadway, rock-and-roll musical Ministry of Progress, which opened
March 4, 2004, at the Jane Street Playhouse in Greenwich Village. A jazz studies major, he says he spent "five wonderful years studying with Dr. Wendell Logan and Bob Ferrazza." Friedman has since performed with George Benson, Broadway star Lillias White, and jazz greats Jay Leonhart, John Pisano, and James McBride '79. He is also endorsing Kiso Guitars from Japan, attending trade shows as the company's clinician and spokesperson. "I loved my experience at Oberlin and learned a great deal," he writes. "I hope that you maintain that level of excellence for years to come—and continue to inspire young minds!"
Christopher Holmes '99 performed the role of Schaunard in a March 2003 Austin (Tex.) Lyric Opera production of La Bohème. Christopher notes that Ward Holmquist '81 conducted and Shaun Haywood '95 had some solo lines. In January 2003, Christopher performed the role of the Motorcycle Cop in Dead Man Walking, also at the Austin Lyric Opera; Mel Ulrich AD '93 sang the role of Joseph De Rocher, the dead man walking, for one of the two performances. During summer 2002, at the Central City Opera (Colo.), Christopher sang Vernon in Lee Hoiby's Summer and Smoke beside Jennifer Casey Cabot '86, who sang the lead female, Alma.
2000s
Trombonist Benjamin Burney '00 and flutist Jara Kern '01 were married in June 2003. Ben earned the master of music degree at the Mannes College of Music in 2002; he is freelancing in the New York metropolitan area and works for Centre Partners, a private equity firm. Jara, who will complete her master's degree at SUNY-Purchase in 2004, teaches flute at the Center for Preparatory Studies in Music at Queens College and at the St. Thomas Choir School in Manhattan. She plays second flute in the Queensborough Symphony and Chorus orchestras, taught flute at the Sitka Fine Arts camp in June 2001, was featured on the 2002 Messiah Festival of the Arts series, and was a finalist in the 2003 New York Flute Club Young Artist Competition. Contact Benjamin at BRBurney@aol.com and Jara at JLKern79@aol.com.
David Wright '00 has released an album of his original song cycle The Cruel Welcome. David, who lives in Seattle, was awarded a grant from the Jack Straw Foundation Artist Support Program to make the recording. Contact him at brightphoebus@yahoo.com.
Pianist Ezra Weiss '01 was featured in the September 12, 2003, edition of The Oregonian on the occasion of the release of his debut album, The 5 a.m. Strut on the Umoja label. Assistant Professor of Jazz Percussion Billy Hart, bassist Leon Lee Dorsey '81, trumpeter Michael Philip Mossman '81, and Kelly Roberge '91 on alto sax are joined by saxophonist Antonio Hart on the recording, which features Weiss's own compositions and arrangements. For more information, visit www.ezraweiss.com.
Gloria Kim '02, BA '02 completed her fellowship with the American Symphony Orchestra League and accepted the position of manager of the annual fund for the Los Angeles Philharmonic Orchestra. She began working in Los Angeles in August 2003. Contact her at gloria.kim@world.oberlin.edu.
Ayn Balija '03 was core violist of the Pro Musica Chamber Orchestra of Columbus during the ensemble's 2002-03 season. The group performs classic and pops concerts, as well as ASCAP compositions.
---
Sharing the Lessons of a Lifetime
by Judith Weiss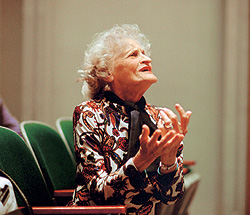 During her April 2002 master class in Kulas Recital Hall, Sylvia Olden Lee's grand gestures helped student vocalists find more meaning in the music.
(photo by Al Fuchs)
Sylvia Olden Lee '38 began life as the granddaughter of slaves and lived it as a vocal coach to some of the 20th century's greatest operatic superstars. When she returned to campus in April 2002 to conduct a master class and forum under the auspices of the Black Musicians Guild, a student organization, she brought to the Conser-vatory's young sopranos, mezzos, tenors, and baritones the wisdom borne of her lifetime of working with singers and their repertoire.
Olden Lee returned to Oberlin again in 2003 to receive an honorary doctor of music degree, the capstone of a remarkable career studded with milestones.
The first African American musician to work at the Metropolitan Opera (1954-1956), Olden Lee was subsequently the first to join the opera and lieder faculty of the Curtis Institute of Music, where she taught for more than 20 years (1970-1993). Over the course of six decades, she worked with countless singers, including Paul Robeson, William Duncan Allen, Kathleen Battle, and Jessye Norman, as well as maestros Boris Goldovsky, Max Rudolph, Sarah Caldwell, and James Levine.
Coming by music "prenatally," as she put it, Sylvia began studying piano at age 5 with her mother, Sylvia Ward Olden, a Fisk University graduate (in piano and voice) and a success- ful concert artist. Her father, J.C. Olden, was also a fine singer, a member of the Fisk University Quartet, and a minister.
Growing up in Washington, D.C., Olden Lee accompanied both parents in concerts, but never aspired to become a singer herself. "I think, if you don't have a voice like Mama's, you don't need to try," she said in later years. Instead, she transferred to Oberlin from Howard University, majoring in piano and taking a minor in organ. At Oberlin, she studied on a full scholarship and was a member of Pi Kappa Lambda.
Olden Lee studied opera and oratorio in Italy on a Fulbright scholarship along with her husband, violinist and conductor Everett Lee. She later lived in Germany under a government grant, where she studied lieder and produced TV specials in Munich, Stuttgart, and Berlin. She always maintained a respectful place for the spirituals that were part of her heritage, teaching that they should be sung naturally, like any folk music.
Ironically, Olden Lee's mother, who was very light skinned, was offered a position singing with the Metropolitan Opera in 1913, on the condition that she "forget about being colored." She refused. When Olden Lee herself went to work at the Met some 40 years later, there were still no African Americans singing major roles there. Nevertheless, she rigorously prepared African American singers and advocated for them until long after the color barrier was broken.
Note: Sylvia Olden Lee died on April 10, 2004.
---
Benjamin Bagby Blazes a Path to the Past
by Heidi Waleson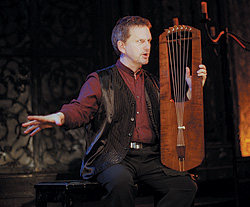 Benjamin Bagby performs Beowulf.
(photo by Olga George)
Benjamin Bagby '74 has made a career out of reviving the past, bringing to life on stage the ancient role of the early medieval English scop, or bardic storyteller.
The first vocal-studies graduate from Oberlin to specialize in early music, Bagby founded the internationally acclaimed Sequentia, an ensemble for early music, in 1977. Today he is equally renowned for his solo performances of Anglo-Saxon oral and bardic poetry, particularly Beowulf.
In the early 1970s, early music was just beginning to take hold at Oberlin, and the intellectually stimulating environment was ideal for a young musician like Bagby, bent on rediscovering old territory.
Bagby says he was advised to enroll at Oberlin by the legendary choral conductor Robert Shaw, who knew he was interested in Bach and lieder, rather than opera. "There were people at Oberlin who could help me, such as the inspiring Collegium Musicum Director L. Dean Nuernberger," says Bagby.
Once here, Bagby organized lieder recitals in German House and pursued his interest in a variety of music, graduating with degrees in voice and German literature.
A fellowship from the Thomas J. Watson Foundation for further study of medieval music, followed by graduate studies at the Schola Cantorum in Basel, confirmed his career path, but Bagby's direction was set at Oberlin.
"Oberlin is special because it's not just a conservatory where kids practice. It's an environment where you are confronted with intellectual issues that wouldn't come up in a regular conservatory. It's a great school for people who are really focused. The resources are immense, the distractions few," he says.
These days Bagby has focused his attention on Chant Wars, an exploration of what he describes as "the legendary collision between ancient chant and the 'new' chant of the ninth-century Frankish cantors who served the Carolingian emperors Pepin and Charlemagne. It's about the Carolingian globalization of chant."
Bagby's collaborator on the project is his wife, Croatian vocalist and medievalist Katarina Livljanic, who teaches at the Sorbonne. The pair spent a six-week residency at Harvard University last spring, doing research for Chant Wars, and the project was presented in February at churches in Cambridge, New York, Montreal, and Los Angeles.
Of course, Beowulf remains a source of endless fascination for Bagby. He is completing work on the epic, which he performs with harp, and its ultimate incarnation will encompass more than five hours and 3,200 lines. Lincoln Center has commissioned Beowulf for its 2006 festival. The piece will be a fitting companion for an opera based on Grendel being written for the festival by Eliot Goldenthal and Julie Taymor '74.
Sequentia will release a new CD in the United States in autumn 2004. Called Lost Songs of a Rhineland Harper, it features the earliest notated songs, dating from the 11th century. The release coincides with a 10-city concert tour of the same program in late October 2004.
For more information, visit www.sequentia.org or www.bagbybeowulf.com.