The Shelf & Slope Experimental Taphonomy Initiative
A long-term experiment on the fate of organism's remains at the sediment-water interface
THE SSETI TEAM
Eric N. Powell, Rutgers

Karla Parsons-Hubbard, Oberlin College

Carlton E. Brett, U. Cincinnati

Russell Callender, NOAA

Anne Raymond, Texas A&M U.

George Staff, Austin Com. College

Sally E. Walker, U. of Georgia

Kathryn Ashton--Alcox, Rutgers

Richard Krause, Virginia Tech

Wei-Jun Cai, U. of Georgia

Rebekah Shepard, UC Davis

Donna Carlson-Jones, Johns Hopkins U.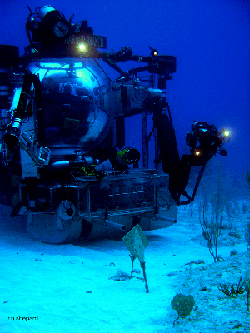 The
Johnson Sea Link
at 15m with experiments
(rods are buried with only floats visible at this site).
Since 1993...
The original experiments were placed on the sea floor in 1993 and have been sampled numerous times since then. The experiments are designed to be easily deployed and retrieved by submersible. For more information about the experimental design, results, and ongoing work, follow the links below.