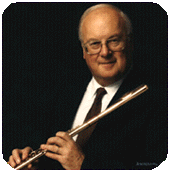 Michel Debost: Performer,
Teacher, Author.
(Photo by H. Ascherman, Jr.)


une simple flute...
contents:


** Identity:
Find out more about Michel Debost & his work, including an audio sample from his latest CD.


Flute Talk:
Read back issues of "Debost's Comments" from Flute Talk magazine.






** Hear a sample of Michel's latest CD: Mozart's Concertos pour flute - Concerto pour flute & harpe from EMI Classics.