Ohio Gay Rights Coalition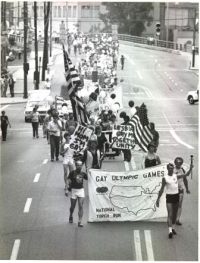 Scope and Content
This collection contains the incomplete records of the Ohio Gay Rights Coalition (OGRC). It consists of approximately one and a half boxes of paper materials and one physical object, a return address stamp. The collection includes correspondence, copies of different iterations of the organization's by-laws, minutes from meetings of the board of trustees, membership records, financial records, petitions, and publications by the OGRC and affiliated organizations.
Image: Columbus, Ohio's' first Gay Pride Parade, June 26, 1982. This image appeared in the
Columbus Dispatch
on October 7, 2012 in an article by Gerald Tebben: "Columbus Mileposts: Oct. 7, 1971 | Gay parade refusal soon swept aside."
Used with permission.
---
About the Donor | Historical Context | Inventory | Additional Resources
---
About the Donor
The Ohio Gay Rights Coalition collection was a gift of Arthur L. Kaltenborn who served as Secretary of the Ohio Gay Rights Coalition. The materials were donated to Oberlin College Library in 2006. The gift was facilitated by Dolores L. Noll, Emeritus Professor of English at Kent State University, and Vice President of the Ohio Gay Rights Coalition.
Historical Context
The Ohio Gay Rights Coalition (OGRC) was formed on January 22, 1977 with the express purpose of unifying the gay rights movement in Ohio. By bringing together separate groups with similar goals, the OGRC hoped to strengthen and hasten the process of achieving equal rights for Ohio's gay community.

During its active years, the OGRC created a communications system of county contacts within Ohio, a United States Congressional contact network, an educational pamphlet designed for the general public that was distributed across the state of Ohio, a pamphlet that described the current legal rights of lesbian and gay people, and a regularly published newsletter. Additionally, the OGRC set up a booth annually at the Ohio State Fair. Their presence at this venue allowed them to distribute their literature en masse, while simultaneously collecting signatures for petitions to the United States Senate and House of Representatives. By 1980, the OGRC had co-sponsored and financially supported several other organizations and workshops. These included workshops with the Dayton Gay Centers, the Whitman Brooks Foundation, Gay People's Alliance, and the Women's Action Collective.

On October 25, 1983 the OGRC was disbanded. Its remaining assets were awarded to the Stonewall Union of Columbus, an organization that still exists today.

Inventory
Box 1
SERIES I. Correspondence, 1979-1983
Folder 1 Correspondence (20 items), 1979-1983
Folder 2 Drafts/notes (2 items), undated
SERIES II. Board of Trustees records, 1979-1983
Folder 3 Ballots to elect board members(18 items), 1979
Folder 4 Meeting minutes (10 items), 1979-1983
SERIES III. By-laws, ca. 1978-1983
Folder 5 By-laws (8 items), ca. 1978-1983
Folder 6 Ballots on proposed amendments to by-laws (28 items), 1980
SERIES IV. Financial records, 1978-1983
Folder 7 Budgets and budget proposals (8 items), 1978-1981 and undated
Folder 8 Treasurer's reports (14 items), 1979-1983
Folder 9 Accounting records (14 items), 1979-1981
Folder 10 Tax records (19 items)2, 1978-1981 and undated
SERIES V. Membership records, ca. 1978-1983
Folder 11 Member addresses (17 items), ca. 1977-1983
Folder 12 Member registration forms (70 items), ca. 1977-1983
Folder 13 Assorted membership materials (9 items), ca. 1977-1983
Folder 14 Member organization lists (3 items), ca. 1977-1983
SERIES VI. Petitions and supporting documents, 1977-1979
Folder 15 Signed petitions (2 items), 1977-1979
Folder 16 Signed petitions (3 items), 1977-1979
Folder 17 Informational reports and articles (10 items), 1978-1979
SERIES VII. Publications and Publicity, 1977-1983
Folder 18 Ohio Gay Rights Coalition booth at the Ohio State Fair (8 items), 1979-1981 and undated
Folder 19 Newsletters collected by OGRC member, Barbara Keenan (8 items), 1977-1978
Box 2
Folder 1 Newsletters collected by OGRC member, Barbara Keenan (11 items), 1978-1980
Folder 2 Newsletters (15 items), 1979-1981
Folder 3 Mechanicals (2 items), undated
Folder 4 Pamphlets (8 items), circa 1979-1983
SERIES VIII. National Gay Task Force, 1976-1980
Folder 5 Correspondence (9 items), 1978-1979
Folder 6 "Action Reports" (18 items), 1976-1979
Folder 7 Newsletters (17 items), 1976-1979
Folder 8 Pamphlets (2 items), circa 1980
SERIES IX. Other organizations, 1976-1981
Folder 9 Publications (10 items), 1976-1981 and undated
Folder 10 Assorted documents (5 items), 1980 and undated
SERIES X. Objects
Ohio Gay Rights Coalition return address stamp, circa 1978-1983
Additional Resources
Stonewall Union of Columbus
Archives of the Seal Press, Seattle, 1976 - 2001 (OC Special Collections)
Jane Addams Bookstore, Chicago, 1976 - 1984 (OC Special Collections)
Lesbian Contradiction, San Francisco, 1982 – 1994 (periodical in Special Collections)