Winner of an award for adventurous programming by the American Society of Composers, Authors, and Publishers and the American Symphony Orchestra League in 2002, Oberlin Conservatory of Music's Contemporary Music Ensemble (CME) stands foremost among new music ensembles in higher education in the United States.

Deemed by the New York Times as "a hotbed of contemporary-classical players" and a "rural experimental haven," the Oberlin Conservatory of Music cultivates innovation in its students, and an interest in the continuation of music as an art form. In its six annual full-concert cycles, CME performs music of all contemporary styles and genres: from minimalism to serialism, to electronic, cross genre, mixed media, and beyond.

Under the direction of Timothy Weiss, the ensemble's consistently innovative programming and high level of performance has lead to considerable acclaim. Of a recent performance in Carnegie Hall, Anthony Aibel of the New York Concert Review raved: "Their level of preparation eclipses the highest conservatory standard and most professional contemporary music ensembles … [they] presented unbelievably polished, superb performances—impeccable performances—of extremely challenging recent music."

CME has worked with many prominent composers from a variety of backgrounds, including George Crumb, Sir Harrison Birtwistle, Helmut Lachenmann, David Lang, Joan Tower, Frederic Rzewski, and a long list of others, and has premiered many of their works. CME also regularly premieres works by prominent Oberlin faculty, student, and alumni composers.

Oberlin conservatory attracts some of the most well regarded contemporary music icons to perform as soloists with CME, including Jennifer Koh '97, Claire Chase '00, David Bowlin '00, Tony Arnold '90, Marilyn Nonken, Stephen Drury, Steven Schick, and Ursula Oppens. Distinguished students regularly receive opportunities to perform as soloists with the ensemble as well, a luxury that is seldom afforded at other institutions.

Oberlin has long been an undergraduate Mecca for nationally acclaimed composers, chamber musicians, and ensembles. It has produced scores of powerhouse new music performers and ensembles that began their careers as members of CME, including the two-time Grammy award-winning sextet eighth blackbird and the International Contemporary Ensemble (ICE), among others.

In addition to its concerts at Oberlin, CME regularly tours the states. In recent years, the group has performed at the Winter Garden, Miller Theater, Merkin Concert Hall, Harvard University, Benaroya Hall, Palace of Fine Arts, and Carnegie Hall's Weill Recital Hall, as well as in numerous partner concerts with the Cleveland Museum of Art. CME also has been featured on a number of commercial recordings, including John Luther Adams' In the White Silence (New World Records), Lewis Nielson's Écritures: St. Francis Preaches to the Birds (Centaur Records), and the Oberlin record label.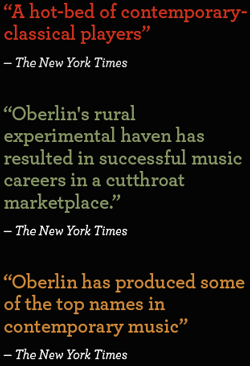 ---

Download bios and high-resolution photos by visiting the Press Room.
---

2013 ILLUMINATION TOUR PERFORMANCE:
Oberlin Contemporary
Music Ensemble
with ICE
DiMenna Center
Mary Flagler Cary Hall
Friday, January 18th, 2013
8:00pm
---

MEMBERS:
Soprano
Nicole Levesque
Violin
Hattie Ahn
Jeffrey Griton
Eliot Heaton
Myra Hinrich
Ayumi Ohishi
Willliam Overcash
Yuri Popowycz
Ha Eun Ryu
Mari-Liis Uibo
Wyatt Underhill
Alana Youssefian

Viola
Carrie Frey
Fatima Gassama
Aaron Mossburg
Camille Ripple
Cello
Alexa Ciciretti
Youn Kim
Helen Newby
Eric Tinkerhess
Bass
Andrea Beyer
Clint O'Brien
Jeff Takaki
Flute
Julia McGehee
Matt Slaughter
Oboe
Danny Rios
Clarinet
Zach Good
Jarrett Hoffman
Horn
Antonia Chandler
Matt McLaughlin
Harp
Rebekah Efthimiou