---
Birdblind returns for touching show
by Geoff Mulvihill
Birdblind is a performance, but it's also something more for its writer and producer, senior Josh Bergey. It's much more.
"It sounds awkward for me to say this, but it's a calling," Bergey said.
The one-act going up in Little Theater was one of three student-written shows selected to be performed at a regional American College Theater Festival in Columbus.
Bergey graduated last May with a B.A. in English, but decided to remain at Oberlin an extra semester so he could become the first Oberlin interdisciplinary performance major. He's unsure where he'll go after Birdblind, the show that's been the labor of his five months of creation.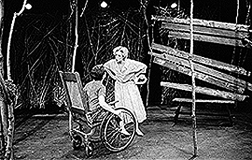 "I've just been so busy that I know I'm doing what I'm supposed to be doing now," Bergey said.
That sense of purpose pervades Bergey's language when he discusses his show. As he tells how his show developed, his amazement with its evolution makes sense.
It began with creative writing pieces he worked on in 1994 and 1995, when he transferred to Oberlin from Muhlenberg College in Pennsylvania. He wrote several pieces involving a woman who had a certain trapped feeling.
In one such prose poem, the woman was an Alzheimer's patient named Nellie and each room in her house brought out a different aspect of her identity. Bergey imagined she spoke in a Southern accent. The conclusion of that prose poem was this: "They discovered the end to Alzheimer's and Nellie had nowhere to hide."
The writer did not know much about Alzheimer's disease at the time.
The following summer, Bergey took a job as a companion for an Alzheimer's patient. Her name was Penelope and she went by Penny. She spoke in a Southern accent. And Bergey felt he had met the character he had been writing about.
"She puts out her hand and was introduced as 'Penny,' which was the name I'd been looking for," Bergey said.
Last fall, Bergey took a playwriting workshop and as a final project, wrote a one-act based on Penny. When he finished he wanted to put that piece aside for a while.
Then he decided to remain at Oberlin an extra semester and do an honor's project for the new major. The project was to include writing and staging a one-act play and a thesis analyzing his work.
He worked for the first half of the summer, then returned to Oberlin in mid-July and started working on Birdblind, though at the time he hoped to write a play from scratch. But, he said, "I wasn't intent on working on something else."
With the exception of five days at Thanksgiving, Bergey worked non-stop on the show until its first performance last December. The final script was completed just a few weeks previous and for the early-November auditions for the performance, actors had to use an incomplete script.
The press release about the play describes it as an "expressionist exploration of Alzheimer's disease." That answer is similar to what Bergey tells inquirers when they ask him what his play is about - when he's in a hurry. But it's not so simple. "I am not plot driven," he said. "It's not a realist play. The plot took weeks of rehearsal for even the actors to figure it out."
The Alzheimer's theme is more metaphorical for the bespeckled Bergey than it is topical. The show, he said, "is a devolution that is underscored by what happens to this woman's mind."
Bergey said he didn't so much write Birdblind as he translated the actions of the characters that are rattling around in his head.
---
Photo:
Life with AlzheimersSophomore Beth Hilton and senior Elizabeth Barrons set the stage for a serious drama about the less fortunate aspects of aging. (file photo)

---
Copyright © 1997, The Oberlin Review.
Volume 125, Number 25, May 23, 1997

Contact Review webmaster with suggestions or comments at ocreview@www.oberlin.edu.
Contact Review editorial staff at oreview@oberlin.edu.