---
Book offers out-of-town options
by Susanna Henighan
Stop complaining. The next time you think there is nothing to do near Oberlin, just consult the newly published "Outside Oberlin" booklet to find your next fun-filled diversion.
The booklet was written and compiled by senior Ankur Desai and junior Emily Jasen as a Winter Term Project. It lists area arts, community, dining, accommodation, shopping and recreation possibilities in the Oberlin area.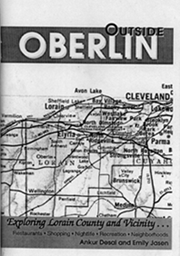 The booklet contains pages of entries, listing local stores, hotels, state parks, shops, museums and theaters, among many others. Each entry includes a short description of the place or activity, giving candid hints or evaluations for many.
The book also contains a history and description of the area surrounding Oberlin and Oberlin itself. It also talks about ways to get around in the area.
"All too often, students know little about the local area living in a bubble that is Oberlin," Desai said. He said he thinks students at Oberlin need to include learning about their environment in their education.
Desai said making the book took a lot longer than he and Jasen expected. They organized the project as a Winter Term project, but did not finishing editing the copy until well into April. Desai said they had 11 people edit the book. "It slowed us down," he said.
Desai said the idea came to he and Jasen because they spent a lot of time going on local road trips. "Having had a car here for four years I have gone many places," he said. He said the idea of putting their observations down for others came from stumbling on other guidebooks put together in the past in the Keep Cottage library.
"There hasn't been a good guidebook in awhile," Desai said.
Desai and Jasen complied the information by looking in many different local guidebooks and community sources, interviewing people and advertising for recommendations.
"My room is covered with guidebooks and pamphlets," Desai said.
The booklet is available for free from the Wilder Desk. It was printed with the $3,000 the pair raised from various sources.
---
Photo:
Get outta here:The booklet "Outside Oberlin" is now available. (photo courtesy Outside Oberlin)

---
Copyright © 1997, The Oberlin Review.
Volume 125, Number 25, May 23, 1997

Contact Review webmaster with suggestions or comments at ocreview@www.oberlin.edu.
Contact Review editorial staff at oreview@oberlin.edu.