---
Women's lacrosse NCAC champs again
by Dave Bechhoefer
Domination. Annihilation. Conference champions. They're not words normally associated with Oberlin's sports teams, until now. Oberlin dominated and annihilated Ohio Wesleyan University's Battling Bishops 18-4 in the North Coast Athletic Conference championship game at Kenyon College. They're here, they're walking around and they've redefined Oberlin's athletic vocabulary. They're the 1997 NCAC women's lacrosse champions.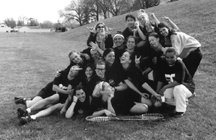 The Yeowomen advanced to the final after beating up on Kenyon 19-6 in an away game. Coach Mindy Manolovich felt the Kenyon game was more competitive than the final against OWU. "Kenyon played stronger with us than Ohio Wesleyan," she said. "They played goal for goals with us with the first three goals. With the score 4-3 and less than 12 minutes left in the first half we felt more pressured."
Oberlin soon realized that Kenyon was no match for them; however, and proceeded to bang in five more goals to Kenyon's one to finish the half. "Athlete to athlete we just have more talent," Manolovich said. "At the beginning they matched up to us really well. Our passing game wasn't on."
The team bounded back with a vengeance in the second half, outscoring the Kenyon Ladies 10-2.
"They came out really strong," goalkeeper junior Alysia Oakley said.
They really improved from when we played them before." Part of the reason for this was because their assistant coach is Katherine Readey OC '96 who played for the lacrosse team last year. "They knew us and knew our players' strengths and weaknesses," Oakley said.
Ohio Wesleyan never had a chance against Oberlin. The team outshot OWU 36-13. Against Ohio Wesleyan the Yeowomen opened with a scoring burst. "We had five goals before they had even one," Manolovich said. In the first ten minutes senior Kate Williams grabbed a draw and headed down the field. A quick pass to senior Bepi Barry resulted in a goal. "Kate had six draw controls in the first half. We transitioned off of them well and scored," Manolovich said.
But 15 minutes into the game there was a heart-stopper. With a yellow card already, Barry was red-carded and thrown out of the game. It was the graduating senior's final game, a championship game, and she already had scored three goals. Right after she was ejected, sophomore Melissa Ross stepped up and shoved the deflating goal pass the goalkeeper.
The team had no problems putting the Battling Bishops away in the second half. "We stepped up in the second half and outscored them 12-1," Manolovich said. "OWU just laid down to a point where mentally and physically they weren't giving 100 percent. It felt really good to put Ohio Wesleyan in their seats."
Oakley played a great game in goal with a 69 percent save average.
The game ended with Manolovich carried off of the field by her team. They didn't dump a water cooler on her. "Thank God," Manolovich said. "It was cold."
Oakley cited a certain pre-game ritual as the secret of their success. "Mindy has this thing called the clubber. Before the game we all sucked the clubber. I can't tell you what it is, it's a secret."
After winning the NCAC championship in such convincing fashion, there is some disappointment within the team and on campus about not getting a NCAA bid. The Yeowomen finished fifth in the North-Central Region according to a national NCAA poll. Eight teams are invited to the NCAA tournament and three went from our region. The team would probably have gotten a berth had they beaten Ithaca College who is going.
The 1997 women's lacrosse team is going into the history books as one of the best teams ever to play for Oberlin. They set a new conference record for most goals in a season with 254 and most assists in a season with 132. They had a record 14 assists in one game against Wittenberg University.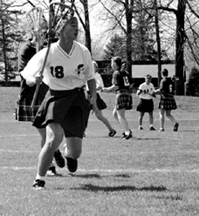 This year the lacrosse team had an exceptionally deep array of talent. Juniors Kaelyn Stiles and Katherine Roberts, Barry and Williams all made the All-NCAC first -team and Oakley and sophomore Kim Allen both made second team. Junior Ann Ewens received an honorable mention and Manolovich was picked as Coach of the Year for women's lacrosse.
"We did it all," Manolovich said. "We won eleven straight games in a row, swept the conference and won the championship."
---
Top Photo:
Get funky:The women's lacrosse team in a post championship celebratory photo-op by Mount Oberlin. (photo courtesy Athletic Department)

---
Bottom Photo:
Running with success:A women's lacrosse player during a regular season game. (file photo)

---
Copyright © 1997, The Oberlin Review.
Volume 125, Number 25, May 23, 1997

Contact Review webmaster with suggestions or comments at ocreview@www.oberlin.edu.
Contact Review editorial staff at oreview@oberlin.edu.