---
Spring Sports in review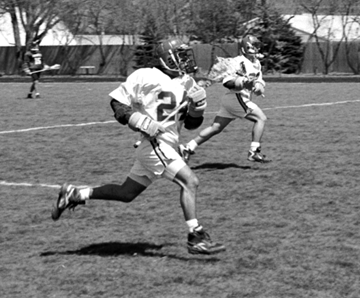 Women's Lacrosse
Trouncing nearly all opponents on the way to their second NCAC championship in three years, the women's lacrosse team was atop Oberlin athletics, as well as the rest of the conference. They ended their season with a 19-6 schellacing against Kenyon College in the playoffs leading to an 18-4 crushing of Ohio Wesleyan University.
The women's lax team had a season of dreams, with the exception of being snubbed by the NCAA tournament. Six players earned all-NCAC honors, senior Bepi Berry earned Offensive Player of the Year and led the league in goals scored with 65. Head coach Mindy Manolovich earned the NCAC Coach of the Year. The Yeowomen finished with a 14-3 record, 7-0 in conference play.
---
Track
The distance runners of Oberlin's track team gave Oberlin's track team enough points to avoid the cellar at the conference championships.
For the men, junior Harsha Thirumurthy was named the middle distance/distance MVP with wins in the 3000 and 5000-meter races.
For the women, junior Trista Thornberry earned All-NCAC honors with a second-place finish in the 1500-meters.
Sophomore Gilbert Saenz won the 400-meter intermediate hurdles, continuing Oberlin's strong intermediate hurdler tradition. Since 1984 four Yeomen have won the event.
Sophomore Amie Ely stepped it up this year, and finished third in the long jump and broke a 15 year-old heptathalon record at the "last chance meet."
---
Women's Tennis
After suffering a regular season thrashing by Denison University 7-2 and being surprised by Ohio Wesleyan 5-4, the women's tennis team avenged both losses on their way to a second-place finish at the conference championships, behind defending national champion Kenyon.
Coach Don Hunsinger was named NCAC tennis coach of the year for leading the Yeowomen to a 13-10, 4-3 record in conference play.
Captain senior Bethany Pribila earned All-NCAC first team honors. The doubles team of Pribila and fellow captain senior Erika Bradford was also named to the first team All-NCAC.
Sophomore Leigh Ann Totty earned second team All-NCAC honors for the Yeowomen.
---
Men's Tennis
The men's tennis team jumped up two places from last year to finish sixth at the conference championships. This was a building year for coach Chris Barker, who is in his second season with a team predominately composed of lower classmen. That team ended the season with a record of 8-14, 3-7 in conference.
Co-captain senior Koji Ebersole repeated as captain and finished his Oberlin career playing number one singles. His sophomore and junior year he paired with Adam Shoemaker, OC '96 to earn NCAC honorable mention in doubles.
Sophomore Sam Steckley, third singles earned All-NCAC honorable mention with a record of 12-8. The doubles team of Steckley and co-captain sophomore Peter Swendsen combined to go 11-7 as the number one doubles to earn second team All-NCAC honors. With only Ebersole and senior Tony Choi not returning, the Yeomen are primed to finish strong next year.
---
Men's Lacrosse
A young men's lacrosse team fell victim to both overpowering conference opponents and a rash of injuries during their season. Junior Sam Krasnow led the team in scoring, but goals came few and far between. Senior David Kumpe was awarded an all-NCAC honorable mention for his efforts on defense.
The final record for the Yeomen was 3-10, 0-5 against NCAC opponents. Five players will be graduating, and recruiting for the '98 season is being emphasised for the future men's lacrosse team so it will be able to improve upon its '97 record.
---
Baseball
The past few years have been excessively rough on Oberlin Baseball and 1997 was no exception.
Under the leadership of head coach Todd Mooney, the team improved on last year's dismal 2-21 record with one of 3-30.
The team was also stifled by bad luck with the elements all season long that the Yeomen were rained out seven times after spring break.
Junior Brendon Cody, sophomores Mike Fradin and Carson Keeble were all given NCAC honorable mentions for their performances.
---
Copyright © 1997, The Oberlin Review.
Volume 125, Number 25, May 23, 1997

Contact Review webmaster with suggestions or comments at ocreview@www.oberlin.edu.
Contact Review editorial staff at oreview@oberlin.edu.