John Carroll streaks by Yeowomen lead
by Becka Rich
Women's soccer opened on Wednesday with a 4-2 loss to the John Carroll University Blue Streaks. The loss came despite an Oberlin-dominated (2-1) first half.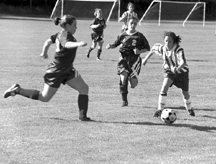 "I think we played a good game, we just had some breakdowns," junior Sarah Allen said.
New said that he thought the team could use this game to learn from their mistakes and improve."I think overall we did fine."
Goalie first-year Kathryn Lanovette, one of seven first-years on the team, had some great saves. She replaces senior Alysia Oakley who is not at Oberlin this semester.
Three other players also did not return to the team. First-year Jessa Klotz will not join her teammates on the field until next week due to an injury. In addition to Lanovette, the other defensive players also did a good job, pulling the Streaks offsides numerous times.
During the second half, however, their communications broke down. The Yeowomen tended to either cluster in one place or be too spread out to be effective.
Overconfidence also hurt them. "We didn't realize the effect the lead was going to have on the second half," Allen said.
New concurred. "We didn't capitalize on the scoring chances that we had. The problem with opening with a decent opponent is that it's hard to make mistakes and get away with it."
The team prepared for its first game with fitness, weight training, and practice three times a day, according to co-captain junior Rachel Maguire.
Neither John Carroll University, nor Ohio Northern University, the Yeowomen's next opponent, are Division III schools. The first Division III game is against Allegheny University.
The Yeowomen are ready for their next match. "The whole point is the games, but there are some things we need to work on between now and Thursday," Maguire said.
Back // Sports Contents \\ Next
---
T H E O B E R L I N R E V I E W
---
Copyright © 1997, The Oberlin Review.
Volume 126, Number 1, September 5, 1997

Contact us with your comments and suggestions.