Men's soccer: good for 15 mins
by Dave Bechhoefer
Oberlin soccer fans were treated to a good 15 minutes of competetive play as the men's soccer team mustered back from a two-point deficit to give Mount Vernon Nazarene College a run for their money before losing 6-1 on Tuesday.
Though youth and inexperience would appear as beasts on the team's back, the Yeomen are not overly concerned and expect improvement.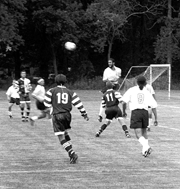 "Improvement is inevitable," senior Brendan Cody said. "We have incredible work ethic and good attitudes. We're very strong talent-wise."
Of the team's 31 players, about 25 are underclassmen. The team also lost about eight seniors from last year. "That's a young team," Coach Chris Barker said. "They'll learn fast. I realized when we went into the pre-season how sorely I missed last year's seniors. They never gave 50 percent, it was always 100-plus."
Tuesday's game showed the team that they are going to have to work to improve. "We have a lot of potential but it was really eye-opening that we lost that badly," senior JT Engelhardt said.
The game opened with two goals scored on the Yeomen in the first three minutes. This wake-up call still did not shake the team, though they managed to slog through most of the first half keeping MVNC scoreless. Then, with 15 minutes left to play in the half, the Yeomen looked really good.
The balance shifted as the Yeomen managed to keep the ball on MVNC's defensive end for most of the period and senior Sam Krasnow took the ball from a defender's failed clear and pounded a smooth grounder into the back of the net from thirty feet out. With 1:35 left in the half the Yeomen had a few more shots and the Nazarenes began to look worried until the half ended, killing the momentum.
MVNC came back to brutalize the Yeomen throughout the second half as they outran and outscored the team 4-0.
Since the game the team has been working on fundamentals such as intensity and defensive marking-up as well as unselfish off-ball movement.
"In the game the only runs made were to the ball, there were no unselfish ones made to create space," Engelhardt said. "That has to happen in the middle and on the sidelines where the ball is."
Frustration led to a break-down in intensity. "We dominated the last 15 minutes of the first half," Barker said. "But other than that we didn't play well. There was not a lot of determination or internal fire. I can show them how to play soccer, but I can't give them that. Rah-Rah speeches only work for the first five minutes of the game."
"When you're frustrated, your tiredness is the first thing on your mind," Engelhardt said. "There was a lot of apathy. We weren't chasing the ball when it was lost. You can't do that. If you lose the ball then you have to sprint after it."
This is one aspect of what Barker calls "ball-watching." He said, "I told them 'If you're ball watching, you're gone.'"
Senior Sam Krasnow said, "We've got to make sure we go hard to the ball and even if we can't win it, we've got to make it ours."
The Yeomen are also working to improve team chemistry. "We're developing our own game plan, our own style," Krasnow said. "We're learning each other so our passes and runs become innate."
With all of this in mind, it is still important to note that this was the team's opening game. "It was our first game, the sky's not falling," Cody said.
"Now that the first game is out of the way everyone has had experience playing collegiate level sports and should be more comfortable," Krasnow said.
Another somewhat worrying aspect of Tuesday's game was that most teams the Yeomen will face will probably be at the same moderately average level that MVNC was at. "They were just an average team that played well together," Engelhardt said. "I wouldn't go so far as to say they were a better team."
"All the teams are average teams and if we play like we did doing those 15 minutes for 90 minutes, then we'll do okay," Barker said.
The team plays two out-of-conference games this week. They face Ohio Northern University away on Saturday and Heidelberg at home on Wednesday.
"We can do it," Engelhardt said. "We just have to have a good attitude and know what we need to do. It was embarrassing and frustrating to lose that badly and, as far as I'm concerned, I'm not going to let that happen again."
Back // Sports Contents \\ Next
---
T H E O B E R L I N R E V I E W
---
Copyright © 1997, The Oberlin Review.
Volume 126, Number 1, September 5, 1997

Contact us with your comments and suggestions.