Narita's powerful show to tell many "Stories"
by Kate Skillman
Critics have called her previous performances "jewel-like," "poignant," and "brazen." She writes and performs her own material, a one-woman show involving a myriad of different characters and stories. And this weekend, Oberlin will have the chance to see Jude Narita live.
The characters that Narita represents in "Stories Waiting To Be Told" are all Asian-American women dealing with their identity as women and as Asian in the United States. However, Narita portrays them as complete individuals and does not allow them to be stereotyped in any way.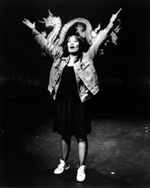 In fact, one of the factors in her decision to perform her own material was to overcome and break down strereotypes directed at Asians. In 1985, she started performing her own material, frustrated because the only roles available to her were stereotypical and restricting.
"The images of Asian women in our culture are very stereotypical," said Shilpa Davé, Assistant Dean of Students in the Multicultural Resource Center and also professor in the English department, who is instrumental in bringing Narita to Oberlin. "The dichotomy is the dragon lady and the lotus flower," she said. "Narita explodes that image. She individualizes her characters."
"When she started performing, she realized there was a large need to get these stories out." Davé said. While she is most interested in Asian women's stories, one of the first reactions she got from her audience was from a young Jewish woman, who was touched deeply by Narita's performance.
Because of her performance's content, Davé sees it as "important for the community at large as well as the Oberlin student body" because as a group, Asian-American women often have less representation than other minorities in the United States. Not only is Narita a thought-provoking performer, but she is also an "interesting woman in herself."
A large part of Narita's career has been teaching as well as performing. Besides winning various awards, including a Drama-Logue in Los Angeles, a JIMMIE from from the Association of Asian Pacific American Artists (AAPAA), and the Los Angeles Drama Critics' Circle Award for her first show, "Coming into Passion/ Song for Sansei," she has travelled to Singapore to teach a women's writing/acting workshop, and has also taught workshops in L.A.
Now, Narita is president of Pacific Asian American Women Writers-West (PAAWW), and continues performing and teaching. While she is here at Oberlin, there will be an informal chat session with her in Wilder 208. It will be a chance for Narita to talk about the play and for students to ask questions. "She is interested in meeting students and talking to them about the art form of drama," Davé said.
"Stories Waiting To Be Told" is a series of vignettes, including the story of a young Korean woman going to high school in the US, a Cambodian woman adjusting to her new life in America, a Chinese American learning the history of Chinese people in America, and a Japanese American discovering the pain that her mother still holds from her experience in the internment camp.
The most important thing is that through her performance she makes us see the universal similarites in all of us, while telling the very individual experiences of very individual women.
Jude Narita will perform Stories Waiting to be Told Saturday, Dec. 6 at 8 p.m. in Hall Auditorium $3 OCID, $6 others.
---
Photo:
Storyteller: Jude Narita brings her one-women show "Stories Waiting To Be Told" to Oberlin this weekend. (photo courtesy of the MRC)

Back // Arts Contents \\ Next
---
T H E O B E R L I N R E V I E W
---
Copyright © 1997, The Oberlin Review.
Volume 126, Number 11, December 5, 1997

Contact us with your comments and suggestions.