Administration ponders Con diversity
Recruitment of a diverse student body difficult with extensive musical training necessary
by Abby Person
With respect to racial and class diversity, the Conservatory faces different challenges and issues than the College. In essence a trade school, the Conservatory requires rigorous training of its students before they ever step through its tall glass doors.
The differences in goals and admittance policies make the Conservatory admissions officials' goal to enroll a diverse student body all the more difficult. The emphasis placed on talent versus training is a ratio no one can pinpoint precisely.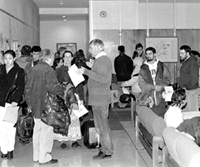 "There is very little that will shut the door to possible admission, given the importance we attach to assessment of musical talent and ability and the determination to go on in the music profession," Director of Conservatory Admissions Mike Manderen said.
Having said that, however, he added that the Conservatory must enroll only those admissions officers believe have the most potential to succeed in the professional world of music.
"We recruit and enroll students for whom Oberlin Conservatory is a good, positive fit. Students who want what we offer and are prepared to make the most of what we offer and give indications that they have a reasonable chance of succeeding in the profession. We work with constraints and we appeal to a limited audience of students of all backgrounds culturally and otherwise," Manderen said.
To aid in recruitment of students of color, the Conservatory has joined the College this year in a program where current Oberlin students call perspectives. This program is intended to make the prospective students feel welcomed to Oberlin.
"It is a very colorblind process. Even so, of the most prestigious music schools, we are among the most diverse, in part reflecting the comprehensive curriculum compared to most immediate competitors. While we are encouraged by that, we are by no means satisfied to that end. We make every effort to identify and encourage interest of students who meet our high standards and have potential to help us address unbalance of under represented groups in the profession of classical/Jazz music," Manderen said.
President of the College Nancy Dye thought the Conservatory's focus was such that even within its constraints, it contributed to the overall campus environment. "The Con focuses on canonical music. It's main mission is to preserve and transmit a certain heritage of musical culture," Dye said.
She added, "On the other hand, the Con, in growing sorts of ways, is open to other musical cultures."
Dean of the Conservatory Karen Wolff said the number of international students in the Conservatory was healthy.
"There we stack up very, very well," Wolff said.
"We have people from various cultures bringing whatever they bring. They may be using melodies from South Africa enhanced with computer whatever," she said.
International students face unique problems because of language and stark cultural barriers. "We have lots of international students and they are truly from all over the world. Often with those students we need to work really hard on [English as a second language.] They may be wizard violin players, but they also need to read and write well in English," Wolff said.
With other students, Wolff said, "If you're going to make it as a performer in this world, you have to start at an early age. Often minority students have not had the benefit of music training from early childhood," she said.
"Our biggest problem is the inadequate preparation for students with the interest and the talent," Wolff said.
This combination of training and talent is one that the admissions office weighs and looks at carefully. "The weight varies depending on individual factors in every case. We try to read sensitively, particularly in cases when we are aware there is talent but the student hasn't had access to the best quality education," Manderen said.
Diversity of the students is not the only issue of diversity the Conservatory faces. Faculty and curriculum diversity are also realms Conservatory administrators look to with concern.
"We can make improvements in the number of women [in the faculty]. They are cropping up in the graduate degree programs. We would like to make improvements in the number of African-American faculty. That is the most difficult," Wolff said. "I've asked the faculty to come up with names. We've come up with exactly two."
Wolff also felt curricular diversity is important, and feels Oberlin operates with a certain amount of diversity in place. "We do Jazz and we do it well. We do computer music," she said.
Wolff mentioned how the Conservatory encourages faculty members to travel abroad in order to foster a cosmopolitan environment. "The more they work in diverse cultures, the more able they are to come back here and work with a diverse student body," Wolff said.
---
Photo:
Many faces: A busy moment in the Conservatory lounge. (photo by Zach Fried)

Back // News Contents \\ Next
---
T H E O B E R L I N R E V I E W
---
Copyright © 1997, The Oberlin Review.
Volume 126, Number 11, December 5, 1997

Contact us with your comments and suggestions.