Taymor honored at Ohio State
by Raphael Martin
Hyperbole aside, the art of theater can truly be a transcendental experience. One of the most collaborative of the performance arts, good live theater has the ability of combining the artistic talents of many craftsmen ‹ be they actors, directors, or designers ‹ and create a unique world viewed through that metaphysical "fourth wall" ‹ the space that separates actors from the audience. In the world of theater, these created worlds vary depending on those who create them. Julie Taymor's vision as a director and designer rises to the top of a very talented American theater pool.
The Wexner Center for the Arts at Ohio State University has conceived a brilliant mid-career retrospective in which to show off Taymor's theatrical vision. "Julie Taymor: Playing with Fire" presents costumes, scenery pieces, sketches, puppets and masks that range from Taymor's earliest directing projects in Indonesia (on a Watson Fellowship won after graduating from Oberlin in 1974) to her most recent project, a film adaptation of Shakespeare's grizzly Titus Andronicus, starring Anthony Hopkins and Jessica Lange, simply entitled Titus. Her skill as a sculptor is a wonderful side product of the exhibition, as the viewer can take the time to dwell on individual masks and puppets.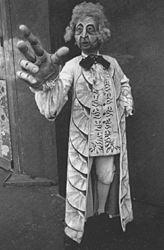 The exhibition is broad in its scope. As the gallery guide suggests, "her 25-year career encompasses theater, film, opera and television, and her projects have drawn on literature, mythology, folklore, and cultural traditions from around the world."
Down a long, narrow, high-ceilinged corridor, a giant bear gnashes his teeth, glaring at the viewer menacingly overhead. The bear is huge and floats about fifteen feet above. In actuality, this ice-blue colored forest dweller is constructed from silk and animated by two puppeteers holding wooden rods. Originally devised for Andrei Serban's staging of the Carlos Gozzi tale The King Stag at the American Repertory Theater in 1984, Taymor, who was the production's designer, created the bear among a host of European and Asian inspired creatures and people.
The exhibit is divided up by production. Unfortunately, due to poor layout, the exhibit does not seem to build from one production to the next. It is very hard to get any context as to the conditions each production were created under, and how past productions might have influenced future ones. What the viewer does come away with is a sense of Taymor's magnificent determination. From the beginning, with Taymor's earliest productions done in Indonesia, Java, and Bali ‹ Way of Snow (1974) and Tirai (1978) ‹ her aesthetic eye is amazingly well honed and mature.
As startling as the objects that Taymor creates are, even more startling is the rapidity with which Taymor attained her distinctive cross-cultural style. It is an aesthetic that was always percolating, waiting for the right outlet. Taymor found that outlet in Indonesia, and has continued it in her subsequent work. (The installations are so grandiose that the exhibition guide credits the designers that installed them into the Wexner.)
There are three large installations within "Playing with Fire" that make up the heart of the show.
Together they represent the three biggest productions that Taymor has created to date. The first of these is Fool's Fire, a PBS-produced tele-movie based on the EdgarAllen Poe short story "Hop Frog." Bosch-inspired Medieval courtiers haughtily stare at the gallery goers as they walk by a replica of the Italianate set used in the PBS production. The bodies of the courtiers are elongated and squeezed, looking like refracted reflections in a horrific funhouse. In the middle of the tableaux, Taymor's king sits, fat, rolls of fat rolling off him, gout-infested, with slitted eyes and a huge protuberance of a nose. His thick pudgy hands sit on the arms of his thrown, waiting to finger the next delicate morsel. He is a man who revels in hedonism and gluttony.. "He" is also a puppet.
Oedipus Rex, Taymor's staging of Igor Stravinsky's oratorio at the Seito Kinen Festival in Japan is by far her most epic production. For this, Taymor creates a 360-degree world. Performed live only twice, Oedipus was filmed in 36-millimeter. Taymor went on to win an Emmy for her work on this mammoth production. The singers in the piece, Jesse Normyn as Jocasta, Philip Langridge as Oedipus, and Bryn Terfel as Creon were literally sculpted around by Taymor's costumes. Giant headdresses and appendages enveloped the singers, as well as over 150 chorus members who were caked with mud and dressed in sackcloth. The production utilized traditional Japanese performance techniques such as butoh dancing, Noh and bunraku puppet theater to convey the ancient and honorable nature of Oedipus's story. Oedipus is Taymor's most compelling work to date.
The final large installation is the project that catapulted Taymor to fame and away from the periphery and the avant-garde: The Lion King. Based on the Disney animated film, history was made with this production, as it forged a new partnership between the avant-garde and the essence of corporate slick. But Taymor and Disney proved the skeptics wrong when The Lion King premiered in New York at the New Amsterdam Theater in 1997. Disney let Taymor apply her beautiful touch to their saccharine story and ultimately, Taymor made Disney's story palatable. She even made it into a work of art.
The Lion King gallery features wire sculptures of Taymor's original concepts for her creations, as well as the final product. Giant rhinoceroses and giraffes quietly pose, frozen, on mock-ups of the Broadway set. Video of the production supplements the sculptoral costumes on display.
"Playing with Fire" is an exhibit that documents a fertile mind who is on a creative high. May there be enough material in the future to warrant another exhibition. Until then, Taymor is playing with fire and the art world is ablaze.
---
Photo:
Playing around: Julie Taymor's puppets are exhibited at OSU. (photo courtesy of Wexner Center for the Arts)

Back // Arts Contents \\ Next
---
T H E O B E R L I N R E V I E W
---
Copyright © 1999, The Oberlin Review.
Volume 128, Number 7, October 29, 1999

Contact us with your comments and suggestions.