Throbbing crowds on Safer Sex Night
by Rossiter Drake
On Thursday evening, hundreds of scantily clad Oberlin students descended upon the ŒSco to celebrate Safer Sex Night, an annual celebration of carnality and sexual awareness. Whether or not they learned much about the pros and cons of safe sex may never be known, but it was clear by the end of the night that all in attendance had witnessed a truly grand event, complete with door prizes, instructional sex videos and an oral sex demonstration at midnight.
As it is every year, Safer Sex Night was sponsored by the ŒSco and the Sexual Information Center, a student-run, non-profit organization that provides confidential counseling by trained student counselors, information on safer sex, a library of books and videos and discounted sexual products. Clearly, the organizers pulled out all the stops for this year's celebration. As students did their best to move around the crowded discotheque to the blaring beats of predictably suggestive dance tracks ("I Want Your Sex," "Bust a Move"), television monitors placed strategically around the room bombarded them with images from informative videos like How to Female Ejaculate and Nina Hartley's Advanced Guide to Oral Sex. Meanwhile, those in attendance were offered free contraceptives and a chance to meet with SIC counselors at a sexual information desk located in front of DeCafe. Better yet, they were also afforded the opportunity to spend two minutes in the always popular "tent of consent," an area where consenting students can explore their sexuality in any way they choose. "Some people have done some things in there," said senior counselor Madeleine Moule.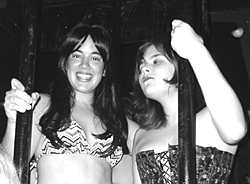 After midnight, the SIC counselors let it all hang down, as they invited volunteers from the audience to participate in the traditional oral sex demonstration. At that time, they also raffled off a number of sex toys, including high-powered dildos, buttplugs, vibrators and nipple clamps. Shortly thereafter, the festivities resumed as more and more students packed themselves into the ŒSco for one final hour of revelry.
But Safer Sex Night was not simply a three hour celebration of orgiastic excesses; it also carried with it a very serious message. "The purpose of the evening is to promote awareness in a sex-positive environment," said junior counselor Laura Paley, the unofficial spokeswoman of the SIC gang. "It is to make people more comfortable with sexuality ‹ their own and other people's."
"I view Safer Sex Night as the penultimate expression of Oberlin's suppressed sexuality and frustrated libido," added sophomore counselor Chad Stratton, offering a more blunt assessment of the evening.
Whatever the purpose, the students at the ŒSco on Thursday night all agreed that Safer Sex Night was a smashing success. "Blood flows red on the highway," said senior Jason Woloz. "And this place was just like that. It was wild, hot and sexy. It reminded me of a summer night in Brooklyn."
Sophomore Megan Doss echoed those sentiments. "It was a great time, and not just because of all the sexually oriented aspects of the evening," she said. "People just had fun dancing and taking a night off of their studies. It was a much needed break from the pressure of midterms, sort of like a good episode of Shasta McNasty."
Thus, another Safer Sex Night is behind us. Now, as the fall semester gradually winds to a close, students can only look forward to the spring, when the annual Drag Ball will provide one more opportunity for students to help themselves to a good old-fashioned dose of beer, sex and song.
---
Photo:
Caged: Kate Posisil and Elena Krell dance it up in the ŒSco at Thursday's Safer Sex Night. The S.I.C and the ŒSco sponsor the annual event to promote healthy sexual relationships. Hundreds of students braved long lines through Wilder Student Union for the event. (photo by Areca Treon)

Back // Arts Contents \\ Next
---
T H E O B E R L I N R E V I E W
---
Copyright © 1999, The Oberlin Review.
Volume 128, Number 7, October 29, 1999

Contact us with your comments and suggestions.