Horsecows haunt the competition with 4 wins
by Ben Gleason
The three biohazard boys. The gay sheriff. The one-eyed pirate. Clad in plaid man. The French maid.
Taking a step away from traditional sporting gear and into a wide variety of elaborate costumes, the 1999 Men's Ultimate Frisbee team showed that they could be called Flying Horsecows no more. Perhaps a team name such as "Random, Last-Minute Costumes Part I" would've worked better. The lack of unifying name mattered not as Oberlin won all four games on Saturday, Halloween Eve, beating rivals Ohio University and the University of Michigan. The Oberlin bunch also displayed their overwhelming spirit of the game as they were the only team that costumed its entire squad.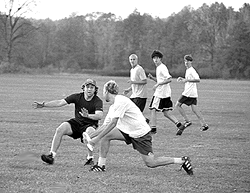 Oberlin's first game of the day was carried off according to the precedent set last spring. Starting slowly against the Naval Academy, the Horsecows showed that they could consistently score even without much effort on defense. Junior co-captain Jamie "Private Corn" Merchant said, "We played pretty well, for a team that sported two cow outfits, one samurai warrior, one witch and three guys in radiation suits. They [Navy], obviously, could run a little faster than us." The Horsecows beat Navy by playing smarter, not by outsprinting or by laying out past their opponents. The Horsecows simply had more experienced players who knew how to get the job done.
Sophomore Jake "Bad-Ass" Lubarsky said, "Inky [sophomore Issac Deter-Wolf] was the motivating force in the Navy game. He laid out into one of those trained killers and left him on the ground. Inky proved that peace is a better weapon than war." The Horsecows ended up with a 13-11 victory.
With a second round bye, the Horsecows were able to relax a bit and bring their cheering efforts to spur on their female counterparts, the Praying Manti. After this cheerful break, the men regained their traditional Halloween focus and readied themselves for Miami University of Ohio. Miami had brought a small squad to the Athens, Ohio tournament and they simply could not match up against the deeper squad of Oberlin. Junior Nick "Lint Trap" Dent once again discovered that he is a very good frisbee player and turned in a great defensive effort.
"Nick Dent was pretty much the man in the Miami game. He was marking a speedy little runt and outgunned him in every way," said freshman Aaron "Barbie" Webber.
There was a downside to the Horsecows' victory, however. Freshman sensation James Burris went down in a blaze of glory, extending on a layout catch to keep momentum alive. Unfortunately, the young Cow landed on his not-quite-healthy shoulder and dislocated it. Unlike last year's legendary captain Ben "Quiet Storm" Grubb, who used to get low against the ground and pop his dislocated shoulder back into place, Burris was taken to the hospital, opting for none of Grubb's machismo. Standing on the sidelines after a trip to the ER, Burris watched with pleasure as the 'Cows beat Miami 13-7 with an impressive mix of hucks and well-timed cuts from both handlers and longs.
It was the third game of the day against friendly-rival Ohio University that gave the Cows their biggest lift. Oberlin showed that they could out-sprint the boys from Athens and still have a can of whoop-ass left over for Michigan. "We played OU like if we didn't win the game, the ghost of Jon Fedota was going to rise from the field and give us the Shocker. Bleh. We knew what we had to do," said Richard "Frenetic Monkey" Raz.
What the Horsecows had to do was turn the disc over less than OU and show the boys from Divine Hammer that they were not afraid to lay out at any time. Mission accomplished. Sophomore scoring phenom Nate "Jacked" Marsh had a beautiful layout in the endzone to prevent a pivotal score. Marsh said, "It was huge, what can I say? I just wish I'd been wearing my cute little black witch number. A little icing on the cake for our 13-7 defeat, you know?"
In the fourth and final game, the Horsecows defeated Michigan, with a convincing 13-7 score. Even though Michigan was missing two key players, Oberlin ran MagnUM into the ground to send a message to the Regional Champions. Senior co-captain Todd "Twinkie" Daloz said, "That was a huge win for us. I was in California and I could feel the ground shaking as numerous Cows laid out past their Michigan men."
Sophomore Ben Gleason is a member of The Flying Horsecows, Oberlin's men's ultimate frisbee team.
---
Photo:
Come get some: Sophomore Ben "Longhorns" Gleason breaks backhand against fellow Horsecow Jake "Bad-Ass" Lubarsky, in preparation for next weekend's Tennessee tournament. (photo by Brian Hodgkin)

Back // Sports Contents \\ Next
---
T H E O B E R L I N R E V I E W
---
Copyright © 1999, The Oberlin Review.
Volume 128, Number 8, November 5, 1999

Contact us with your comments and suggestions.