Rhino Ruggers wreak havoc on Hiram
by Sarah Hall
It all happened so fast. There was a kick, a scramble for the ball and a scrum down next to the tri line. A whistle blew, the ball came out and was touched down. Nobody could figure out what happened until a signal from the referee sent players and fans screaming. A score in the first two minutes.
This kind of speed led the Rhino Ruggers to Saturday's tremendous 55-0 victory over Hiram. "There was no game," one fan said, "[Oberlin] just walked all over the other team."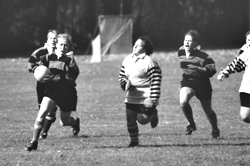 The first tri belonged to eight-man Vanya Hollins, a college senior and four-year rugger who went on to score three more times for a personal game total of 20 points. Her lead was followed by outside center Susan Ives, another four-year rugger whose two breakaway goals added 10 points to the mix. First-year players solidified the win: inside center Christie Sprowles and fullback Caroline Sturm each scored twice and weak-side wing Amy Cobden scored once.
Although practice made it pretty, Saturday's game was nowhere near perfect.
Players spent the first 20-minute half chucking the ball around, setting a standard of bad passing and lazy tackling that would persist throughout the game. Luckily for the rhinos, Hiram was too preoccupied with breakaways to take advantage of mistakes.
The highlight of the game was one such run. A flawless fullback inserted a trick pass from the inside center to the fullback Sturm to score with the speed and vivacity that mark her as one of the ruggers' brightest new prospects. The pass from Sprowles was a perfect pop, and the sprint to the tri line virtually uncontested. Only one Hiram player made a serious attempt to stop Sturm; that unfortunate girl found herself on the grass wondering what had just happened as Sturm plowed through her towards the goal.
The ruggers know that it's going to take a substantial effort to topple the teams they face in upcoming weeks. At 2-2 for the season, there is room for improvement everywhere. Sprowles noted that, "Despite the fact that we won Saturday, we played really sloppily. We didn't tackle at all and when we did it was done poorly. Our passing was not all that great either." Things like passing and tackling are weapons and the ruggers realize that, despite a team reservoir of raw talent, these skills need refinement.
"In the future we should have more ferocious rucks, more skillful tackles and precise passing. [Now] we know more about the game and can focus our energy on strategy and begin to play well," said flank Emma Ramstad, a sophomore who has been playing rugby since high school.
Her optimism was echoed by Hollins, who said, "I think we played really well in the game. We got the ball out of the rucks and our scrum overpowered theirs. We had much improved ball handling in this game."
Many Oberlin players noticed better communication between the scrum and line, which will be a key point in Oberlin's upcoming away games. If the Rhinos can pull these technical elements of their game together, they will be a force to be reckoned with for the remainder of the season.
Although victories like that over Hiram make for good conversation, the sports fan in all of us enjoys a serious competition. "I am really looking forward to a well-matched game," said Cobden.
"Coming out of high school sports I've been really impressed with the amount of good sportsmanship on our team and the others we've played. It's a good feeling." The ruggers love winning, but even more than winning, they demand playing well. Expect them to get what they want in upcoming weeks.
Sarah Hall is a member of the rugby team.
---
Photo:
Bringing it all back home: Despite the honest efforts of recent opponents from Hiram College, Oberlin's Rhino Ruggers dominated and won the game. (photo by Brian Hodgkin)

Back // Sports Contents \\ Next
---
T H E O B E R L I N R E V I E W
---
Copyright © 1999, The Oberlin Review.
Volume 128, Number 8, November 5, 1999

Contact us with your comments and suggestions.