News
Perspectives
Arts
Sports
Other
Candidates' Night Introduces Politicos to Oberlin
by Alex Parker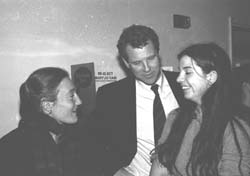 Thanks for Your Vote: Incumbent Democrat Sherrod Brown chats it up with senior Meg Ansara (left) and another student at Monday's candidates' night. (photo by Lea Morgenstern)

It was grassroots democracy in action. Monday night, the lounge of the First Church of Oberlin was the stage for local politicians to debate local issues, as well as national ones like education and health care.
"My general reaction to the national debate was very negative," said Gerry McNabb, a Lorain county resident. "Here, I was reassured that there are educated, qualified people in our government."
Moderated by Ronnie J. Rimber from the Oberlin City Council, the Community Candidates Forum was sponsored by the League of Women Voters, the Oberlin Chamber of Commerce and the NAACP, among other groups. It lasted from 7 p.m. to almost 9 p.m., with candidates giving short speeches, then responding to questions from the audience. Although most of the audience was Oberlin residents, several College students were in attendance.
The evening began with a bit of a jolt, when John Gibson, a representative for Libertarian Senate candidate John McAlister, delivered a denunciation of government, quoting Adam Smith and Lord Akron, and including such topics as the U.S. slaughter of Native Americans, racial profiling by police, ethnic conflicts in Europe and the purges of Stalin and the drug war, which he deemed "an evil." When his time expired, he quickly said that his candidate was running for "lower taxes, smaller government and more personal freedoms."
The other two Senate candidates, Democratic challenger Ted Celeste and Republican incumbent Mike DeWine, were unrepresented. Although many supporters of Green Party presidential nominee Ralph Nader were in the audience, the best represented third party was the Libertarian Party, which supported candidates for many of the local positions.
Democratic incumbent Sherrod Brown, Republican challenger Rick H. Jeric, and Libertarian opponent Michael Chmura, three of the four candidates for this district's Congressional seat, all participated in the forum. Natural Law candidate David C. Kluter was not available.
Brown, speaking energetically with a raspy voice, mentioned the name of investigative journalist Upton Sinclair and said that he would work for universal health care coverage. Chmura began his speech by firmly saying that he was a moderate Libertarian, and that he would work for slowly decentralizing the federal government and giving the responsibility to communities. Jeric stressed education, saying, "I'm against federal expansion, but if there's one place where we are going to increase spending, it should be for education." He said money would be best spent increasing school infrastructure. Jeric also stressed his strong pro-life stance, and said he would fight for a partial-birth abortion ban in Congress.
At this point a Nader supporter from Oberlin College asked Brown a barbed question, inquiring why voters should believe the Democrats would supply universal health coverage when they failed to do so in 1993. Brown replied that his first term in Congress was when President Clinton proposed his health care plan, and that there was heavy lobbying against it by insurance companies. However, he did admit that "the Democrats haven't been perfect in advocating this." Jeric said he felt that "the government shouldn't be in the health care business," but that it should promote it through expanding medical savings accounts. Chmura claimed opposition to socialized medicine, and that "We can all thank God it didn't pass."
Mark Hastings, the Republican candidate for County Sheriff, seemed to make a negative impression on the audience. During his speech he stressed his 30-year record as a policeman and his plan to bring innovative techniques to the job. But during the question and answer period, when his opponent, current Deputy Sheriff Phil Stammitti, said that the job of the sheriff is to protect the 55,000 people under his jurisdiction and maintain the county jail, Hastings' response that, "The jail can take care of itself," caused something between a murmur and an uproar among the audience.
"The main job for the sheriff is to run the county jail," Stammitti said in an interview after the debate, stressing that he had experience working in Lorain county, while his opponent's experience centered in Cleveland.
The most energetic and sunny person at the event seemed to be G. Daniel Matelsky, the state representative for the 61st district, and his speech soon revealed why. "You either run scared or you run unopposed," he said, and this year he is running unopposed. He still took this opportunity to talk about his long-standing record as the district representative, and his plans for the future.
Other candidates at the event included the candidates for county commissioner, Republican challenger Eric Flynn, who said that a change was needed in the divided politics of Lorain county, and Democrat incumbent Mary Jo Vasi, who stressed the debt reduction, from $16 million in debt to just $240,000. Michael Ross, another Democratic incumbent for county commissioner, used "Leadership, Experience and Results," as his slogan and stressed his former record.
Other issues that arose included the proposed expansion of the nearby airport, which is opposed by many residents.
John P. Quinn, Democratic candidate for the ninth district court of appeals, stressed that his opponent, Republican incumbent William Batchelder, who was not at the event, had not dealt with cases within the time limit. "Justice delayed is justice denied," he said. When asked about the need to reform the campaign process for judges, he said, "We need to balance the first amendment right to support a candidate with the right for a fair judiciary process."
Although many ballot issues were raised, issue #53 was most discussed by the candidates. It calls for a county appointive executive plan to be instated, which would have a board of five commissioners and one appointed county executive. Both Vasi and Ross were opposed to this initiative, which they said would divide the county, and produce an executive who isn't accountable to the voters.
Back // News Contents \\ Next
---
T H E O B E R L I N R E V I E W
---
Copyright © 2000, The Oberlin Review.
Volume 129, Number 7, November 3, 2000

Contact us with your comments and suggestions.