Leo R. Chavez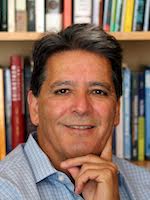 Professor Chavez received a PhD from Stanford University and is currently a professor in the Department of Anthropology at the University of California, Irvine. In addition to scores of academic articles, he is the author of Shadowed Lives: Undocumented Immigrants in American Society (1st edition 1992; 3rd Edition, Wadsworth/Cengage Learning, 2013), Covering Immigration: Popular Images and the Politics of the Nation (University of California Press, 2001), and The Latino Threat: Constructing Immigrants, Citizens, and the Nation (Stanford University Press, 1st edition, 2008; 2nd edition, 2013).
Chavez received the Margaret Mead Award in 1993, the Association of Latina and Latino Anthropologists' Book Award for The Latino Threat in 2009, and the Society for the Anthropology of North America's award for Distinguished Achievement in the Critical Study of North America in 2009.
Profesor Chávez recibió su PhD de la Universidad de Stanford y actualmente es profesor en el Departamento de Antropología de la Universidad de California, Irvine. Él es el autor de Shadowed Lives: Undocumented Immigrants in American Society (tercera edición, Wadsworth/Cengage Learning, 2013), Covering Immigration: Popular Images and the Politics of the Nation (University of California Press, 2001), and The Latino Threat: Constructing Immigrants, Citizens, and the Nation (Stanford University Press, 2ª edición 2013).
Chávez recibió el Premio Margaret Mead en 1993, la Asociación de Latina y el premio para el premio para el mejor libro del año otorgado por la Asociación de Latina y Latino Antropólogos para La Amenaza Latino en 2009, y la Sociedad para la Antropología de la concesión de América del Norte para el Logro Distinguido en el estudio crítico de América del Norte en 2009.
Anna Sampaio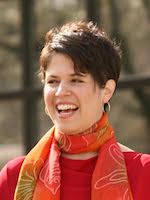 Anna Sampaio, PhD, is director and associate professor of ethnic studies and political science at Santa Clara University with specializations in immigration, Latina/o politics, race and gender politics, intersectionality, and transnationalism. Her recent book, Terrorizing Latina/o Immigrants: Race, Gender, and Immigration Politics in the Age of Security (Temple University Press, 2015), won the 2016 American Political Science Association award for the Best New Book in Latina/o Politics. It examines how changes in immigration politics, policy, and enforcement have been racialized and gendered and have imposed inequitable burdens on Latina/o immigrants.
She has also coedited Transnational Latino/a Communities: Politics, Processes, and Cultures (2002, Rowman and Littlefield, with Carlos Vélez-Ibáñez ) and published several research articles and book chapters appearing in a wide range of outlets including International Feminist Journal of Politics; Latino Studies; NACLA; New Political Science; Political Research Quarterly; PS: Political Science and Politics; Signs; and Women's Studies Quarterly. Her current book project, Latinas Political Participation and Activism in the U.S. (forthcoming, Routledge) examines the history of Latina political engagement in the United States, with particular attention to the experiences of Mexican American, Puerto Rican, and Cuban American activists in the 19th and 20th century.
Outside the university, Sampaio has also worked extensively with campaigns, community based groups, and nonprofit organizations in Colorado, New Jersey, and California, including ACLU, the Latina Initiative, the Hispanic Leadership Council, the American Friends Service Committee, NARAL, Padres Unidos, and the Denver Election Commission. Sampaio periodically blogs about the subjects of race, gender, and politics for a variety of organizations, including Presidential Gender Watch and Latino Decisions.
Juan E. Méndez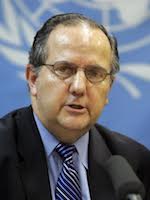 Juan E. Méndez is a professor of human rights law in residence at the American University Washington College of Law, where he is faculty director of the Anti-Torture Initiative. Méndez is a native of Argentina, where in the 1970s, his representation of political prisoners led the country's military dictatorship to arrest him and subject him to torture and administrative detention for more than a year.
After his expulsion from his country in 1977, Méndez moved to the United States and later joined Human Rights Watch, serving as general counsel, setting the foundation for a transnational legal career dedicated to the defense of human rights. In October 2016, he completed a six-year term as the UN special rapporteur on torture and other cruel, inhuman and degrading treatment or punishment. He was an advisor on crime prevention to the prosecutor, International Criminal Court (2009-2011) and cochair of the Human Rights Institute of the International Bar Association (2010-2011).
He has served as president of the International Center for Transitional Justice (2004-2009), as special advisor to UN Secretary General Kofi Annan on the Prevention of Genocide (2004-2007), and president of the Inter-American Commission of Human Rights (2002). He is the author, with Marjory Wentworth, of Taking A Stand: The Evolution of Human Rights (Palgrave MacMillan, 2011).
Marina Ottaway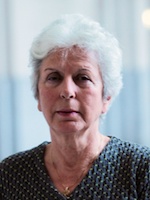 Marina Ottaway earned a PhD at Columbia University. She is a Middle East Fellow at the Woodrow Wilson Center for International Scholars and a long-time analyst of political transformations in Africa, the Balkans, and the Middle East. She is working on a project at the Wilson Center about the countries of the Arab Spring and Iraq. Ottaway joined the Wilson Center after 14 years at the Carnegie Endowment for International Peace, during which she played a central role in launching the Middle East Program. Prior to that, she carried out research in Africa and in the Middle East for many years and taught at Georgetown University, the Johns Hopkins School for Advanced International Studies, the American University in Cairo, the University of the Witwatersrand in South Africa, the University of Zambia, and Addis Ababa University.
Her extensive research experience is reflected in her publications, which include nine authored books and six edited ones. Her most recent publications include Getting to Pluralism: Political Actors in the Arab World (coauthored with Amr Hamzawy) and Yemen on the Brink (coedited with Christopher Boucek).
While at Carnegie, she also supervised their Guide to Egypt's Transition, a website that provides background and analysis on issues that will shape Egypt's political future, and Iraqi Elections 2010, an online guide to Iraqi politics. Ottaway received her Ph.D. from Columbia University.
Bassam Haddad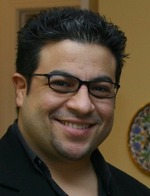 Bassam Haddad is director of the Middle East and Islamic Studies Program, associate professor at the Schar School for Policy and Government, and a core faculty member in the philosophy, politics, and economics program at George Mason University. His research of the Middle East focuses on the political economy of development; violence, terrorism, and US foreign policy; and knowledge production and pedagogy.
He is the author of Business Networks in Syria: The Political Economy of Authoritarian Resilience (Stanford University Press, 2011) and coeditor of Dawn of the Arab Uprisings: End of an Old Order? (Pluto Press, 2012).
Haddad serves as founding editor of the Arab Studies Journal, a peer-reviewed research publication, and cofounder and editor of Jadaliyya Ezine. He is coproducer and director of the award-winning documentary film, About Baghdad, and director of a critically acclaimed film series on Arabs and Terrorism, based on extensive field research and interviews. He is the executive director of the Arab Studies Institute, an umbrella for five organizations dealing with knowledge production on the Middle East.
Haddad is currently working on his second book, provisionally titled "The Syrian Tragedy: Roots and Dynamics of an Emblematic Uprising," to be published by Stanford University Press.
Daniel Otero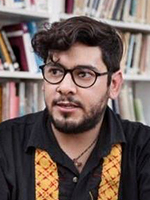 Daniel Otero is a community organizer who has specialized in advocacy for refugees and migrants in Mexico. His current work includes accompaniment and advocacy at Casa de los Amigos A.C., a Center for Peace and International Understanding founded by the Quaker community of Mexico City in 1956.
Otero's April 17 lecture will relate experiences from his work in refugee integration, exploring how forced human mobility requires an intersectional view to better understand migration dynamics in today's world. In the workshop on April 18, he will discuss practice-oriented approaches to activism in gender and human rights work. Through the workshop, participants will be empowered to consider ways in which they can get involved as globally informed citizens.