Please send news of your recently published book along with a review copy, if possible, to "Bookshelf," Oberlin Alumni Magazine.
Your review copy will be presented to the Oberlin College Library as a gift from you.
---
Bookshelf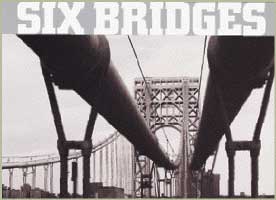 Six Bridges: The Legacy of Othmar H. Ammann
By Darl Rastorfer '74
Yale University Press, 2000
Reviewed by Mavis Clark
If you have ever entered the Manhattan area by way of any of the six majestic bridges -- the George Washington, the Verrazano-Narrows, the Bronx-Whitestone, the Triborough, the Throgs Neck, or the Bayonne--then you already know something about Othmar H. Ammann, the Swiss genius who designed them all.
An immigrant who came to America in 1904 at age 25, Ammann, supremely modest and self-effacing, lived for most of his career in New Jersey. His designs, which also include the Lincoln Tunnel and the Golden Gate Bridge, combine aesthetic qualities with great technical sophistication. The George Washington Bridge concept, based on the deflection theory which uses the bridge's weight to stabilize the structure, had never before been applied to a suspension bridge of 3,500 feet--twice the length of any previous uninterrupted span.
Widely considered the greatest American bridge designer of the 20th century, Ammann gained his experience designing railroad bridges in Pennsylvania before beginning his work in New York City. He managed to produce all six major bridges between 1925 and 1964, and this book documents the construction of each one in 200 large, clear, black-and-white photographs and design drawings. The images of the "coffee-table"-sized book clarify the artistic aspects of the bridges and commemorate the designer.
Getting acquainted with the man behind the bridges was not easy. Ammann had a great deal to say about engineering, but very little to say about himself, according to the author. "It was only when Ammann's daughter came forth with boxes of her father's personal letters that the man was transformed into a living, breathing character," Rastorfer recalls. "Just as there is much to admire in Othmar H. Ammann's extraordinary engineering work, there is much to admire in the man."
---
Rastorfer is director of projects for Design Arts, Inc., a New York-based nonprofit
educational organization, and is the curator of the Cooper Hewitt Museum exhibition "Six Bridges: The Making of the New York Megalopolis," which is showing in galleries
throughout the country. Rastorfer's next book about suspension bridges for young adults was sold to Oxford University Press.