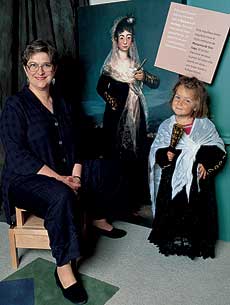 WALK THROUGH THE PHILADELPHIA MUSEUM OF ART on any given day and you might find 4-year-olds lying on the floor mimicking the geometric patterns in Persian carpets with their bodies. Or inner-city sixth-graders firing colorful clay tiles they designed in a kiln, for use in a neighborhood mural project. Or even parents and teens building giant sculptures with rolled-up newspapers.
That scenes like these are a routine part of museum life is largely because of the energetic resolve of Marla K. Shoemaker '73, the museum's curator of education for youth and family programs. "Most kids have the impression that art museums are boring," says Shoemaker, who has made a career of trying to prove otherwise. Take an ordinary school tour--a prime opportunity to spark youthful interest in art. Rather than reel off names and dates while steering kids around the galleries, she challenges them to really think about what they're seeing. "I say, What do you think these people were thinking about during this time? Why are all these paintings religious? What are the materials they're made of?"
A driving force in developing new museum activities and attracting new audiences, Shoemaker works hard to promote progressive arts education for children. This year, her efforts have been recognized with two major awards: the National Art Education Association named her National Museum Educator of the Year, and she was selected as a Museum Guest Scholar at The J. Paul Getty Museum in Los Angeles, where she is researching how children can connect with art at museums.
AS AN ART MAJOR WITH MINOR IN EDUCATION, Shoemaker discovered she could put it all together during her last semester, spent at the Philadelphia Museum's department of urban outreach on a program sponsored by the Great Lakes Colleges Association. There, she painted murals and held jewelry workshops for underprivileged kids. But she also gave tours of a hugely popular Eskimo art show. And that's when the light bulb went off: "For the first time I realized you could actually do art history and education, and it could be the same thing," she says.
That fall, when a job opened up in the museum's education department, she began teaching there while earning a master's in museum education at Goddard College.
TEACHING THE CHILDREN WELL
TWENTY YEARS LATER, Shoemaker heads that same department. And under her stewardship, it has launched all kinds of family, preschool, and after-school programs, like art clubs for inner-city kids. "There's been a big initiative to occupy middle-school kids in some meaningful activity between 3:00 p.m. and 6:00 p.m.," says Shoemaker. "Left to their own devices, they often don't make good decisions about what to do with their time."
The art clubs provide free art lessons and give kids the chance to meet with staff from the conservation labs, where they see firsthand all that goes into taking care of the art. "We do this pretty early in the year and find their gallery behavior really improves after that session," says Shoemaker.
To help children appreciate the exhibitions--like last spring's "Splendor of 18th-Century Rome"--even more, she develops activity guides to make them fun. These guides prompt kids to find certain places or motifs in the pictures, turning exhibitions into scavenger hunts rather than detached strolls through the museum.
"I had to synthesize the big ideas of the show and figure out how to engage kids in those," she says. "A big idea is that people came to Rome from all over the world. Or that the Catholic church ruled Rome, so it had a lot to do with the way art looked." This fall, she's planning another guide for the show on van Gogh, a favorite with children who all know the ear story.
Even so, the bread and butter of her department remains the 70,000 children a year who visit the museum on school tours. "That's still our big learning laboratory," she says. "That's where we figure out how people think about art. Works of art are full of the content of life. They're full of emotion, they're full of human endeavor. They're full of history, in addition to design and aesthetics. There's almost no conversation you can't have."
---
---
Hilarie M. Sheets is a contributing editor to ARTnews magazine and the author of New York's 100 Best Party Places (City & Company, 2000).