Alumni Notes
Profiles
Comic Relief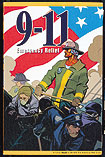 When New York cartoonist Josh Neufeld '89 received a request from his editor to contribute to the September 11 emergency aid effort, he did what came naturally: he drew a comic book story. Neufeld's words and illustrations are featured in 9-11: Emergency Relief, a collection of more than 80 cartoonists' non-fiction accounts of their experiences following the tragedy.

"I wanted to tell my story in an interesting way," says Neufeld, who had stumbled across a group singing peace songs in Manhattan a week after the attacks. Their dirge-like rendition of "New York, New York" sparked the idea for which he'd been searching.

Set to the lyrics of the legendary show tune (written by Obie John Kander '51 and Fred Ebb), the three-page comic recounts Neufeld's immediate response to the attacks, including a poignant street-side reunion with his wife, Sari Wilson '90. "In using the song to frame my own experiences, I found all sorts of parallels," he says. "Most of all, I saw new meanings in it, how the lyrics could be so sad. It's not only the triumphant anthem we normally associate it with."

Delighted with the project's success, Neufeld says the anthology has been a hot seller since its January release and may generate more than $100,000 in profits earmarked for the American Red Cross.

Neufeld can't remember a time when he didn't draw comics. He attempted his first full-length project at age 5; by high school, he had created entire fantasy worlds. But as an art history student at Oberlin, Neufeld steered away from the world of superheros to rediscover comics as a broad artistic and literary medium that could pertain to real issues.

"Comics can be about anything," he says. "They have a unique ability to connect with people." Since 1994, Neufeld's work has been widely published individually and in collaboration with other artists and writers. He is probably best known for his comic, Keyhole, which ran from 1996 to 1999, and for his illustrations in Titans of Finance, a satirical comic that critiques the financial world. Other projects on the drawing table include a full-length collection of stories that recount his backpacking adventures in Southeast Asia.
--Matt Greenfield '02