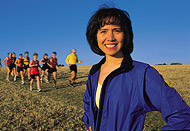 Finding Her Stride
After 100 Miles of Agony, Endurance, Recovery, and Self-Discovery, the Race Came to a Close
The start of this race was like that of any other marathon: adrenaline-pumped runners huddled together in the early morning, a race director offering inaudible last-minute announcements, family and friends standing by to cheer and support. I retied my shoes for the third time and gave my training buddies one last hug. The gun went off, and with that, the similarities ended.
It was 6 a.m. on Saturday, April 7. One-hundred and seventy-three runners took off at a fast walk up the first hill into the dark, flashlights leading the trail of the 2001 Umstead 100 Mile Endurance Run. For some, the race was one in a series of ultra marathons; for others, it culminated months of concentrated training. Elite athletes mixed indistinguishably from mid- and back-of-the-packers as runners warmed their muscles, walking up the hills and jogging down.
The Umstead 100 miler was the perfect event for the novice; the 10-mile loop, repeated 10 times, ensured that runners would not lose their way. Water was offered every two miles, and twice each lap abundant aid stations stocked with everything from deli sandwiches and hard-boiled eggs to moleskin and duct tape provided welcome relief. The North Carolina course followed tree-covered gravel roads that meandered over gently rolling hills, while a four-mile out-and-back section allowed runners to pass each other and check on the progress of friends.
I felt adequately trained for this event, having run seven marathons in the past six months. I'd toughened my feet and tested my gear. I'd carefully laid out my extra supplies, communicated last-minute needs to my crew, and slept well the night before. I was in good health, well tapered, and well fed. Still, I had no way of knowing what adventures and challenges lay ahead.
My fellow running partners--Russ, Keith, and Farouk-- were similarly prepared, having trained together throughout the winter. Yet we all knew that the statistics for 100-mile finishes did not favor all four of us succeeding.
Early on, Farouk and I stayed together, musing over the gentle terrain, beautiful wooded surroundings, and decidedly finding by Anna Newcomb Bradford '84 / photo by David Brooks Oberlin Alumni Magazine 28 lazy pace. To complete this race in the requisite 30 hours, runners had to average 18-minute miles. Our "comfortable" marathons had us running 10-minute miles, so our 13-minute pace during the first loops felt delightfully restful. We knew to walk up every incline and jog slowly down the hills. Twenty miles passed quickly, and our spirits were high. Our support crew was scheduled to join us by mid-afternoon, and we felt very capable of caring for ourselves until then.
Around 10 a.m. it began to warm up, and we slowed our pace to avoid overheating. Farouk and I concentrated on drinking every mile, while feasting on ham and cheese sandwiches, melons, eggs, and potatoes. My hands and feet started to swell, and I had to loosen my laces frequently. By noon the southern heat had reached the low 90s, quite a change from the 30-degree temperatures in which we had trained all winter.
The afternoon passed uneventfully. We ran, applied sunscreen, ate, chatted, and cheered on fellow runners. We baked in the open sun when the trees were thin and lingered at the water breaks more and more. We added ice cream and pizza to our aid-station diets. Our feet hurt, and the hills steepened. We looked forward to our crew arriving to infuse us with new energy and encouragement. We whined very little, but noticed that we were beginning to be lapped by the front-runners.
Finishing the fourth loop, we were greeted by friends who had traveled to Raleigh to help us through the race. Suddenly I was filled with needs: I wanted new socks, new shoes, a clean sweat rag, and clean feet. Our crew fed and pampered us and caught us up on our friends' progress. Russ had completed nearly 50 miles while Keith was ahead of us by just 20 minutes.
Several 50-mile runners had finished (or stopped) already and were enjoying their celebratory meals in a way only finishers can. We averted our eyes, recognizing the seductive nature of such a scene. This crowd of finishers would grow as the day progressed, and we had to keep focused on our own race.
Recognizing that Farouk's pace was faster than my own, I left the aid stations quickly to give myself a head start. At 6:30 p.m., the halfway point, the setting sun cooled the air to a reasonable 70 degrees. Although our pace had slowed to 17-minute miles, we were excited about our progress--after all, we could practically crawl the last 50 miles and still finish in time. Oh, but how naive we were.