Felony Charge Stirs Vigorous Alumni Support
A mother's photographs lead to child pornography charges and a fight for freedom of expression.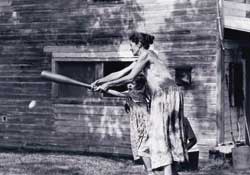 Cynthia Stewart with one of her daughters.
A broad cross-section of the Oberlin community, including alumni and individuals from the township and College, are supporting Cynthia Stewart '73 as she faces felony obscenity charges for photographs she took of her 8-year-old daughter in the bathtub. Cindy, a long-time Oberlin resident and amateur photographer, took ten rolls of film to the local Discount Drug Mart to be processed last September; only nine were returned. She was later arrested and charged with "use of a minor in sexually-oriented material" and "pandering,"--charges that threaten up to 16 years in prison and the potential loss of custody of her child. Cindy has been placed on "voluntary suspension" without pay from her job as a school bus driver. Supporters who have seen the photographs say that the pictures, intended only for family albums, show the girl playing in a bathtub, rinsing herself with a showerhead. They are among approximately 40,000 photos that Cindy has taken of her daughter to chronicle her life.
Though artwork is protected under the Constitution as freedom of expression, police and prosecutors tend to have a narrow definition of what's considered art, says Deborah Jacobs, executive director of the New Jersey American Civil Liberties Union.
A Tappan Square rock carries a message of support.
In Oberlin, approximately 300 individuals gathered in February for a candlelight vigil on Tappan Square, marching silently and painting messages of support on "the rocks." Lynn Powell, one of the organizers of the Cynthia Stewart Legal Defense Fund, said at the vigil, "Those of us who know Cynthia and her partner, David Perrotta, know them to be exemplary parents who have created an exceptionally nurturing and happy home for their child." Addressing the moral controversy at the heart of this case, Powell noted that "every family is different. Every parent makes countless judgement calls in raising a child that the neighbors next door might question. In fact, there is a wide divergence of opinions among good, loving parents on most issues of childraising."
In a letter to the Oberlin News Tribune, professors Wendy Kozol '80 and Steven Wojtal expressed concern that private family snapshots have become the center of a public controversy. "The danger for the community arises as people begin to censor themselves. With this prosecution we are all more vulnerable, not only to outside regulation but to the equally pernicious regulations we begin to impose on ourselves."
Marc Blecher, professor of politics, said "I think Cynthia...and those of us supporting her, are concerned not only about her getting caught in the jaws of the legal system, but also of the implications of this for other parents who've taken photographs of their kids."
Reverend Nancy Roth '58 said at the Tappan Square event, "The word vigil comes from a Latin word which can be translated as 'watching' or 'being awake'. We are watching in two ways--that justice may be done, to let our public officials know that we support Cynthia Stewart. In another sense, we are trying to watch over Cynthia and her family, to assure them that this community cares about them--a sign of our absolute belief in Cynthia's integrity and innocence."
Cindy's trial was recently postponed from March until May, and negotiations are still underway between her lawyers and the Lorain County Prosecutor.
An article by Katha Pollitt in The Nation, a report on NPR's "All Things Considered," a USA TODAY feature, and other media coverage have spurred national attention and support. A longtime friend of Cindy's in New Haven sent money for her legal defense as soon as he learned of the charges, as did people in 37 other states and Greece and England.
Editoršs Note: As this issue of OAM went to press, Cynthia was in negotiations with the Lorain County Prosecutor's office to try to avert going to trial. The result was a diversion agreement. Although her family will avoid further criminal prosecution, Cynthia had to agree that the prosecutor could destroy two of her photographs. She had to state publicly that these two photographs could be interpreted as "sexually oriented" and agree to participate in six months of counseling.
"I had no joy in the resolution to this case; it came at too great a cost," she says in a Letter to the Editor which will run in the Summer issue of OAM.