Please send news of your recently published book along with a review copy, if possible, to "Bookshelf," Oberlin Alumni Magazine. Your review copy will be presented to the Oberlin College Library as a gift from you.

Girl With a Pearl Earring
by Tracy Chevalier '84
Dutton, 1999
Reviewed by David Young
I will admit, first off, to a bias in favor of novels that successfully recreate historical periods and to historical novels dealing with art history in particular. I enjoyed The Lost Diaries of Frans Hals, a first novel by Michael Kernan, a few years back, and, more recently, Michael Frayn's Headlong, in which I learned a great deal about Bruegel. Both of these novels juxtaposed a contemporary setting with an historical period, whereas Tracy Chevalier's second novel is set squarely and purely in 17th century Delft. From it I learned a good deal about what it was like to be a lower class young woman of the time, as well as how painters worked: how they got commissions, planned compositions, used the camera obscura, ground their colors, and, in Johannes Vermeer's case, grew obsessed with perfection. The book brings its world to life with unobtrusive skill. As you read it, you'd do well to have a volume of Vermeer reproductions at your elbow. You'll be rewarded doubly.
Vermeer's greatness is both convincing and enigmatic in this careful portrait of his work and his world. Because we see him through the eyes of Griet, the 16-year-old servant who comes to work in his house and gradually becomes a sort of secret assistant to him, we understand him only as much as she does, which is partially. He's a closed book to her--a master, an adult, a taciturn craftsman absorbed by his craft--and the mystery of getting to know him is wound round the story of her own difficult growing up. Griet is a wonderful character, in a poignant situation, and seeing the world through her eyes is something I would not trade for a chance to tune in on the thoughts or feelings of Vermeer himself. I accept Tracy Chevalier's terms and conditions fully. In my view this novel, which is having a considerable success, deserves its critical praise and growing popularity.
ABOUT THE AUTHOR: Raised in Washington, D.C., Tracy Chevalier '84, moved to London in 1984 as a literary editor for a reference book publisher. She earned an MA in creative writing at the University of East Anglia in Norwich in 1994, and published her first novel, The Virgin Blue, chosen by W. H. Smith for its Fresh Talent promotion in 1997. Today she lives in London with her husband and son and is working on a third novel, set in London at the beginning of the 20th century.
"I wrote this book because I have always been fascinated with the Dutch painter Johannes Vermeer's works, especially the painting Girl With a Pearl Earring," she writes. "I am never sure what the girl in it is thinking: sometimes she looks seductive, other times sad. Sometimes she is 13 years old, other times 30. I began to wonder what Vermeer said or did to make her look like that, and from that wondering the story emerged."
David Young is the Longman professor of English and Creative Writing.

Arts & Crafts Textiles: The Movement
in America

By Ann Wallace '71
Gibbs Smith, 1999
An introduction to American arts and crafts textiles is a subject that has only recently gained recognition for its unique contribution to popular decorative style. Arts & Crafts describes the development of textile design in the United States and explores how textiles were used in homes in the first part of the century. The author provides tips and color photographs for collectors and illustrated instructions for textile care. Wallace recently moved to Los Angeles, where she runs a textile design business.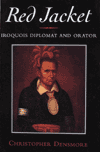 Red Jacket: Iroquois Diplomat and Orator
By Christopher Densmore '71
Syracuse University Press, 1999
Tried as a witch by his own people, feared by European monarchs, and accused of betraying the very nation he represented, Iroquois diplomat Red Jacket led a tumultuous life. Densmore has written the first modern biography of this controversial Native American who served from the 1770s through the early 1800s as the Iroquois representative in land negotiations with the U.S. So iconic a figure was Red Jacket that 20 years after his death in 1830, his bones were stolen while debate raged as to whom, Indians or whites, they belonged. Densmore is the director of university archives at SUNY-Buffalo and has written articles for New York History, Quaker History, and other journals.

Open and Clothed: For the Passionate Clothes Lover
By Andrea Siegal '84
Agapanthus Books, 1999
Clothes junkies, shoe-aholics, and the wardrobe-obsessed find themselves undressed, emotionally, in this book. Siegal offers readers an appealing mosaic of culture, personal history, and advice by interviewing clothing lovers, researching costumes, and investigating museums throughout the world. Quoting Joan Rivers and Karl Marx in one breath, she takes her readers on a whirlwind tour of the joy and pain of clothes obsession. Siegal lives in Queens, where she continues to write and to practice the Feldenkrais Method, a type of body work therapy.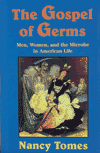 The Gospel of Germs: Men, Women, and the Microbe in American Life
By Nancy Tomes '74
Harvard University Press, 1999
AIDS. Ebola. Every day the media come out with reports of newer, deadlier diseases. Yet, as Tomes writes, this is really nothing new. This medical and cultural history takes us back to the early 1900s to explore the origins of our modern disease consciousness. Full of fascinating detail, this work charts the American "revolution in personal hygiene" that helped create a safer environment even as it produced new prejudices about sickness and health. Tomes is professor of history at SUNY-Stony Brook and the author of The Art of Asylum-Keeping: Thomas Story Kirkbride and the Origins of American Psychiatry.