The Business of Art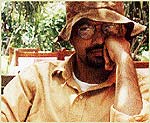 Art and economics. Not the most common double-degree combination, but one that suited Oberlin freshman Kamal Quadir in 1992. He moved through his art program successfully and bonded with his professors, but when Quadir's final course requirement conflicted with a Roman Polansky film class, he chose the filmmaker and forfeited his art degree.
No matter. Quadir '96, the corporate communications manager and assistant to the president for Unocal Corporation in Bangladesh, is an accomplished painter whose work appears in the Bangladesh National Museum, the Liberation War Museum, and in private collections worldwide. "Art on Windows," his series of nine paintings on glass, was shown at The National Art Gallery at Shilpakala Academy, the most prestigious art and cultural institution in Bangladesh. The August exhibit was his second in Bangladesh and attracted tremendous attention of the art community and national newspapers.


"The organization of an exhibit is more involved than is apparent," says Quadir, who relishes his corporate business training and its effect on his artistic success. "The process is like what an advertising agency goes through in working for weeks to present a product in a 20-second ad. Here I assemble a venture which has a short and limited exposition, two weeks at most. There are business challenges in making it financially viable, soliciting corporate sponsors, and managing the press. Sharing one's work is very important for an artist's growth."


Quadir's debut exhibit in Bangladesh, a 1997 display of silk-screens and oil paintings, did more than introduce his creative talents. The exhibit attracted the attention of U.S.-based energy executives in Bangladesh who lured Quadir away from his then-current job in New York. Knowing nothing about the industry, he accepted the offer anyway.


"Being a Bangladeshi American, I had a deep desire to participate in the development of Bangladesh. When an opportunity for direct participation came, I poured myself into it," recalls Quadir, who climbed to the top executive team within 20 months.


These days he spends at least 60 hours-per-week at his job and another ten in his studio. He finds the two aspects of his life to be enormously rewarding and of great benefit to each other. "We all have to be creative in life," he says. "Whether you're a writer or a speaker or a businessperson, creativity is the key to every business because it allows you to see alternatives. Otherwise, you can't survive professionally."


"While Quadir is one of many excellent painters who have had exhibits in Bangladesh, his work eschews the folk art tradition, with its scenes of South Asian rural life, from which most local artists take inspiration," says friend and colleague Zeeshan Hasan '93. "The absence of indigenous themes in Quadir's works is experimental and innovative, and demonstrates that glass painting is sure to become a new genre of art in Bangladesh."