An Enduring Tribute to Fallen Friends
By Midge Wood Brittingham '60
---
Fifty year ago the Second World War was just ending, and men and women returning from war were beginning to put their lives back together. But for the 75 Oberlinians who lost their lives in that struggle, there was no new beginning.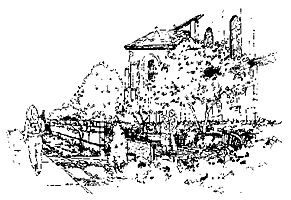 The horror and death of war seemed far away when alumni and guests gathered on the sunny peaceful south lawn of Finney Chapel May 25 to break ground for the garden and memorial that will be built to honor those men. The pause in a weekend of Commencement-Reunion celebration was made especially moving by a program that included music by the Oberlin Brass Ensemble and reflections by Barbara King Wright '41, James K. Sunshine '49, and Norman R. Williams '45. After Jim Truitt '47, Geoffrey T. Blodgett '53, and Paul B. Arnold '40 read the names of each of the dead, benediction was given by Father John J. Kinkopf '47, Rabbi Shimon Brand, and the Reverend William W. Reid Jr. '45. Senior trumpeter Alexander Freeman '96 closed the ceremony with a moving rendition of taps.
The idea for the War Memorial Garden grew from a four-day "war-years reunion"--Reflections on the '40s: Impact of the War Years--held in August 1995 [Fall 1995 OAM]. Following those days of moving recollections and sharing, Bill Warren '48 suggested a permanent monument be created to honor and perpetuate the memories of the Oberlin College alumni who lost their lives in the Second World War. After getting the approval of the College, Bill formed a 10-member committee to raise funds for and plan the memorial. He pursued each aspect of the project--choosing a location, design, fundraising, planning the ground-breaking service, and research, an aspect in which he received invaluable help from Don VanDyke '47, who spent many hours in the College archives compiling information about the deceased and locating their survivors. For his dedication to the project, Bill received a Special Volunteer of the Year award at the September 1996 Alumni Council meeting.
The World War II Memorial Fund campaign, conducted during 1995-96, generated nearly $60,000, ensuring the construction and maintenance of the War Memorial Garden, says Bill. Beside their usual contributions to the College, many alumni and friends of Oberlin contributed to the Memorial, as did family members and friends of the deceased--275 people in all.
Construction of the garden and the memorial wall will begin in spring 1997. The project is scheduled to be completed by Commencement-Reunion Weekend 1997.

Midge Wood Brittingham is executive director of the Oberlin College Alumni Association.
---
Return to "Tis Not The Dying..."
Return to the OAM Fall-Winter 1996 Table of Contents