The Dream Job That Became A Nightmare
Martin Harwit And The Enola Gay Exhibit
by David Ehrenstein '88
---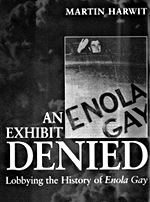 Martin Harwit '51 has gained more fame in the past few years than most astrophysicists get in a lifetime. He was head of the National Air and Space Museum during the contentious fight over a planned exhibition of the newly restored Enola Gay, the airplane that dropped the atomic bomb on Hiroshima. The exhibit was canceled in January 1995 after months of controversy, and Harwit left his post four months later. In a recent interview at his southwest Washington townhouse, Harwit shared his thoughts on the Enola Gay affair, his recently published book on the exhibit, An Exhibit Denied: Lobbying the History of Enola Gay (Copernicus/Springer-Verlag), and his path from Oberlin to the museum.
"NO TALENT FOR SCIENCE"
Harwit was not Oberlin's best physics student. Although he eventually became an accomplished astrophysicist and museum director, his Oberlin differential equations classes were tough. "Being on the swimming team, I had strong lungs, and so I tried to see what the minimum number of breaths was that I could take in an hour of these classes, and that was what kept me from falling asleep," he recalls.
Differential equations aside, Harwit worked hard at Oberlin, although the effort did not show in his grades, largely because of difficulties outside the classroom. Born in Czechoslovakia, he had immigrated to the U.S. from Turkey in the spring of 1946, only a year and a half before starting at Oberlin. He was still adjusting to America, and, at 16, was younger than most of the stu-dents, many of whom had recently returned from World War II. He also had to live within a tight budget, and he was experiencing his first coeducational school. "It was a fairly traumatic four years, and I just didn't do very well."
Despite those difficulties, Harwit says he had a good group of friends and enjoyed the swim team and going to concerts. He also enjoyed Pyle Inn, Oberlin's first co-op, of which he was a founding member. There he learned the basics of cooking, including the lesson "that you don't have to wash vegetables with soap."
After graduation, he spent a year as an assistant for the undergrad labs at Amherst College before going to grad school in physics at the University of Michigan. Ironically, he says he "flunked out for having no talent for science," and was immediately drafted into the Army's Chemical Corps for the Korean War. During his tour of duty, he saw the first H-bomb drop from an airplane (at Bikini) and many other atomic blasts.
He describes these explosions as "awe-inspiring" and explains how that sobering experience affected his reactions to some critics of the Enola Gay exhibit: "I got a postcard from one person saying 'I wish we'd dropped 10 atomic bombs on those slant-eyed, yellow-bellied, little bastards.' If you've seen those bombs go off, you think it's just an irresponsible type of statement. People who have actually seen an atomic bomb blast would not write that."
A MUSEUM DIRECTOR IS BORN
After his military service, armed with improved self-confidence, reference letters, and the GI Bill, he went to MIT for a physics PhD, and to Cambridge for post-doctoral work in cosmology. In 1962 he joined the faculty at Cornell and worked on the first helium-cooled rockets designed for infrared astronomical observations above the atmosphere. In 1981 he wrote a book on the history of astronomy, which triggered his exploration of the history and social impact of science and technology in general, which led to his interest in public education in science and technology and a six-month fellowship at the National Air and Space Museum (NASM) in 1983. He was so impressed with the museum that he applied for and was appointed to the position of NASM director in 1987.
Harwit was eager for NASM exhibits to portray not only accurate technical details, but also the history and social impact of aviation and space flight. "Just putting out airplanes and putting out spacecraft really doesn't tell you how those machines changed life in the 20th century," he says. Besides improvements in military aviation and increased ease of world travel and trade, advances such as more accurate weather forecasts, improved understanding of the universe, and the scanning of otherwise inaccessible natural resources "are probably the most interesting aspect of the whole story."
Exhibiting the Enola Gay was on his mind when he began the new job, and his plan had always been for a broad exhibit, one that included the history, explored the moral questions, and discussed the impact of the bomb on the future of the world. In An Exhibit Denied, Harwit describes his exhibit team as a group keenly aware of the emotional power of the topic and of the need for both accuracy and balance, not just in the script, but in the overall impression of the exhibit. Consequently, the team had been seeking review and criticism from veterans, historians, the military, and others for years before the issue became public.
World War II veterans raised $22,000 in support of the exhibition in the early years of development, but by 1994, the year before the scheduled opening, they had become its most vocal critics. They accused the curators of showing too much evidence of the bomb's destruction, too much understanding of the Japanese motivations for fierce fighting, and too few descriptions of Japanese aggression. Despite accusations of a political agenda, Harwit maintains that the museum just wanted to present the facts. "We were interested in showing the history surrounding the mission of the Enola Gay, and the bitter fighting and suffering on both sides in the Pacific war. We wanted the display to tell how Truman had been informed and the basis for Japanese surrender, so that people could see how a pivotal decision that has reshaped history had been formulated."
Harwit acknowledges that some unintended biases existed in the early designs of the exhibit. But he reports that he and his colleagues were working to correct them when press leaks occurred. A majority of the military's top historians, as well as representatives of the Veterans of Foreign Wars and the Retired Officers Association, praised the final plans. Their positive reactions are documented in An Exhibit Denied, as are criticisms from the exhibit's detractors.
Under pressure from Congress, Smithsonian Secretary I. Michael Heyman canceled the exhibit in January 1995, four months after his installation as the institution's top official. Judging from his inaugural speech and later statements, Harwit believes Heyman never felt comfortable with the exhibition, and without his supprt "there was no way a controversial exhibit could have gone forward."
A NEW BEGINNING
Since leaving the NASM in May 1995, Harwit has continued his astrophysics work, which has involved infrared observations from satellites, although he has no institutional affiliation. He has been traveling regularly to universities and conferences. Besides continuing his research, Harwit is also revising his astrophysics textbook for a third edition. He now seeks work that will combine his interests in history and public education on issues of science and technology, although he's not sure another job like his Smithsonian position will come along. Despite the difficulties there, he still describes it as a "dream job."

Harwit says the main lesson he learned from the Enola Gay dispute is that it can be hard for a nation to confront its history honestly. "It's very difficult, even in a democracy, to come to terms with history. Our role in this [post-Cold War] world is not at all clear, and I think, unless we understand our past properly [and] that history is different from mythology . . . we are going into the future with an enormous handicap."
---
David Ehrenstein is a science writer and editor at the American Physical Society.
---