Issue Contents :: Feature :: Justice For All :: Page [ 1 2 3 ]
Click here for a slideshow of photos from the event.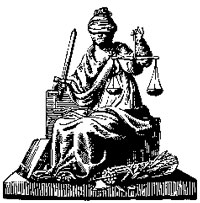 Learned Hand would have loved it.
On a campus made for music, in a center built for science, some 160 Oberlin-trained lawyers, law professors, and judges returned to their liberal arts bedrock in November for an exhilarating weekend of discussion and debate.
The three-day conference, titled Law and Liberal Arts at Oberlin College: Law and Social Change in the 21st Century, was the first of its kind for the College. Through eight panel discussions on topics ranging from affirmative action to intellectual property, alumni spanning five decades delved into some of the nation's deepest legal dilemmas. And throughout the brisk lineup of panels, speeches, receptions, and meals, alums were reminded of the enduring value of the liberal arts, in part by the repeated invocation of the great jurist Learned Hand. As President Nancy Dye noted during her opening remarks, "A rich liberal arts education enables students to think seriously about ideas fundamental to the law." It was Hand, she said, who advised lawyers to obtain an endowment as rich as possible in letters, poetry, and music–the very stuff of a liberal arts education.
The wisdom of Hand's words was proven over and over again by the alumni participants. Consider Carolyn Kubitschek '70, a prominent New York-based family law specialist who spoke at a panel on gender and family rights. The holder of a University of Chicago law degree, she's a repeat guest on Court TV and Nightline and also a piano player from way back.
"Carolyn is living proof of what you can do with a music degree from Oberlin," noted panel moderator Amy Gittler '72.

Even the conference's setting in the Science Center showcased the liberal arts theme, as biology and chemistry students made room for their legal-minded colleagues who filled up lecture halls and reception spaces. The conference itself was the brainchild of Ron Kahn, Oberlin's James Monroe Professor of Politics and Law. Proving that persistence matters, Kahn conceived of the conference in the late 1990s, built it from the ground up, and personally tracked down the 50-plus panelists.

"When Ron called me, I was afraid he was going to say I forgot to turn in a paper," laughed Justin Hughes '82, an intellectual property professor at Cardozo School of Law in New York City.
Although the College hosts alumni talks and gatherings throughout the year (Dye noted that Oberlin-trained scientists regularly return to campus in small groups), the lawyers' conference was unique in its ambitions. The panelists and speakers represented a broad cross-section of the law. There were judges, such as Oregon Supreme Court Associate Justice Thomas Balmer '74, and academics, such as Vanderbilt Law School Professor Nancy King '82 and University of Michigan Law School Professor Richard Lempert '64–both keynote speakers. There were practitioners, like J. William Callison '77, a tax specialist with a taste for academia, as well as a Supreme Court clerk who helped organize Texas farmworkers, an environmental activist who combined an Oberlin biology degree with Harvard Law School, and the public defender who denounced the death penalty with a revivalist's passion.
"It's a very, very nice panorama of Oberlin's engagement with the law," said attorney William Perlik '48, former chair of Oberlin's Board of Trustees. "It's the first time I've had this sort of experience, and I've been hanging around here for a long time."
Next Page >>