Issue Contents :: One More Thing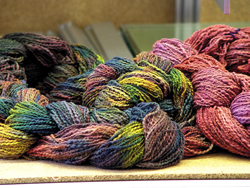 Knitted sweaters, colorful yards of fabric, intricately woven handbags, and book covers made of grass, twigs, and other natural fibers made their home among petri dishes and beakers last semester in an exhibit illustrating the relationship between fiber art and science.

More than a dozen alumni, employees, and parents of students–many of them renowned fiber artists–donated materials and crafts for the display, which hung prominently in Oberlin's new Science Center. Among them was yarn woven from flowers, grasses, and cotton by artist Rita Shuster Buchanan '71; cloth dyed from Kool-Aid by 7-year-old Julia Robinson (daughter of Grady Jack Robinson '73); and "soy silk," an environmentally friendly fiber made from soybeans by weaver Elizabeth Yasaki '86.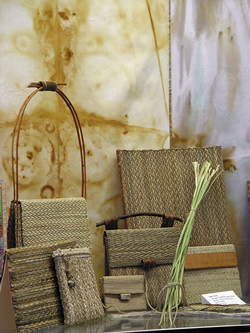 "Most of the pieces reflect the artists' familiarity with at least one scientific principle," says curator Betsy Bruce, Oberlin's director of recreational sports. Also a recreational weaver, Bruce teaches an annual winter-term project titled From Yarn to Garment.