Feature :: A Death of Her Choosing
Jump to Page >1< : 2 : 3 : 4 : 5 : 6 of A Death of Her Choosing
A Death of Her Choosing
As the law that made it possible is threatened, two sisters remember their mother's decision to die.
by Todd Schwartz
Illustration by Annie Olechowski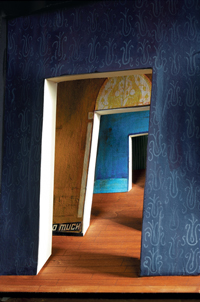 It was a Thursday in January. Outside the window, white winter sunlight hung like cloth in leafless trees. A few yards away, the river slid past with the low shine of liquid metal. No sound from the cars crossing the nearby bridge entered the bedroom.
The woman in the bed, 68 years old and full of cancer, loved this view of the Willamette River in every season. Loved water of any kind, especially the ocean. Moments before, a poem by Annie Dillard about being enveloped by the sea had been read into the quiet space.
Surrounding the bed were the woman's five children, their spouses, her sister, a nephew, and the woman's longtime physician. If there was sadness in the corners of the room, love filled its center. Downstairs in the kitchen, a volunteer slowly opened 90 capsules of secobarbital and mixed a lethal dose of the fast-acting barbiturate into a glass of liquid.
The woman's son began to read the 23rd Psalm—the woman was not religious, but had asked nonetheless to hear what she appreciated as words of comfort and an exceptional poem. Just before "the valley of the shadow of death," she stopped him with some annoyance.
"That's not the right version," she said. "I want the King James." Her children smiled. For those who knew this intelligent, fiercely independent woman, the moment was perfectly hers.
The people of Oregon are well known for using the ballot to steadfastly protect what they hold dear—old-growth forests, bottle-free roadsides, their refusal to pump their own gas—and even the right to die on their own terms.
Growing up in Portland, Ellen Sutherland Baltus '82 and Julie Sutherland McMurchie '85 took the state's willingness to pass limit-pushing legislation for granted—until 1994, when Oregon became the only state in the nation to approve a law allowing physician-assisted suicide for the terminally ill. That's when their mother, Peggy, first talked about choosing the manner of one's own death.
Peggy Sutherland had been born in Pennsylvania and raised in a conservative home in the privileged enclave of Philadelphia's Main Line. She grew into a strong-willed young woman, a philosophy major and psychology minor at Mt. Holyoke College. She married a man who became a cardiologist, and they had five children, each a year apart. She raised her family in the soft rain and deep green of the Willamette Valley, bringing them up to be fearless and straightforward about life—and, it would turn out, death. Sutherland's only serious mistake was to smoke three packs of cigarettes a day.
Baltus and McMurchie remember the moment in May of 1986 when their mother was first diagnosed with lung cancer. They remember how calm she seemed. They remember the invasive surgery that removed a lobe of her lung and their mother's pain during her long recovery. Eventually Sutherland was pronounced cured and went on with life. She never smoked a cigarette again. Never really talked much about the cancer.
Sutherland divorced in 1994. Always an organized, detailed-oriented person, she immersed herself in stocks and investing, telling her daughters that she wanted to have her own means, never to be a burden on her family. Later that year, when Oregon's controversial Death with Dignity Act was first passed, she mentioned how wonderful it was to live in such a progressive state—a place where a person who had reached the end now had the freedom to control that end. It was an idea, and a law, perfectly matched to the kind of person Peggy Sutherland was.