Feature :: The Chimes They Are A-Changin'
Jump to Page >1< : 2 : 3 : 4 of The Chimes They Are A-Changin'
The Chimes They Are A-Changin'
Garry Kvistad '71 has followed his passion to craft a career from diverse musical
instruments and influences.
by Sally Parker
Photo by John Kleinhans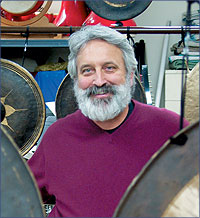 Massive circus banners wrap around the walls and soar to the ceiling of Garry Kvistad's percussion workshop. They bear images of the world's largest snake, Pygmy village, and Eko and Iko, the sheep-headed men. Kvistad '71 bought them at auction from a defunct music museum several years ago, along with a 1926 Wurlitzer military band organ, the kind used in carousels. He reaches for the switch and asks me to step back. Out blasts a march—all bass drum, woodwinds, and horns. I feel like cheering.
Kvistad is grinning. He picks up a mallet and trots out Bach's Fugue in E-flat Major on a nearby vibraphone. He says he fell in love with the instrument as a child, listening to his older brother play. He then walks across the room, where coworkers are assembling his latest creation—a massive stand made of iron pipes that he calls his indoor carillon. When completed for a "Garry and Friends" percussion concert in a month, the mammoth instrument will fill both stage and ceiling with hundreds of bells and chimes. By striking gongs and pulling on ropes that jingle the chimes, Kvistad plays Bach's Prelude in C. He calls the upcoming show his dream.
Kvistad knows about chasing down a dream. As a Grammy award-winning percussionist, he founded and built Woodstock Percussion, Inc., a wind chime and instrument company respected worldwide for its innovative designs and quality products. His friends say he's achieved the kind of sweet success that occurs when people listen to their instincts. His employees love him; his
wife and daughters share his creative bent; his fans can't get enough.
Woodstock Percussion is a 107,000-square-foot facility tucked in the Catskill Mountains of upstate New York. Kvistad's office is adjacent to a cramped conference room adorned with concert posters and photographs of his jamming musician buddies. The company's famed wind chimes hang from the ceiling, and small gongs and drums rest atop bookshelves crammed with magazines and papers. Kvistad seems delightedly puzzled when asked how he has carved out a life so perfectly suited to his musical and business sensibilities.
"I didn't want to use music as a way to make a living per se," he says. "I wanted instead to focus on the type of music I liked to play."
Which means that today he is racing to hammer together his monstrous carillon and plan a show packed with big-name musicians. Mark Stewart, for one, who is Paul Simon's lead guitar player and backup singer and who will make his Woodstock debut with this performance. Kvistad has also enlisted large "sound sculptures" by French artists François and Bernard Baschet, as well as a Bach piece arranged by his brother, Rick.
It was Rick '65, six years Kvistad's senior and a timpanist for the San Francisco Opera, who turned Garry on to the classical period of percussion: the 1930s and '40s, when Western percussion met the East. At Interlochen Arts Academy, Garry fell in love with the Eastern-influenced jazz of Miles Davis and John Coltrane; with Lou Harrison, who was shaped by Chinese opera; and with John Cage, whose music reflects Zen Buddhism. He worships Harry Partch, whose nonconventional instruments and compositions boast overtones from Asia, the Middle East, and Africa.
By the time he enrolled in Oberlin's Conservatory of Music in the late 1960s, Kvistad had been bitten by the world beat. At Oberlin, he studied with Cleveland Orchestra timpanist Cloyd Duff, known for teaching percussion techniques that require special mallets and for showing his students how to make them. Here, Kvistad found his niche in building and repairing the very instruments he loved to play.