Inside Links:
Henry Churchill King Papers (RG 2/6)
Controversial Diplomacy: The 1919 King-Crane Commission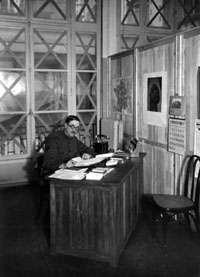 Following World War I, President Woodrow Wilson appointed Henry Churchill King, president of Oberlin College, and Charles R. Crane, Chicago businessman and trustee of Robert College in Constantinople, to serve on an Inter-Allied commission to visit the Middle East to determine what the people living there wanted. Although the full commission never assembled due to French and British opposition, the American team, known as the King-Crane Commission, visited the area from June to August 1919. The 1921 Oberlin College yearbook carried a summary of President King's work for the Commission.
This photo, taken at the Y.M.C.A. headquarters in Paris in late 1918, was sent by H.C. King to his Oberlin friends, probably in early 1919. Photograph courtesy Oberlin College Archives.
Contents