Recent Accessions
The following is a sample of recent accessions received by the Oberlin College Archives.
Accession 2010/022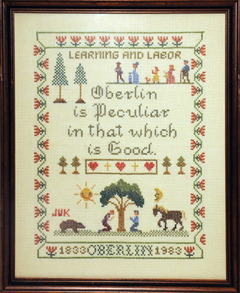 Set of eight framed cross-stitch pieces honoring Oberlin College's 150th anniversary in 1983. Mary Margaret Waldcock of Sandusky designed the samplers using quotations from early College rule books, the College's motto "Learning and Labor," and motifs of her own design. The sampler charts and kits were available for sale in Oberlin shops and by mail. This set was worked by "JWK" and purchased at an estate sale by the donors.
The piece at right features the quotation "Oberlin is Peculiar in that which is Good," derived from co-founder John J. Shipherd's phrase in an 1834 letter, "Our Insitute and Colony are peculiar in that which is good." Shipherd coined the double entendre on the common alllusion to slavery as a "peculiar institution," and to Oberlin's stance in opposition to slavery on moral grounds.
Accession 2010/016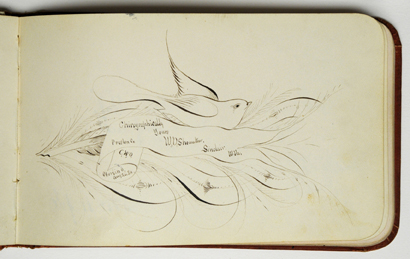 Autograph book owned by Oberlin School of Commerce student Joseph Thompson White, 1884. The book holds autographs by fellow students in the Department of Penmanship and by Uriah McKee, principal of the Oberlin Business Institute, who was in charge of the department from 1875 to 1884. The purpose of the Institute of Spencerian Penmanship was "to give to the students of the College an opportunity to improve their handwriting while pursuing a course of study, and to afford superior advantages to all who may wish to prepare to teach 'The Art' in public, private, or normal schools, or to acquire an elegant and easy business hand."
The 40 autographs in this small book frequently include pen and ink drawings to complement the calligraphic letter forms, such as in this example. The donor is the grandson of the book's owner.
Accession 2009/043
Album of photographs created by Jane E. Smith (Mrs. Charles Brush), A.B. 1931 Oberlin College, and Oberlin Shansi Representative to the Ming Hsien Schools in Taigu, Shansi Province, China, 1931-33. The album contains approximately 530 black and white photographs depicting Jane Smith's travel from the United States to China via Hawaii and Japan. Photos in China include the Great Wall, the Ming Hsien School, Peking, Nanking, and Shanghai. Photos of individuals include Oberlin Shansi Representatives Jane Smith, Clayton Miller, and Raymond Moyer; students at the Ming Hsien School; and Carleton College Representatives to China. Events include the funeral for Willoughby A. Hemingway, a physician working in China.
Each photograph is accompanied by a handwritten caption, identifying the scene or individual(s). Included in the album are typed and handwritten letters from Smith's students, 1931-34, printed matter, and a short description by Smith of a visit to a student's home in China, ca. 1931-33. Overall this material provides a dramatic visual and textual account of Oberlin's education efforts in China and the experiences of one of its representatives from 1931-34.

Accession 2009/038
Professor Arno Selco's personal files for and slides of theatrical productions at Oberlin College, directed by Selco, Associate Professor of Theater, from 1979-1983.
Productions were The Shadow Box, Medal of Honor Rag, The Importance of Being Earnest, Curse of the Starving Class, The Tempest, Devour the Snow,andThe Physicists. Includes annotated scripts, programs, clippings, 60 color Ektachrome slides, and fourteen 8x10" black and white photographs.
Color slide of the 1982 production of The Physicists
Accession 2009/036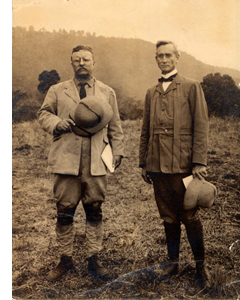 Fifteen typed and handwritten letters from Charles E. Hurlburt, enrolled 1881-83, to his sister Elizabeth, while he served as director of the Africa Inland Mission, and in California. Six typed and handwritten letters written by Agnes to her Aunt Elizabeth and Edith, 1931-32, 1934, while serving in Africa. One typed letter to "Mrs. Husted" from Helen Boyden, and one typed letter to "Dear Dan," January 19, 1992.

Includes a black and white photograph of Theodore Roosevelt and Charles Hurlburt, ca. 1900, as well as the following printed matter: Oberlin College Commencement Program, 1917; Bulletin of Oberlin College: Book of Views, Campus Buildings, 1912; and Rev. James Brand, D.D., Some Chapters from His Life, written by himself, 1899.
Photograph of Theodore Roosevelt and Charles E. Hurlburt in British East Africa (Kenya), ca. 1900
Accession