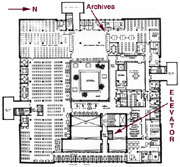 Fourth Floor, Mudd Center
The College Archives is located on the fourth floor of the Mudd Center on the Oberlin College Campus. The campus map shows Mudd Center (marked as building #41) in Wilder Bowl.
Please refer to our hours of operation and our preferred hotel guide to aid your stay.
If you have any questions, please feel free to contact us.