The View from Here: A Window on Conservatory Life
Editor's note: Assistant Dean Gloria Kim wrote this article when she was an Oberlin student. She graduated in 2002.

Classical Activist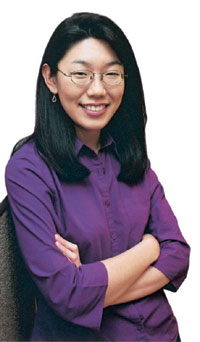 There are two very distinct kinds of performers: those on stage and those behind the scenes. I
learned this distinction in earnest after arriving at Oberlin, where I was intent upon building a career as a pianist ­ on stage. I soon discovered an even greater enjoyment, behind the scenes, guiding others who perform, creating opportunities for audiences to grow musically, and realizing the powerful role music plays in the fabric of life.

During the third year of my five-year double-degree, I became a co-project director of Classical Action Oberlin, the first collegiate branch of the New York-based Classical Action: Performing Arts Against AIDS. This enormously satisfying collaborative work gave me the chance to contribute to a music-making process that would serve a beneficial and vital purpose ­ raising money for AIDS-related services and research. My Oberlin student colleagues (Hudie Broughton '02 and Rick Sanford '03) and I had the honor of producing, in the fall of 2000, Classical Action Oberlin's first annual benefit concert.

Although work began in February of that year, it intensified in the summer. With just two months before the concert, while I was working as an intern at IMG Artists in midtown Manhattan, I was on the "N" train, heading to the office. During the 15-minute ride on that humid summer day, my thoughts were focused on a letter. My duties entailed requesting the sponsorship of Oberlin's Central Ticket Service for our fall concert. Upon arriving at IMG, I immediately started composing the letter in the hour of quiet I could count on before the endless phone calls and e-mails began to flow in.

Four hours later, I met Hudie and Rick at the Lincoln Center for the Performing Arts, which served as our midpoint. (Conveniently, we all had New York internships.) To plan for a concert featuring Oberlin faculty, alumni, students, and a guest artist, we needed to consider all aspects of production, including the concert's goal, ticket sales, artist operations, publicity strategy, AIDS awareness within Lorain County (Ohio), appropriate program and artist selections, and collaboration with Classical Action in New York. Coming together like a unified ensemble, we had a shared vision: raising AIDS awareness in the greater Oberlin area and producing an event of the highest possible quality. Yet, as a newly formed ensemble, we were only able to work efficiently after first coming to an understanding of our complementary skills and personalities.

Back at Oberlin in September, I found myself juggling my time between class work and concert preparation. At 3 a.m. I was typing texts and translations for the concert program while my colleagues-in-production were silk-screening posters. I stood by the Conservatory of Music fax machine just two days prior to the concert, waiting for the arrival of the program's proof copy before sending it along to the printer. I grabbed each page as it spilled out of the machine, scrutinized every word, and called Classical Action in New York to make corrections. These small 11th-hour projects illustrated that every detail is crucial to a production's success.

Although I tried to retain my composure, I was nervous throughout the concert day. After all, I was still running around the campus, setting up ticket sale desks, checking in with volunteers, and recruiting ushers. Yet, I was able to resolve issues as they arose, remembering what a well-respected arts administrator once told me: "After all the hard work, all you can do during the final hours is wait and expect the very best."

She was right!

I sensed warmth in Warner Concert Hall as the concert began. The performers, including soprano Tony Arnold '90, tenor Carl Halvorson, Associate Professor of Singing, soprano Marlene Ralis Rosen, Associate Professor of Wind Conducting Timothy Weiss, and a contemporary chamber ensemble composed of Oberlin students, played with intense concentration while the audience listened closely to their careful interpretation of the music.

Everyone seemed removed from the reality of this world, recreating commemorative scenes from the past. Some of the audience members had lost family members or friends to AIDS; some were there simply to support the AIDS community. Regardless of their reasons for attending, it was clear that the dream-like performances were giving them a chance to recollect their memories, to remember their loved ones.

During guest artist Carl Halvorson's moving performance of Igor Stravinsky's In memoriam Dylan Thomas ­ containing the poet's admonition "Do Not Go Gentle into that Good Night," the hall was absolutely still. I saw some people in tears. Others reflected quietly. I, too, sat quietly, observing their reactions. I was speechless in fact, struck by the indescribable power of music and its indefinable capacity to touch lives. To change lives. I felt privileged to have had a hand in the experience.

"I was speechless in fact, struck by the
indescribable power of music and its
indefinable capacity to touch lives.
To change lives. I felt privileged to have
had a hand in the experience."

Several months later, I delivered a check to the Family Care Center's Infectious Disease Center (IDC) in Lorain County. Handing the concert proceeds to Debbie Ewers, IDC Director, was the most rewarding moment of the entire experience. It reminded me of why I had invested my time and energy into producing the benefit concert. All of those e-mails, phone calls, meetings, Xerox copies, deadlines, and sleepless nights seemed trivial and insignificant compared to what that moment represented. Joy filled my heart ­ a joy that blinded me (for a while) to all of the problems and worries of the world. I could not stop rejoicing for days, thinking about how what we had accomplished would offer hope and support to others and improve the quality of their lives, even just a little bit.

Indeed, I have found an outlet to express my passion for music. I can achieve many goals ­ educationally, inspirationally, and socially ­ while sharing my life-long love. None of this would be possible, however, without a true devotion to the artistic product. My love for music is my leader, guiding me to find radiant joy in the administrative roles I pursue in the arts. I have learned that the most valuable aspect of arts administration is that it cannot be detached from the creative and interpretive process.

During both of her summer breaks, Gloria has worked as an intern, first at the Los Angeles Philharmonic Orchestra, and then at the Aspen Music Festival and School. She spent winter term 2000 as an arts administration intern at Chamber Music America. A Shouse Nonprofit Leadership Scholar, Gloria will graduate in May 2002 with a Bachelor of Music degree in piano performance and a Bachelor of Arts degree in arts administration, a self-designed major.