Edward Parks '06 Wins Met Opera National Council Auditions
Baritone Edward Parks '06 was one of five young singers to win the Metropolitan Opera National Council Auditions, held in February 2008. Each winner was awarded a cash prize of $15,000. Parks was selected from nine finalists, who performed arias with the Metropolitan Opera Orchestra, under the direction of Steven Lord '71, on the Met's stage during the Grand Finals concert held on February 24. Anthony Tommasini of the New York Times characterized Parks' voice as robust and earthy; he sang "L'orage s'est calmé" from Les Pêcheurs de Perles by Georges Bizet and "Mein Sehnen, mein Wähnen" from Die tote Stadt by Erich Wolfgang Korngold. Parks was also accepted as a member of the Met's prestigious Lindemann Young Artist Development Program.
Parks, who studied with Emeritus Professor of Singing Gerald Crawford, is the fourth Oberlin-trained singer in the last seven years to win the prestigious Met competition. Tenor Alek Shrader '07 won in 2007; soprano Alyson Cambridge '02 won in 2003; and soprano Carolyn Betty '99 won in 2002. A native of Indiana, Pennsylvania, Parks earned a Master of Music degree at Yale University this year following studies with Richard Cross. This July, Parks won the Marilyn Horne Foundation Vocal Competition; he presented a recital on the Foundation's series, On Wings of Song, in New York in October. Vivien Schweitzer of the New York Times wrote that he "sang with a full-blooded, mellifluous voice. …"
"As soon as I auditioned at the Oberlin Conservatory, I knew that was where I wanted to be," says Parks. "Gerald was the reason I came out of Oberlin feeling really prepared for the next step —a more professional career."
Jasper String Quartet Sweeps Competitions
The Jasper String Quartet, formed at Oberlin in 2003, performed a hat trick this spring, winning first prizes in three important competitions. (They put a feather on the hat by taking a silver medal in a very special fourth competition.)
Violinist J Freivogel '06, violist Sam Quintal '06, and cellist Rachel Henderson Freivogel '06, joined by new violinist Jae Niwa, won the $5,000 grand prize and the $500 audience prize at the Plowman Chamber Music Competition, held in Columbia, Missouri, in March. The following month they took the grand prize (and $7,500) at the Coleman Chamber Ensemble Competition, held on the campus of the California Institute of Technology in Pasadena. In May, at the Chamber Music Yellow Springs Competition for Emerging Professional Ensembles in Yellow Springs, Ohio, they won first prize and $3,000.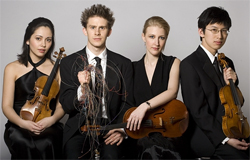 The Jasper shared the stage with other Obies at the Yellow Springs competition; the $2,000 second prize went to the iO String Quartet, which includes cellist Christopher Gross '04, second from left and, second from right, violist Elizabeth Weisser '03. Judges praised both ensembles for their "astonishingly good" performances (photo by Beowulf Sheehan).
The feather on the hat: at the Fischoff National Chamber Music Competition, the largest chamber music competition in the world, they won the silver medal and $2,000 in prize money in the senior string division.
The Jasper Quartet is the graduate quartet in residence at the Yale School of Music, where they are working with the Tokyo String Quartet.
PULLING OUT ALL THE STOPS
Joseph Ripka '09 Wins First Prize at the Dublin International Organ Competition
Organist Joseph (Joey) Ripka '09 won first prize at the Dublin International Organ Competition, held in June at Christ Church Cathedral Dublin in Dublin, Ireland. In addition to 5,000 euros, his award includes recital engagements in Ireland, the U.K., and Europe.
Ripka, from Elk River, Minnesota, is an Artist Diploma student.
Ripka and two other finalists were required to present a 40-minute program for the finals that included a work by Olivier Messiaen, whose centenary is being celebrated this year. Ripka performed Messiaen's Transports de Joie; J.S. Bach's Allein Gott in der Höh sei Ehr, BWV 662; and Max Reger's Chorale Fantasia on "Wachet auf, ruft uns die Stimme."
The Dublin achievement caps a championship season for Ripka; he also won first prizes at the Fort Wayne National Organ Competition in April and at the Elizabeth Elftman National Organ Competition, held in March in San Marino, California. He is also the second Oberlin student to win first prize in Dublin; Bálint Karosi (AD '05 and MM '07) of Hungary was a laureate in 2002.
Thomas Trotter of Great Britain chaired the Dublin jury, which included Hans Fagius of Sweden, David Higgs of the U.S., Margareta Hürholz of Germany, and Daniel Roth of France.
Organist Bálint Karosi Takes a First at Leipzeig
Organist Bálint Karosi AD '05, MM '07 won first prize in the XVI International Johann Sebastian Bach Competition held in July in Leipzig, Germany. Founded in 1950 by the Bach-Archiv, the competition is among the most distinguished in the world. Karosi, 29, is the first American-based organist ever to win first prize, and with it an award of 10,000 euros and the coveted title of "Bachpreistäger" ("Bach Prizeholder").
The deciding final round of competition was held at St. Thomas', Bach's church in Leipzig. The experience of playing in Bach's church, above his grave, was "spiritual, almost transcendental," says Karosi.
Karosi performed music by Bach, of course, as well as compositions by Liszt, Reger, and contemporary German composer Steffan Schleiermacher that were inspired by Bach's music. The panel of judges was chaired by Masaaki Suzuki, artistic director of the Bach Collegium Japan, and included artists from Europe and South America. Robert D. Levin of Harvard University's music department presided over the competition.
Karosi says, "The education I received at Oberlin gave me the basis to be able to prepare the demanding program on this level," he says, citing in particular the "refined touch" he developed by studying on Oberlin's collection of harpsichords and historically inspired organs.
Born and raised in Hungary, Karosi came to America in 2003 to study at Oberlin after earning degrees in clarinet, composition, and organ at Budapest's Franz Liszt Academy and the Geneva Conservatory of Music. He now lives in Boston, where he is minister of music at the First Lutheran Church of Boston.
Piano Laureates
When pianist Tian Lu '09 won the First Thailand International Piano Competition in March, she was presented with a prize too large to bring home on any commercial flight: a new Yamaha C3 grand piano. Lu impressed the international panel of judges with her final-round performance of Chopin's Piano Concerto in E Minor, No. 1. Her victory came with a $5,000 award and two concert engagements with the Thailand Philharmonic Orchestra in the 2008–09 season. The competition took place on the Salaya Campus of Mahidol University in Bangkok.
In April, Lu's interpretation of the Chopin concerto won the second prize and $10,000 at the Missouri Southern International Piano Competition, held on the campus of Missouri Southern State University in Joplin, and broadcast live on radio station 88.7 KXMS.Lu, an Artist Diploma student of Professor of Piano Monique Duphil, earned a Bachelor of Music degree in 2007. She is from GangXi, China.
Another Duphil pupil, Siyuan Li '10 of Guangzhou, China, won the 12th Annual Chautauqua International Piano Competition in August 2007. Li's prize included a $7,500 award and a performance with the Chautauqua Festival Orchestra, which took place this May.
Pianist Scott Cuellar '11 won first prize and $1,000 in the Margaret A. Guthman Keyboard Competition, held in February at Georgia Tech University in Atlanta. Cuellar played Chopin's Ballade No. 2 and Prokofiev's Toccata. His performance of that repertoire won him another first prize, $1,000, and a performance in the winners' circle for the Thursday Musical Young Artist Scholarship Competition, held in March at the College of St. Catherine in St. Paul, Minnesota. A student of Associate Professor of Piano Alvin Chow, Cuellar is a native of Minnetonka, Minnesota.
Two Pianists Are First Artist-in-Residence Fellows at the Cleveland Orchestra
Through a competitive audition process, the Cleveland Orchestra selected pianists Da Wang '09 and Daniel Walden '11 last spring as its first two Artist-in-Residence Fellows. For both, the honor meant an immersion in private coaching sessions with acclaimed pianist and Cleveland Orchestra Artist-in-Residence Pierre-Laurent Aimard for a week in April and a week in September. The lessons coincided with the pianist's appearances as soloist with the Cleveland Orchestra. Wang is a student of Professor of Piano Robert Shannon '72; Walden studies with Professor of Piano Peter Takács.
Also in September, Wang and Walden performed in a public master class that Aimard conducted in Severance Hall. As Artist-in-Residence Fellows, they were able to attend Cleveland Orchestra rehearsals during the two weeks of Aimard's engagements.
According to Cleveland Orchestra Executive Director Gary Hanson, the orchestra is always interested in uncovering "more ways we can support higher education in music."
Born in Shenyang, China, Wang won first prize in Oberlin's International Piano Competition in July 2004, when he was 17 years old. His winning of Oberlin's coveted Arthur Dann Competition four years later served as a bookend to that initial Oberlin honor. Walden, from Berkeley, California, is a recipient of the Dean's Talent Scholarship for piano performance.
Two Obies Win Fulbrights
Two Obies have won distinguished honors from the J. William Fulbright Foreign Scholarship Board. Rachel Kelly '08 has been awarded a Fulbright Fellowship, and under its auspices she is teaching English in Germany throughout this academic year. Rachel earned a Bachelor of Music degree in violin performance and a Bachelor of Arts degree in German.
While at Oberlin, Rachel performed with the Oberlin Orchestra under the baton of guest conductor Sir Simon Rattle in 2004 and toured China with the orchestra for performances under Bridget-Michaele Reischl, Music Director of the Oberlin Orchestras, in January 2006. She was a student of Assistant Professor of Violin David Bowlin '00.
Courtney-Savali L. Andrews '04 has been awarded a 2009 Fulbright Scholarship and Research Grant, which she will use to explore Polynesian musical theater, Samoan operas, and classical artists of Samoan heritage as a resident scholar at the University of Auckland and its Centre for Pacific Studies in New Zealand, beginning in January 2009. While there she intends to work toward an interdisciplinary PhD in ethnomusicology and Pacific studies. At Oberlin she earned a Bachelor of Arts degree in African American studies and a Bachelor of Music degree in piano performance; she earned a Master of Music degree in musical theater and opera music direction from Arizona State University in 2007.
String Laureates
Violinist Jing Qiao '09 won first prize in the Competition for Young String Soloists in Chapel Hill, North Carolina, in April. Qiao, who is from Sichuan, China, studies with Professor of Violin Milan Vitek. This is her first national competition victory.
"Jing Qiao performed Nielsen's Violin Concerto with great technical skill and a tremendous scope of colors," says Lorenzo Muti, music director of the Chamber Orchestra of the Triangle, sponsor of the competition. Her first prize award of $10,000 was augmented by an invitation to return to North Carolina for the 2008–09 season to perform with the same ensemble.
Violinist Johanna Novom '07 was named first-prize winner at the International Young Artists Competition sponsored by the American Bach Soloists (ABS), held in June during the Berkeley Festival and Exhibition on the campus of the University of California, Berkeley. Novom was awarded $2,500 and the opportunity to return to perform a featured concerto with the ensemble in their 2009–10 season.
In the final round, each violinist performed a concerto with the musicians of the American Bach Soloists. Novom played J. S. Bach's Brandenburg Concerto No. 4. For her solo work, she played four movements selected by the judges from J. S. Bach's Partita No. 1 in B Minor.
Oberlin has a winning history at the biannual ABS competition, which focuses on a different instrument each go-round. In the first violin competition, in 2000, Simos Papanas '99, Heidi Powell '01, and Emily Fowler '01, MM '03 swept, placing first, second, and third, respectively. All three were students of Professor of Violin Marilyn McDonald, who was also Novom's teacher.
Danish violinist David Bogorad '09, who studies with Professor of Violin Milan Vitek, placed in several international competitions. In 2007, Bogorad was awarded second prize in the Öeresunds Soloist Competition, held in Malmö, Sweden, in March; he captured the same prize in the 2005 competition. Also in 2007, he won third prize in the National Danish String Competition, held in Copenhagen, Denmark, in May (another Vitek student, Monika Malmquist Larsen '03, won second prize); and second prize in the Sorantin Competition, held in San Angelo, Texas, in November 2007. His winning performances of the Nielsen Violin Concerto at these competitions brought him more than $5,000 in prize money and a solo recital at the Frederiksværk Music Festival in Denmark.
Milan Vitek's student Luisa Barroso '09 won third prize in the 11th Annual Sphinx Competition, held at the Max M. Fisher Music Center in Detroit in January 2008. The Sphinx Organization works to increase black and Latino participation in classical music through education and outreach. Barroso, a native of Caracas, Venezuela, was awarded third prize and $3,500; at just 21 years old, she was the youngest competitor to place in the top three. Her competition repertoire included Bach's Chaconne from Partita No. 2 in D Minor, Wieniaski's Polonaise, the Ballade from Ysaÿe's Sonata No. 3, and William Grant Still's "Mother and Child." Still, who died in 1978, was an Oberlin alumnus and received an Honorary Doctor of Music degree in 1947. In the final round, Barroso performed in Orchestra Hall with the Sphinx Symphony Orchestra, an ensemble composed of professional black and Latino musicians from across the United States.
For the second year in a row, Oberlin violists swept the Ohio Viola Society Competition (OVS), taking home top honors in the college and pre-college divisions. David Moss '08 won first place in the college division, and Ryan Fox, a student in the Conservatory's Young Artist Program, took home first place in the pre-college division. The competition took place in April at the Conservatory and featured 30 violists from across the state of Ohio. Both winners are students of Professor of Viola Peter Slowik.
Moss, who is from Aurora, Illinois, performed Bartók's Viola Concerto and Bach's Cello Suite No. 2 in D Minor for the OVS. Another accolade bestowed upon him in 2008 was being named principal violist of the New York String Orchestra Seminar, held at the New School in New York City. "It was quite an honor to … work closely with Maestro Jaime Laredo and to perform in Carnegie Hall with such a distinguished ensemble," says Moss.
Bel Canto
Soprano Alyssa Cox '08 of Pittsburgh was awarded second prize in the Barry Alexander International Vocal Competition, held in January in Weill Recital Hall at Carnegie Hall in New York City. She also won third prize in the voice competition sponsored by the National Society of Arts and Letters (Ohio River Valley Chapter), which was held on the campus of Washington State Community College in Marietta, Ohio, in March. She is a student of Professor of Singing Lorraine Manz.
Elizabeth Zharoff '11, a soprano from Wenatchee, Washington, won first prize and $2,000 at the Harold Haugh Light Opera Vocal Competition, held in Pinckney, Michigan, in March. She also received encouragement awards at the Palm Beach Opera Vocal Competition, held in April in Palm Beach, Florida, and at the Metropolitan Opera District Auditions, held in Pittsburgh earlier this year. She is a student of Professor of Singing Daune Mahy.
Bass Damien Pass (BMus '06, MM '07) received an encouragement award at the Marilyn Horne Foundation Vocal Competition, held at the Music Academy of the West in Santa Barbara, California, in July 2007. Pass, from Canberra, Australia, studied with Associate Professor of Singing Salvatore Champagne '85.
Another Champagne student, baritone Joseph Lattanzi '10, was named the S. Livingston Mather Scholar at the S. Livingston Mather Vocal Competition, sponsored by the Singers' Club of Cleveland. He received the award in September 2007 and performed at a concert presented by the organization in May.
Soprano Alisha Lola Jones '03 was crowned Miss Black Maryland USA in August 2007 and represented the state in the 2008 Miss Black USA Pageant, held in June 2008 in Las Vegas, Nevada. She received the Founder's Award and was named "Miss Congeniality." Jones earned a Bachelor of Music degree in vocal performance and a Master of Divinity degree from the Yale Divinity School and the Yale Institute of Sacred Music. At the University of Chicago, she is a fellow in ethnomusicology, studying the African American sacred music tradition in the doctoral music program.
WINNING SCORES
Music by Composer Zhiyi Wang '04 Featured at the 2008 Beijing Olympics Composer
Zhiyi Wang '04 was chosen by noted composer Qigang Chen, Music Director of the Opening Ceremony for this summer's Olympic Games in Beijing, to write original music and orchestrations for the ceremony. He arranged four programs for orchestra and choir and, with Chen, co-orchestrated the theme song of the 29th Olympiad. The band of the Chinese People's Liberation Army performed Wang's composition and orchestration of the Fanfare for the Ceremony when Jacques Rogge, President of the International Olympic Committee, and Liu Qi, President of the Beijing Organizing Committee of the Olympic Games, entered the stadium.
Wang says Professor of Composition Randolph Coleman "enormously improved my ability and broadened my vision, and consistently gave me confidence. I would not have been competent to do this important task without my experience at Oberlin."
Originally from Suzhou, China, Wang earned a Bachelor of Music degree in composition at Oberlin and completed the composition program at the University of Louisville's School of Music in 2006, supported by a two-year Grawemeyer Fellowship. After graduating, he was appointed composer-in-residence at the Shanghai Opera House, where Qigang Chen discovered him.
John Schaefer of WNYC's Soundcheck interviewed Wang about his Olympic experience. To listen, visit www.oberlin. edu/con.
Lewis Nielson Honored with Cleveland Arts Prize
Professor of Composition Lewis J. Nielson was awarded the 2007 Cleveland Arts Prize in the category of Music and Dance. The honor, which included a cash award of $2,500, was conferred upon him during a banquet held in June 2007 at the Cleveland Play House. In presenting him his a
ward, Arts Prize juror Paul Ferguson, Director of Jazz Studies at Case Western Reserve University, called Nielson's work unconventional and engaging, challenging and sincere.
Founded in 1960, the Cleveland Arts Prize is the oldest award of its kind in the United States.
A SEAMUS Award for Benjamin Dorfan '10
Benjamin Dorfan '10, a TIMARA and composition major from Santa Cruz, California, was honored in April with the 2008 Allen Strange Undergraduate Prize, conferred by SEAMUS (Society for Electro-Acoustic Music in the United States) at its national conference in Salt Lake City. The award, for outstanding electro-acoustic composition by an undergraduate, was for Arctic Circle, for piano and electronics. Dorfan performed the piece at the Electronic Music Midwest Festival, held on the campus of Lewis University, in October.
Bassist Russell Manning's Star Turn on JAZZIZ CD
Each October issue of JAZZIZ magazine is dedicated to education, as is the compilation CD tucked inside. In 2007, for the third year in a row, the Conservatory was featured on the magazine's CD. Coyle, an original song by bassist Russell Manning '08, is performed by the Oberlin Jazz Septet (OJS) for 2006–07. Manning is joined on the track by saxophonist William Cleary '08, pianist Sullivan Fortner '08, guitarist Charlie Higgins '07, trombonist Rachel Levin '07, drummer Alex Ritz '07, and trumpeter Miller Tinkerhess '08. Peter Dominguez, Professor of Jazz Studies and Double Bass, directs the OJS.
The magazine's editors wrote, "Manning's sparkling tune … may signal a future soundtrack composer." A nice prediction, given that Manning earned a Bachelor of Arts degree in cinema studies to go along with his Bachelor of Music degree in jazz studies.
Samuel Cole '09 Wins a Commission
Samuel Cole '09 of Chicago won a commission from CUBE Contemporary Chamber Ensemble that was presented at the ensemble's concert at the Merit School of Music in March 2008. Music critic Andrew Patner, writing in the Chicago Sun Times, cited Cole's work as a highlight. "Cole is already going places with his simultaneously playful and intellectual compositions. His The Unbearable Lightness of Being … a Composer, for oboe, clarinet, trombone, and percussion, paid tribute to the irony of the Milan Kundera novel while also carrying traces of such Central European- inspired modernist composers as Robert Kurka and Kurt Weill." Cole, a mathematics and computer science major, studied composition with Visiting Professor of Composition Derek Keller.