Of Note
Oberlin—Live from the West Coast
Oberlin students and alumni are bringing cutting-edge contemporary music to San Francisco, Seattle, and Los Angeles in January 2009. (L.A. gets Beethoven and Mahler, too.)
The first stop on Oberlin's West Coast tour is San Francisco, with a performance by the groundbreaking and Grammy Award-winning contemporary chamber ensemble eighth blackbird, formed at Oberlin more than 10 years ago. Joining the sextet will be members of the Oberlin Contemporary Music Ensemble (CME) and the Prima Trio, also formed at Oberlin and winner of the grand and gold prizes at the 2007 Fischoff Competition. At the Palace of Fine Arts Theatre on Sunday, January 11, at 7 p.m., the Prima Trio will get things underway with Peter Schickele's Serenade for Three. Eighth blackbird and the CME will perform Frederic Rzewski's Knight, Death and the Devil, a work that was commissioned by the ensemble with the generous support of the Conservatory and the University of Chicago; also on the program will be Steve Reich's Double Sextet and Stephen Hartke's Meanwhile. Rzewski's work received its world premiere—and Reich's its live version world premiere—in Oberlin during a November Artist Recital Series concert, followed by performances in New York City at The Kitchen.
Audiences in Seattle will enjoy the same concert at Illsley Ball Nordstrom Recital Hall in Benaroya Hall on Tuesday, January 13, at 7:30 p.m.
From intimate chamber settings on the northern part of the Coast, the scene shifts—with broad orchestral strokes—to the City of Angels. The Los Angeles Philharmonic will present the Oberlin Conservatory Symphony Orchestra, conducted by Bridget-Michaele Reischl, on its "Sounds About Town" series at Walt Disney Concert Hall on Saturday, January 24, at 2 p.m. Composer Huang Ruo's '00 Hanging Cliffs, commissioned by Oberlin, will receive its world premiere; the program also includes Beethoven's Piano Concerto No. 4 in G Major, Op. 58, featuring Associate Professor of Piano Angela Cheng, and Mahler's Symphony No. 1 in D Major. A pre-concert panel discussion in the Walt Disney Concert Hall's BP Hall will feature Distinguished Visiting Professor of Composition and Composer in Residence David Lang, winner of this year's Pulitzer Prize [see Pulitzer Prize-Winning Composer Joins the Faculty], Huang Ruo, and Dean of the Conservatory David H. Stull.
Tickets for the Los Angeles concert are available by contacting Oberlin's Office of Public Programs (440-775-6785 or public.programs@oberlin.edu). For tickets to the San Francisco concert, contact the City Box Office (415-392-4400 or www.cityboxoffice .com); tickets for the Seattle concert are available through Ticketmaster (206-292-2787 or Ticketmaster.com). Seating for all three concerts is reserved. For more information, visit www.oberlin.edu/westcoast.
Construction Begins on Phyllis Litoff Building
The syncopated sounds of jackhammers and backhoes have punctuated the air ever since construction of the Phyllis Litoff Building began in August 2008. Current projections are for the building to be completed during fall semester 2009, and arrangements are being made for a gala dedication ceremony and grand opening. Detailed information is forthcoming; visit www.oberlin.edu/litoff for updates and complete coverage.
"The Phyllis Litoff Building will be the premier facility of its kind anywhere in the world," said Dean of the Conservatory David H. Stull at a ceremonial groundbreaking that was held early in June to coincide with Oberlin's Board of Trustees meeting. "It is ultimately a manifestation of the collective vision of a great faculty, a phenomenal student and alumni population, and a few of the finest individuals I have had the pleasure of knowing who have financed this project. It is an extraordinary accomplishment for Oberlin."
The lead gift for the project, $5 million from Cleveland businessman Stewart Kohl '77 and his wife, Donna, is said to be the largest private gift in support of jazz education at a U.S. college and honors Phyllis Litoff, a close friend of the Kohls who died in 2002. In his remarks at the ceremony, Stewart Kohl spoke about the project and his philanthropic muse: "Today we put a little scar in the earth from which will emerge a beautiful building and a great addition to the life of Oberlin College. And from this building perhaps will emerge a future Louis or Wynton."
Oberlin College President Marvin Krislov observed that the Litoff Building "will be more than just a cutting-edge green building. It will be the physical manifestation of Oberlin's great traditions of inclusion, creativity, leadership, and innovation."
"Innovation," said lead architect Paul Westlake of Westlake Reed Leskosky, "is embedded in the DNA and culture of Oberlin."
The Cleveland Chapter of the American Institute of Architects has honored Westlake's firm with a merit award for the project's master plan. The building's stunning exterior will be constructed of aluminum composite panels, ipé wood siding (ipé is a Brazilian hardwood that is harvested exclusively from naturally sustainable forests), and glazed curtain wall systems composed of acoustically rated glass and fritted patterns that will reduce solar heat gain.
At the ceremony, Chair of the Jazz Studies Department Wendell Logan expressed his gratitude to the Kohls and the project's other major donors. The lead gift made by the Kohls was followed in short order by a record donation from the Kulas Foundation. And Chicago, it must be said, is Oberlin's kind of town; the city was well represented at the groundbreaking. Clyde McGregor '74 of Chicago, a member of Oberlin's Board of Trustees, pledged $4 million in honor of his mother, Lilly Marie Smith '43. Joseph Clonick '57, also of Chicago, had made a gift of $1 million dollars early on; he followed that with a pledge of an additional $4 million to support a recording studio and performance space for the project. Chicago resident James Neumann '58 and his wife, Susan, have donated to Oberlin their collection of more than 100,000 jazz recordings—the largest privately held jazz recording collection in the United States—and a vast array of related posters, ephemera, and iconography, to be archived in the Litoff Building.
With her husband, Mel, Phyllis Litoff owned the famed Greenwich Village jazz club Sweet Basil, and the two were founders of the Greenwich Village Jazz Festival. Mel Litoff, present at the ceremony, held aloft a photographic portrait of his late wife, noting that that before she died she remarked that she "wanted her life to mean something."
"Our highest motivation is to honor Phyllis Litoff," said Stewart Kohl. "This building has to meet her high standards."
Editor's Note - Effective April 22, 2010: Since this article originally appeared, the Litoff Building has been renamed. Oberlin's new home for jazz studies, music history, and music theory is now the Bertram and Judith Kohl Building.
Pulitzer Prize-Winning Composer David Lang Joins the Faculty
Composer David Lang, recipient of the 2008 Pulitzer Prize in Music, has joined the Conservatory faculty as Distinguished Visiting Professor of Composition and Composer in Residence. Lang is cofounder of the boundary-stretching new music collective Bang on a Can and Professor of Music Composition at the Yale School of Music. His appointment was announced in September.
"David's work as a composer is extraordinary," says Dean of the Conservatory David H. Stull. "His contribution to the canon of great music will endure with importance for generations. He is a tremendous advocate for the creation and performance of new music, and this advocacy is only surpassed by his passion for teaching and mentoring young musicians. We are privileged to welcome him to our faculty."
Lang's Pulitzer Prize-winning composition, The Little Match Girl Passion, is a work for four solo voices and percussion that sets the Hans Christian Andersen fable in the format of Bach's St. Matthew Passion. More information is available at www.pulitzer.org.
Lang's work has also been honored with the Rome Prize, the BMW Music-Theater Prize (Munich), and grants from the Guggenheim Foundation, the Foundation for Contemporary Performance Arts, the National Endowment for the Arts, the New York Foundation for the Arts, and the American Academy of Arts and Letters.
Lang founded Bang on a Can (www.bangonacan.org) in 1987 with Michael Gordon and Julia Wolfe, and the three of them share artistic director duties. The organization advances contemporary music through recordings, performances by the Bang on a Can All-Stars, and two signature annual concert events, the Marathon in New York City and the Summer Music Festival at the Massachusetts Museum of Contemporary Art in the Berkshires. Of the Marathon, Vanity Fair writes: "There are other places to hear new contemporary music, but it is seldom offered with such a potent blend of intensity, authority, and abandon."
Red Poppy (ASCAP) publishes Lang's music, which is distributed worldwide by G. Schirmer, Inc. and can be heard on the Sony Classical, Teldec, BMG, Point, Chandos, Argo/Decca, Caprice, CRI, and Cantaloupe labels. His recording for Cantaloupe, The Passing Measures, was named one of the best CDs of 2001 by the New Yorker.
Also Joining the Faculty…
David Bowlin '00
Assistant Professor of Violin
Appointed in 2007
Winner of the first prize in violin at the 2003 Washington International
Competition for Strings, David Bowlin has been active internationally as a soloist and chamber musician. He has performed extensively in New York City at such premier venues as Alice Tully Hall, Weill Recital Hall, Zankel Hall, and the 92nd Street Y. A former member of the Naumburg Award-winning Da Capo Chamber Players, he is also a founding member of the International Contemporary Ensemble. Premieres of new works include his 2007 Carnegie Hall performance of Mahagoni, a concerto written for him by Austrian composer Alexandra Karastoyanova-Hermentin, and his discography includes works by Stravinsky, Webern, George Crumb, Brian Fennelly, Huang Ruo '00, and others. He earned a Master of Music degree from the Juilliard School in 2002 and a Doctor of Musical Arts degree from State University of New York at Stony Brook.
Jennifer Anne Fraser
Assistant Professor of Ethnomusicology
Appointed in 2007
Jennifer Anne Fraser's particular area of scholarly and performance expertise is the music of Indonesia; she has given presentations and published journal articles in that country and in the United States, most recently at the 52nd annual meeting of the Society of Ethnomusicology, held in Columbus, Ohio, in 2007. She earned a Bachelor of Arts degree from the University of Sydney in 1996, a Master of Arts degree in ethnomusicology from Brown University in 1998, and a PhD in musicology from the University of Illinois in 2007.
Jared Hartt
Assistant Professor of Music Theory
Appointed in 2007
Jared Hartt's most recent presented paper was "Rehearing Machaut's Motets: Taking the Next Step in Understanding Sonority" at the annual meeting of the Society for Music Theory, held in Baltimore in November 2007. He earned a Bachelor of Arts degree in music from Acadia University in 1998, the A.R.C.T. Pianist Diploma from Toronto's Royal Conservatory of Music in 2000, a Master of Music degree in piano performance and pedagogy from Arizona State University in 2000, and a Doctor of Music degree in music theory from Washington University in St. Louis in 2007.
Sigrun B. Heinzelmann
Assistant Professor of Music Theory
Appointed in 2007
Sigrun Heinzelmann's article, "The Problem(s) of Prolongation in Ravel," is forthcoming in Schenker Studies 4, and she presented "Ravel's Song Without Words: Integrating Basque Poetry and Musical Heritage in the Piano Trio" at this year's annual meeting of Music Theory Midwest. "John Hothby's System of Solmization in La Calliopea legale" is forthcoming in Studi Musicali. She earned a PhD from the Graduate Center at CUNY in 2008, a Master of Music degree from the University of Massachusetts in 1998, and, in 1989, the German State Diploma (in piano) from Musikhochschule Stuttgart.
Josh Levine
Assistant Professor of Composition
Appointed in 2008
Composer Josh Levine has written for a wide variety of instrumentations. His music has been commissioned and performed internationally by leading exponents of new music, among them the Ensemble Intercontemporain of Paris, and has been broadcast by the BBC, Radio France, and numerous other national radio corporations. Among his many honors is the first prize and special jury prize in the Bourges International Electroacoustic Music Competition. Levine earned a teacher's diploma with highest honors at the Basel Music Academy in Switzerland and a Master of Arts degree and doctorate in music composition from the University of California, San Diego.
Jack Mitchener
Associate Professor of Organ
Appointed in 2008
Organist Jack Mitchener is equally at home with romantic and contemporary literature. He has performed at many organ festivals, including those featuring the historic Stellwagen organ in Lübeck, Germany, and the Egedacher instrument at Zwettl Abbey in Austria, and he has been a laureate in the MTNA National, Philadelphia AGO, and Dublin International competitions. He is a former faculty member at the University of North Carolina School of the Arts, Salem College, and the Colgate-Rochester Divinity School. As a student at the National Conservatory in Rueil-Malmaison, France, he received the Médaille d'Or in harpsichord and the Prix d'Excellence and Prix de Virtuosité (unanimous first prizes) in organ. He earned two Master of Music degrees, a Doctor of Musical Arts degree, and the prestigious Performer's Certificate (in organ and harpsichord) from the Eastman School of Music.
Peter Swendsen '99
Assistant Professor of TIMARA
(Technology in Music and the Related Arts)
Appointed in 2007
Winner of a Fulbright Fellowship in 2006, Peter Swendsen is a prolific composer whose work has been performed throughout the world. His music has been called "the sonic equivalent of ether" and "marvelous" by the San Francisco Chronicle and can be heard on the Vox Novus, Quiet Design, and Arsonal labels. He is the co-artistic director of Prospect Dance Group and collaborates extensively with choreographers. He earned a Master of Fine Arts degree from Mills College Center for Contemporary Music in 2001 and a doctorate in music composition from the University of Virginia in 2008.
Gloria Kim '02 Appointed Assistant Dean
Gloria Kim '02 was named Assistant Dean for Artistic Programming and Operations at the Conservatory in July 2007. She is responsible for overseeing and administrating the Artist Recital Series, the Conservatory's national and international tours, and all other special performance projects.
Prior to her appointment, she spent four years as manager of the annual fund for the Los Angeles Philharmonic Association.
Can You Hear Them Now?
Takács talks, Sakakeeny speaks, and nearly 40 other members of the Conservatory faculty can be seen and heard thanks to dynamic new videos on the Conservatory's web site.
Viewers can see them giving lessons, rehearsing ensembles, performing, and, of course, talking—sharing their thoughts on music, their philosophy of teaching, and their views on what every young conservatory student should know.
David H. Stull, Dean of the Conservatory, wanted more sound and movement on the Conservatory's web site. He found the perfect facilitator when Daniel Schloss '07 submitted, on spec, a video he had created about the Conservatory's U.S. premiere of Lost Highway. Impressed, Stull hired the budding filmmaker on the spot as the Conservatory's Director of Media Production. Based in New York City, Schloss travels to Oberlin for shooting; post-production and editing take place in Manhattan.
To view the videos, visit www.oberlin.edu/con.
A New Home under the Tuscan Sun
This year the Conservatory celebrated the 20th anniversary of its Oberlin in Italy summer program in a new home—the town of Arezzo, in Tuscany. "Arezzo is an ideal place for study," says Professor of Singing Daune Mahy, director of the program. "It is a vivacious city with a long history of artistic endeavor. Tuscany itself is full of extraordinary opera houses and venues for performances." Mahy founded the Oberlin in Italy program, which was formerly held in Urbania, with Gerald Crawford, Emeritus Professor of Singing. The program's lessons, rehearsals, and performances were held in several venues throughout Arezzo; pictured at left is the Teatro Signorelli in Cortona, where the pit orchestra was assembling to rehearse Mozart's Le Nozze di Figaro, which was conducted by Bridget-Michaele Reischl.
For more information, including instructions for applying for the summer 2009 program, visit www.oberlin. edu/con.
Sunday in the Morning with Oberlin
Ah, Sunday morning. A cup of coffee, the New York Times, and Oberlin.
Ever since the Conservatory began broadcasting Oberlin Presents, its one-hour radio program on Cleveland's classical station, 104.9 FM WCLV and wclv.com, Sundays have been complete. Fadel Fulkerson hosts the weekly 10 a.m. program, and her interviews, encyclopedic knowledge, and astute music selections take listeners on a compelling journey into the heart and soul of serious music. All of the influential personalities featured on the program have some connection to Oberlin—they either teach here, studied here, or performed here.
Oberlin Presents is sponsored by the Conservatory and by the Riverside Company, a leading private equity firm specializing in premier companies at the smaller end of the middle market across North America, Europe, and Asia. The program debuted November 18, 2007, with "The Bel Canto Revival with Marilyn Horne," and its second season, with 26 new programs, begins on December 7, 2008. For more information, visit www.oberlin.edu/con.
Author, Author
John Knight, Professor of Conducting and Ensembles and Music Education, wrote The Interpretive Wind Band Conductor, published by Meredith Music in 2007. Instrumentalist Magazine editor James Rohner praised the book as a "must-read for any band director … [it] will leave conductors refreshed and eager to step on the podium with a different perspective on leading their students."
In 2007, Emeritus Professor of Ethnomusicology Roderic Knight released Village and Town Music of India and Nepal (Lyrichord LYRDV-2003), a DVD of ten musical performances as well as scenes depicting village activities filmed in Madhya Pradesh and other regions of India. Knight made the films in 1982 while conducting field research in India, supported by a grant from the Council for the International Exchange of Scholars. A 36-page documentary booklet, 54 digitized photos for use in classroom presentations, two transcriptions of music in the video, and two sound clips are contained on a CD included with the DVD.
Great Performances—In Oberlin, on the Road, and on CD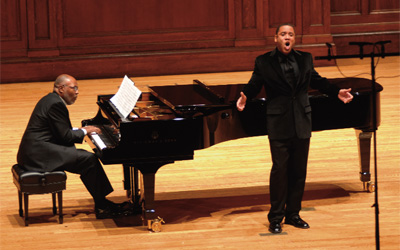 A Little Night Music for Our New President: Baritone Robert Sims '88 and pianist Cliff Jackson '77 perform at the Inauguration Concert for President Marvin Krislov, November 2007 (photo by Tony Morrison).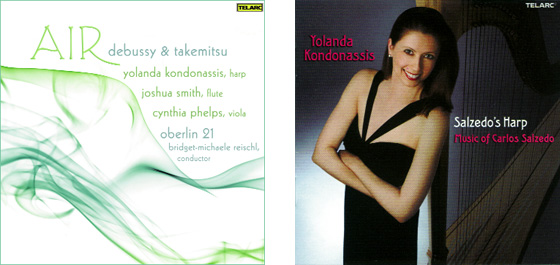 Assistant Professor of Harp Yolanda Kondonassis collaborated with Oberlin 21, a string ensemble of Conservatory students conducted by Bridget-Michaele Reischl, on Air (Telarc). Don Rosenberg of the Plain Dealer wrote that the principal players "and Oberlin 21 (a superb student ensemble … ) do these composers scintillating justice." Kondonassis and the Conservatory are donating a portion of their royalties to the Environmental Defense Fund. Another Kondonassis CD, Salzedo's Harp (Telarc), celebrates the virtuoso harpist and prolific composer. Following its October 2007 release, Kondonassis told Minnesota Public Radio that performing Salzedo's music gave her a chance to honor the man who "had such an impact on my training, my philosophy, my way of playing the harp." CD Hotlist called the disc "absolutely stunning." Both albums are available at major record outlets, through www.telarc.com, and on iTunes.