---
Fall Sports in review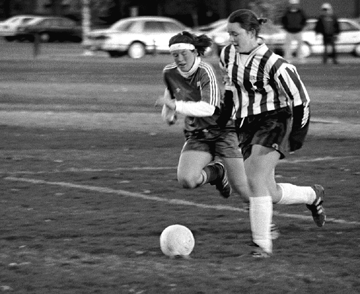 Field Hockey
During the season Oberlin's field hockey team held an incredible, remarkable, unheard of streak. For the common Obie such dedication is almost impossible. During the whole season the field hockey players agreed to abstain from alcohol.
The Yeowomen improved from a 3-15 record to a 10-11 record, and a 4-8 record in the conference, placing them sixth. Mandy Manolovich was in her second season as coach with a strong lineup.
Senior Jessica Resnik made first-team all-NCAC and was also named to the all-regional team. Junior Ellen Scott led the team with 15 goals and added four assists to earn second team all-NCAC selection. Senior goalkeeper Rebecca Givan, junior Kaelyn Stiles, and first-year Lydia Ries all earned NCAC honorable mentions.
A mid-season slump of seven consecutive losses, where the Yeowomen managed only four goals, prevented Oberlin from reaching new heights.
---
Volleyball
The seven members of the volleyball team got a big boost from rookie coach Suzanne Garland who led the Yeowomen to a 14-16 record, eighth-place finish in the conference with a 1-7 NCAC record.
The team qualified for the conference's season-ending tournament after a year's absence. The team's season was a dramatic improvement over last seasons four-win season.
Junior Katie Ruth powered the Yeowomen, leading the team in kills and earning NCAC honorable mention.
---
Men's Soccer
In head coach Chris Barker's second season the rebuilding Yeomen failed to win a league game, primarily because of scoring, or lack thereof. The season finished with a 2-1 loss to Wooster after the Yeomen held a 1-0 lead. The team's record was 3-14, (0-8 in the NCAC). While the team outshot opponents, 256-232, the team scored only 19 goals and allowed 44.
They had a young team, with seven first-years starting or playing significantly. Of the experienced players, senior defenders David Reeves and Eric Kuehnl earned NCAC honorable mentions, and captain junior Sam Krasnow led Oberlin with five goals and earned second team All-NCAC honors. Sophomore forward Jabali Sawicki added four goals and two assists. Reeves was considered by Barker and other players as the best defender on the team and one of the best in the conference.
---
Women's Soccer
Head coach Blake New took over a soccer program that failed to win a league game last year, but with New as coach and five contributing first-years the Yeowomen powered their way to a record of 6-9-2 (1-6-1 in conference).
The Yeowomen played better than their record would indicate. Oberlin lost seven games by only one or two goals and three games in overtime. The team scored 29 goals and allowed only 30.
The team was led by midfielder junior Katherine Roberts who earned first-team all NCAC honors with three goals and three assists. Sophomore Lisa Novins led the team in scoring with 12 goals, and was also first team all-NCAC.
---
Track
Senior Shannon Fox and Alex Dawe paced the Yeowomen and Yeomen to fourth place finishes at the NCAC championships. Fox repeated as the conference champion, only the second time in NCAC-history that the champion has repeated. Fox went on to finish fourth in regionals and compete in nationals.
First-year Rebecca Grossman placed eighth in the meet and also won the NCAC's rookie of the year.
Dawe placed second in conference and junior Harsha Thirumurthy finished third to earn first-team all-NCAC recognition. Senior Kit Wells placed 19th at conference received an NCAC Honorable Mention.
---
Football
A powerful passing game was the one bright spot for the Yeomen, who extended their losing streak to 40 games over 4 years.
The passing game was fueled by quarterback junior James Parker, an NCAC honorable mention, who led the conferance with 160 completions. Wide receiver sophomore Felix Brooks-Church led the league in receptions with 76 for 826 yards, earning him second team
---
Copyright © 1997, The Oberlin Review.
Volume 125, Number 25, May 23, 1997

Contact Review webmaster with suggestions or comments at ocreview@www.oberlin.edu.
Contact Review editorial staff at oreview@oberlin.edu.