Costello proves he's still the king of nerd chic
by Raphael Martin
Elvis Costello really doesn't sell a lot of discs anymore. He still sings wonderfully brainy pop music, yet his tastes in repertory are becoming a bit too eccentric for much of the record buying public. I'm thinking specifically of his 1998 foray into 1960s cocktail music with Burt Bacharach, Painted from Memory. I suppose this new partnership with Bacharach has introduced a few more people to his quirky, melodic brand of music ‹ especially after his cameo appearance in Austin Powers ‹ but the Costello of the late 90s is nothing like the Costello of a decade ago. What is refreshingly obvious about him is that he couldn't care less about public opinion.
As a touring musician, he can still pack the audience in, and this was evident at the sold out Boston engagement of his "Lonely World Tour." Continuing the spare instrumentation that was begun on 1996's marvelous boxed-set Costello & Nieve, the master guitarist brought along his master pianist, Steve Nieve, from his now defunct backing band the Attractions. The Orpheum Theater has a rather large proscenium stage and holds about 900 people. Even in this setting, the two could fill the space quite adeptly.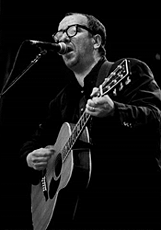 Clad in black Armani suits, the pair ambled onto the stage in darkness and opened with one of Costello's newest songs, "Alibi Factory." The song, a pressing diatribe against an ex-love, took on even more sinister undertones since the house was totally dark. Ever so slightly, the lights rose. By the end the audience finally saw Costello, sawing away on his acoustic guitar as Nieve bashed away on his grand piano like a whirling dervish possessed by the spirit of Little Richard. It was a remarkable sight.
What makes this duo of performers work so well together? Aside from years of performing, I believe it to be their sense of humor. Both have deep streaks of nerd in them, which is a kitschy wrinkle that many of today's pop stars scoff at. While Billboard magazine's darlings are outlining their eyes with black eye shadow and looking sheepish for the MTV cameras and the new David Fincher videos, Costello is gladly wearing his crown of nerd-chic. Costello lives the part, down to the 1950s thick black glasses frames and cracking voice.
The duo adjust their sound on a dime, and they did it with casual ease during the Boston show. For the second song they performed the ballad "Man Out of Time," following up with the new "45," cataloguing Costello's fears and exhilarations of turning this over-the-hump age. After numerous albums, Costello has an enormous catalogue of material to choose from. He navigates the waters between the new and the older songs that have become his hallmarks. He continued the set with a tinkle-piano version of "Temptation," and another audience favorite, "Chelsea," in which Costello found the audience shouting back the lyrics of the chorus with great gusto.
Not always known for a gregarious or loquacious stage presence, Costello has mellowed into this persona in his mid-life years, chatting to the audience, including talk about his two most recent experiences playing Boston. And when he was particularly happy with a performance he would stalk around the edge of the stage in a walk that was one part John Cleese's "funny walk" from Monty Python, and one part Richard III hobble. It was an amusing release of excitement on Costello's part that served to foster even friendlier banter between he and his loyal fans. Introducing many of the songs with the awkward "UhhŠ this here song was written aboutŠ", Costello made the evening feel even intimate.
Other highlights of the performance were the edgy "Indoor Fireworks" and the catchy, Cole Porter-esque "Pads, Paws and Claws," in which the narrator describes a love/hate relationship he has with his cat. Particularly effective was the hit "Watching the Detective." With its reggae beat and bursts of acoustic guitar scrawl, the song can stand on its own. What was best about the newest incarnation of the song was the arrangement Nieve had created for the piano. With haunting, sustained chords juxtaposing Costello's long vocal free-falls, it was, by any stretch of the imagination, a stark revisioning of an audience favorite.
If one could say anything bad at all, it might be that Costello milked the audience's applause with six encores. They weren't really encores; rather, he cut the set short and used the second half as an extended curtain call. It made him look good, and the audience lapped it up everytme he would mouth "how about one more song?" But how can you blame the man? His aim is still true and that's all that matters.
---
Photo:
Elvis is in the building: Costello lights up the stage with his hip blend of intellectual rock and nerd-chic. (photo courtesy of Rolling Stone)

Back // Arts Contents \\ Next
---
T H E O B E R L I N R E V I E W
---
Copyright © 1999, The Oberlin Review.
Volume 128, Number 7, October 29, 1999

Contact us with your comments and suggestions.