Endowment
The Oberlin Review is proud to announce "The Friends of The Oberlin Review Endowment"!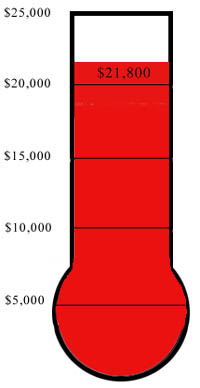 Update:

We're still tallying up those final numbers and should know in a matter of a week or two how the endowment turned out. Donations are still being accepted!
What it is:
We have until August 31 to raise $25,000, the minimum needed to establish an endowed fund.
The five percent return on the fund will supplement the Review's general operating costs. This money will allow us to work on projects that were otherwise not financially feasible.
If we don't make the goal in a year, any money we do raise will be put into a current use fund designated for our general operating costs and we would target it for updating our equipment and educating our staff through speakers and conferences.

We're confident, though, that we'll be able to reach our goal, ensure the financial future of the Review and preserve our journalistic integrity.
How you can support:
Every dollar helps.
A five-year donation pledge of $100 from 50 people will easily get us to our goal.
If you'd like information on five-year donation pledges contact Ireta at endowment@oberlinreview.org
If you'd like to make an outright donation, you can send mail to us through:
Oberlin College Office of Development
50 West Lorain Street, Suite 203A,
Oberlin, Ohio 44074
Make sure to put in the memo line 'Friends of The Oberlin Review Endowment'.
Remember that your company may have a gift-matching program!
For general information on donations, check out the Development Office website at www.oberlin.edu/development or contact Carol Spiros, Assistant Director, The Oberlin Fund (carol.spiros@oberlin.edu or 1-800-693-3167)
All donations are tax deductible to the full extent of the law.
If you can't make a dollar donation, contact the Long Term Manager, Ireta Kraal, '02, at endowment@oberlinreview.org about other ways you can help out.
Thank you!

Fund Description:
Just so you know exactly what you will be donating, this is the full fund description:
The Friends of The Oberlin Review Endowment Fund
Established in 2001 by current and former members of The Oberlin Review Staff, this fund is created to support the operating budget of The Oberlin Review. At such time as the balance in this fund reaches $25,000, this fund shall become a permanently endowed fund. The income from this fund, which shall be expended at the Oberlin College Board-approved payout rate, is to be used to provide general operating support for The Oberlin Review on an annual basis. If the fund does not reach $25,000 by August 31, 2002, this fund shall become a current-use fund to support The Oberlin Review during fiscal year 2002-03.
Read More:
Read about the endowment in the November 9, 2001 edition of the review. Click here.